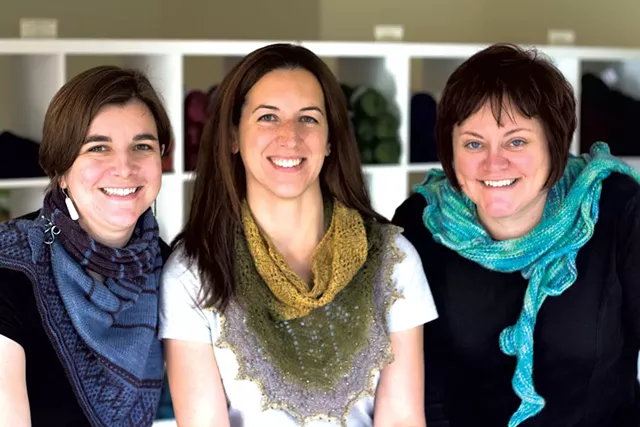 James Buck
Angela Zaikowski, Kelly Otty and Jennifer Arbuckle
Route 7 hasn't exactly been known as a haven for local artists, or as a spot to sit and sip tea quietly with friends while engaging in a relaxing, meditative pastime. Until now. Must Love Yarn, a Shelburne boutique that opened on November 7, aims to knit together New England farmers and crafty Vermonters. The 2,000-square-foot space not only sells yarn but accommodates spinning — of both yarn and stories about the locals who make it.
"There was no place like this," says Kelly Otty, one of three co-owners of Must Love Yarn. "With the long winters, people want social activities to get them out of the house — think of the time-honored tradition of quilting bees. It's a place where you get to meet people who share the same passion, but from all walks of life."
For a customer, that sharing begins with getting to know the products and their producers — such as Shetland yarn from Two Grammas Farm in Richmond, alpaca blends from Stowe's Hunger Mountain Farm and pewter buttons from New Hampshire.
"There are so many great local resources all around us, and we felt they weren't being showcased in the local yarn stores," says co-owner Jennifer Arbuckle, an architect who helped kit out the space with comfy, consigned furniture and crisp white IKEA shelves to display the goods. "We wanted to put all the products together in one marketplace."
That marketplace now represents three primary wool and fiber companies that locally produce or mill yarn, reports Otty, along with three companies that locally dye it. Given that more than 70 vendors appeared at the 2015 Vermont Sheep & Wool Festival, held in October in Tunbridge, the prospects for stocking more local yarn are promising, says Otty. "Wool production on the whole is enormous," she says. "There are many small farms in New England that produce wool and animal fibers for the fiber arts, but on a small scale."
That makes a key middleman out of Must Love Yarn, whose three owners are lifetime knitters now dedicated to supporting local farms and producers. "Knitting and other fiber crafts are a lot more visible now, and are gaining more attention in the public," says co-owner Angela Zaikowski, a Shelburne attorney. "This is another avenue for Vermonters, and visitors of Vermont, to support local farms."
And forget "stitch-and-bitch" knitting groups. Must Love Yarn welcomes men as warmly as women. One fellow who had just taught himself to knit came in recently to make himself a felted top hat (an ambitious project involving circular knitting with double-pointed needles). Another guy had a hankering to whip up an orange scarf. "We've pretty much seen the spectrum," says Zaikowski.
Another spectrum is embodied by the rainbow of yarns nesting on the shelves, from a sea-glass green to a chocolate-chip brown. One wing of the store is dedicated to heavy-duty wool meant for thick sweaters, such as the skeins of Mushishi Big from Plymouth Yarn. Another carries light-as-air pastel yarns that might make baby bunting.
Courtesy of Must Love Yarn
Must Love Yarn in Shelburne
Otty, who graduated from the University in Vermont with a BA in animal science and a concentration in equine studies, finds fiber-arts vendors by attending fiber festivals, such as Vermont Sheep & Wool, and visiting fiber-arts co-ops and fiber mills. Since Must Love Yarn opened, she says, it has drawn eager farmers and customers alike — the former looking to tap into the market, and the latter hoping to unplug from technology through knitting and crafting.
"Both the supply and demand have been growing," says Otty, who also works with the local Waldorf school and homeschooling families. There's talk of hosting birthday parties in addition to the classes and Knit Nights already held on Wednesdays and Sundays.
Otty has future-forward ideas that tap into the Green Mountain State's long past of breeding animals and bringing products to market. The 100-plus-year-old Vermont Sheep & Goat Association, she notes, now dedicates online newsletters to the art of thriving rather than surviving.
"There was a time when there were more sheep than people living in Vermont, and many of the rolling hills that are now covered with forests were open-pasture grazing lands," Otty says. "That makes Vermont yarns and fibers special."