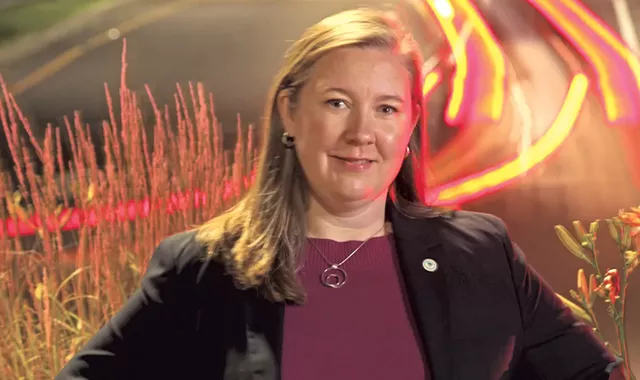 Matthew Thorsen
Jessie Baker
Jessie Baker strolled down Main Street, past people at outdoor café tables savoring lattes and eggs Benedict. With just a few strands of gray in her light brown hair, Winooski's new, 39-year-old city manager could almost pass for one of the many college students who have moved into the tiny burg nicknamed "Burlington's Brooklyn."
The adventurous eateries on lower Main, including Mule Bar and Misery Loves Co., are serving chanterelle tarts and soy-cured duck eggs in former bologna-on-white territory. And those sidewalks full of people eating and chatting? They are extra-wide to "activate" the street in an urban way, Baker explained.
Winooski's restaurant renaissance predates her, but as a result of prior municipal work experience, Baker uses the correct planning term to describe the phenomenon. Before the Winooski gig, she was assistant city manager in Montpelier, another riverside city of about 7,000 people. Though handsome and historic, Vermont's sleepy capital saw little new development — and virtually no population growth — during her tenure there.
By contrast, Winooski is a diverse city that has long welcomed immigrants and refugees — most recently from countries in Africa and Southeast Asia. Concurrently, a $200 million-plus construction spree that began in 2004 has transformed the little city into a voguish place. The boom has created conflicts, including a protracted battle over a six-story hotel proposed for a spot next to the Champlain Mill on the roaring Winooski River, where French Canadian children once worked 12-hour shifts spinning wool for blankets and coats. Now a local tech firm called MyWebGrocer occupies most of the restored factory. Some of its employees lawn-bowl during lunch.
"Winooski had some periods that were really, really challenging," said Mayor Seth Leonard, the municipality's part-time, unsalaried, elected leader. He helped hire the calm, clear-eyed Baker for the $97,000-a-year job of running the city he represents. In March she succeeded Katherine "Deac" Decarreau, a no-nonsense, respected leader who grew up in Winooski, seemed to know everyone in town and oversaw its rapid growth before moving on to another job.
Navigating Winooski's loved-or-loathed downtown traffic circle, Baker said the goal in city hall is generally to help developers "get to a yes." She supports the disputed hotel, which would include a restaurant, because it has the potential to enliven a section of the city's redeveloped riverfront that doesn't get much foot traffic.
"Our hope is to do a more intentional space," she explained, pointing to the mostly empty patch of land around the hotel site. "People don't congregate here." In Winooski, which occupies 1.4 square miles, every inch of vacant property represents an opportunity.
Leonard agrees that new construction, properly vetted, is what the city needs to create jobs and expand its tax base. But managing its growth and development requires a specific and complex skill set.
"We're coming from a transition period where the city is in a much, much different place than it was even three or four years ago," Leonard said. "We like to say we rolled the rock up the mountain and pushed really hard to get that done. And now the rock's rolling down the other side, so to speak, and it's about keeping up with it."
Chasing that rolling stone — and hopefully, directing its path — is Baker's job. She stood out among five candidates interviewed for the city manager job, Leonard said, for her technical knowledge, people skills, history of collaboration and optimism.
"It's easy to say, 'It's five or six o'clock; I need to go home because I've worked my eight hours,'" Leonard said, but that's not Baker's approach. She attends many evening and weekend functions, from fundraisers to comedy shows, the mayor said: "I can't think of a major community event where she hasn't been there."
Roundabout Path to Winooski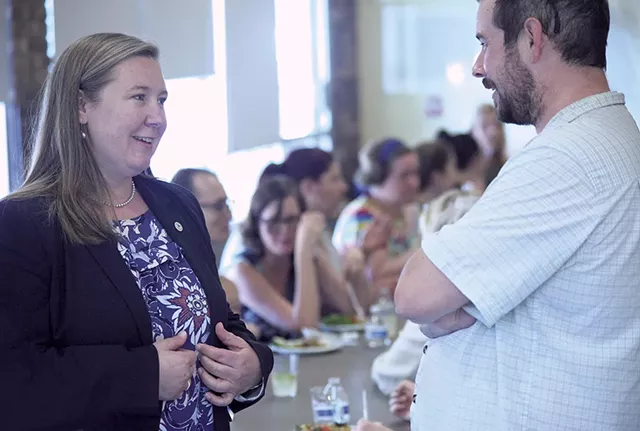 Matthew Thorsen
Jessie Baker talking to a Winooski resident at the O'Brien Community Center
It's not surprising that Baker wound up in a public-sector job. As she and her brother, Will, grew up on a rural lane in Waterbury Center, their parents urged them to consider jobs in government or nonprofits. Her brother is now general counsel at the Vermont Department of Taxes.
"There was a real ethos in my family of taking care of people and making the world a better place," Baker said. Her parents "definitely encouraged us to think about our careers as a way to give back." Baker's father, now retired, was chief of childcare licensing for the state. Her mother taught kindergarten.
As a student at Harwood Union High School, Baker played guard on the basketball team and catcher on the softball team and served on the student council. During her junior year, she went to Washington, D.C., to be a congressional page.
After graduation, she headed to Columbia University and earned a bachelor of arts in psychology and anthropology. Her first job out of college, in 2000, was counseling teen moms as a caseworker at a New York City foster care agency.
Two years later, she moved to Boston to earn a master's degree in social policy and planning. "My career, at that point, was going to be fixing the child welfare system," Baker explained. After graduation from Tufts University, she worked for a Massachusetts child protection agency.
In 2004, she landed a job in city government in Somerville, near Tufts. Baker had decided that social work was too narrow in focus and that improving government programs promoting safety, education, health and housing might be a better approach. "A way to make children and families healthier was to make communities healthier," she said.
Her first job in the administration of Mayor Joseph Curtatone was on the city's SomerStat team, a performance-management system designed to improve delivery of services including law enforcement, public housing, recreation and public health programs. Baker later worked as director of personnel for the mostly blue-collar city of 80,000 people and as an aide to the mayor.
"I fell in love with municipal government," she said. "I was, 'Oh, where has this been all my life?' I just loved it."
In a telephone interview with Seven Days, Curtatone praised Baker for her integrity, curiosity and directness — and for disagreeing with him.
"She had certain traits that are important in leadership," Curtatone said. "She is a great listener."
Baker helped him manage a $170 million annual budget, and, when the city health department was in disarray, she stepped in as interim manager and instituted reforms, the mayor said. She also helped him push for changes to make Somerville a more walkable and bikeable city, Curtatone said. "She earned respect, credibility and, I believe, admiration, being who she is," Curtatone said. "You have a good one up there."
Baker enjoyed her five years in Somerville, she said. But when her brother and his wife had their first baby, "I felt like I was missing out and wanted to come home and be near my family and be an active aunt," explained Baker, who is single and does not have children.
Back in Vermont, she worked as a performance improvement manager at the state health department in Burlington and then went to Montpelier in 2013 to be assistant city manager — another homecoming of sorts.
"I had my first job in Montpelier, went on my first date in Montpelier," Baker explained.
Among her accomplishments: Mayor John Hollar credited Baker for convincing Caledonia Spirits to move from Hardwick to Montpelier. A new distillery and tasting room is set to open in 2018 and will bring 40 jobs and enhanced tourism to the city, Hollar predicted.
"She really spearheaded the effort and made it happen," he said.
Baker served during a turbulent period in city hall. Planning and community development director Gwendolyn Hallsmith was pushed out in 2013 as a result of conflicts with the city council and Hollar. That led to a messy legal battle, which the city eventually won.
Another HR situation blew up last year, when the mayor and half of the city council tried to oust longtime city manager Bill Fraser.
Baker acknowledged that she was interested in Fraser's job when it appeared there might be an opening, but she declined further comment.
The public rallied to the city manager's side, though, and Fraser kept his job.
Baker navigated the disputes with diplomacy and tact, Hollar said, and he was sorry to see her go. "It's probably clear that I think she is and would have been a highly qualified city manager," he said.
Fraser praised Baker as a "consummate professional" and said that if his contract had not been renewed, she would have been his choice to replace him in Montpelier. "But I'm also happy [about] where she is," Fraser said, "and I'm happy I'm still here."
Bust to Boom
James Buck
Aerial view of Winooski's Main Street and notorious roundabout
Baker is in charge of a city that defies Vermont's prevailing demographic trends. Winooski's population has increased 10 percent during the past 15 years, to 7,130 people. As much of the state is graying, the Onion City is getting younger. The median age dropped from 32.9 to 30.5 between 2000 and 2015. "Mayor Seth," as Leonard is affectionately known, is 34. Most of the city council is under 40.
Many languages are spoken on the city's streets and in its schools. Refugees from the Congo, Somalia, Nepal and Bhutan are among the arrivals over the last decade. About 14.5 percent of residents are foreign-born, compared to 4.3 percent in Vermont overall. Winooski's is the only "majority-minority" school district in the state. Census figures show that in a state where about 95 percent of the population is white, approximately one in five Winooski residents isn't.
Some of them, such as Bhutan native Raghu Acharya, have been able to buy homes in Winooski, where the median price of a single-family home has risen from $194,000 to $244,000 in the past two years, according to realtor.com.
The market has tightened, too — so far, even Baker hasn't been able to find a place in Winooski and is still commuting back and forth from Montpelier. Earlier this summer, a listing for a property on Manseau Street popped up on a Thursday, and she made plans to take a look.
"I saw it Saturday morning, and there were already three offers on it," said Baker. "People want to live here. It's a good problem to have."
For years, Winooski was nobody's candidate for the next trendy place. A botched urban renewal program cleared a large swath of the historic city 50 years ago. The demo gouged a hole in the city and attracted a grungy strip mall, since demolished, near the Champlain Mill. Around 2004, public-private collaboration finally helped seed development of condos, apartments, offices and retail space in four- and five-story buildings along the river. A handsome boardwalk, built in 2005, and trails provide better access to the Winooski River. Bird-watchers gather to catch a glimpse of the neighborhood eagle.
The city still has issues, of course. Some residents complain that taxes are too high. Others are clamoring for improvements, including a new $4.4 million municipal pool. Winooski's only public pool closed last summer because of structural problems, and kids don't have a local spot to swim.
On behalf of the Asian immigrant community, Acharya is lobbying for a cricket pitch. He would also like to see more programs to help tenants transition to home ownership. Acharya was working as a manager at Costco when he bought his property in 2015, just four years after arriving in the U.S. Boosting the home ownership rate in Winooski "would benefit everyone," he said. "When people have their own property they will have more responsibility toward their home, they will make their land better, they will make their garden better so the city looks better ... That's how I would do something different here."
Meanwhile, others are happy to rent. "I love it. It's great," said 24-year-old University of Vermont grad Allison Carey, a para-educator. She and her boyfriend, who works at Pitchfork Farm in Burlington's Intervale, lease an apartment above McKee's Pub & Grill, overlooking a downtown that now hosts events such as the annual Waking Windows music festival, which started drawing bands to multiple downtown stages in 2011. "Any big happenings will take place right outside our door, which is pretty sweet," Carey said, as she sipped custom-brewed coffee at Scout & Co. under the high ceilings of the restored Winooski Block building.
Ian Bailey, who owns the Vivid Coffee roasting business, also likes the vibe. "I think Winooski, for a large part, is a really great expression of authentic community," he said.
Dan Barnes, who works at Dealer.com in Burlington, recently bought a house in Winooski because it's close to Burlington but doesn't feel like a suburb. He grew up in Essex but lived for a time in New York City. He grew to love its diversity and sought to find the closest approximation in Vermont. "I like the fact that Winooski has a lot of different cultures," Barnes said. "I'm quite happy to be here."
Blooming Onion
James Buck
Aerial view of Winooski's Main Street and notorious roundabout
Winooski has changed plenty since the Paleolithic era, when a group of Native Americans decided it would be a good place to camp. The city's name, shared with the river that runs through it, is the Abenaki word for the wild onions that once grew along the water's edge. Winooski's seal refers to that etymology with a bunch of leeks as its central image.
It was a matter of time before someone proposed a "rebrand" — interim city manager Ray Coffey and community and economic development officer Heather Carrington hatched the $40,000 idea before Baker arrived. The first brainstorming session on July 11 attracted about 80 people, including Acharya, to the O'Brien Community Center. They got takeout from nearby Tiny Thai Restaurant in exchange for helping a private Washington, D.C., firm come up with a new logo, website design and a marketing campaign for Winooski.
The goal is to help Winooski project an updated image that reflects its complex mix: elderly women who drive their Buicks on Sundays to the twin-spired St. Francis Xavier Church; sleeve-tattooed baristas who froth milk; Somali moms in head scarves and long skirts who drive their children around in minivans.
Baker has taken note of the variety. She's also noticed that while many see Winooski as a fresh, eclectic hive, some longtime residents still perceive it as a blue-collar town that has not substantially changed.
"I think there's still a sense of underdog mentality: We are scrappy; we are an old mill town," Baker said. The rebranding goal is to come up with a "shared, articulated vision of why we are proud of this city," she added.
Baker listened quietly at the meeting as a consultant asked residents to list pros and cons about Winooski, and the ideas flowed. The positives: the walkability, the restaurants, the easy access to highways and the central location. Ditto for the multigenerational families, the history of big ideas — including the never-constructed dome that was proposed in 1979 to cover the city's downtown — the nature paths, the community gardens and the new events in the city's old public spaces. "It's both historic and fresh," someone proclaimed.
On the downside, many speakers complained about the deafening noise from F-16 military jets that fly overhead and worried about the even-louder F-35s that are slated to fly over the city in a few years, once they are berthed in the Vermont Air National Guard's hangars at the Burlington International Airport. They expressed concerns about poverty, gentrification, slumlord apartments, fancy and overpriced rentals, drug use, and the new parking meters — and lack of spaces — downtown.
"What parking?" joked a young man, to a round of laughter.
Winooski's public schools are also a big issue, according to several speakers. About 73 percent of the district's students qualify for free and reduced lunch, making it one of the most impoverished school systems in Vermont. Average scores on standardized tests often rank near the bottom among public schools across the state. That has encouraged some young families to leave Winooski for neighboring suburbs before their kids reach school age — or, in some cases, keeps them from moving in at all.
Other municipalities "look down on our schools," said a young woman, as some of her fellow Winooski-ites nodded in agreement. Acharya, whose nephew attended Winooski High School and is now enrolled at Georgetown University, wasn't among them. "For me, my judgment, it is great," he said later about the local education system.
A number of speakers predicted that the Onion City would never fully emerge from Burlington's shadow. And as for the comparison to Brooklyn, a middle-aged woman suggested that Winooski is actually more like Queens.
Fast Track to What?
For a tiny city — the most densely populated in northern New England — Winooski has a remarkable number of pending development projects. A new approach to zoning adopted last summer is fast-tracking construction and triggering a surge in building and demolition. Known as form-based code, it's a streamlined approach that many communities in Chittenden County have either adopted or are giving serious consideration.
Aside from the hotel, roughly 100 units of rental housing are proposed or under construction in Winooski. Many of them are on the city's "gateway corridors" — feeder roads such as East Allen Street and Malletts Bay Avenue.
A $20 million performance hall called the Strand has been approved on Main Street, north of the roundabout. Erik Hoekstra, a managing partner at Redstone, which is developing the project, expects to break ground later this year. Higher Ground will be the anchor tenant, he confirmed, repatriating the South Burlington nightclub to its city of origin.
But as new buildings go up in a built-out city, historic structures are coming down — some say too quickly and to Winooski's detriment. Last year, a steeply gabled 1840s home on East Allen Street that was on the Vermont State Register of Historic Places yielded to the newly opened City Lights apartment complex. A local landlord moved the home to Burlington's Old North End.
Winooski Historical Society president Rita Martel said she was devastated. "I respect the council members and the mayor, but there's no consideration on preservation and the outcome," said Martel, 86, who grew up in a French-speaking family that emigrated from Québec and labored in Winooski's mills. "It's all apartments, apartments and apartments."
Now Martel is concerned because two more houses listed on the state register are in the way of a proposed four-story, 66-unit apartment building. The houses — a red brick 1840s home at 138 East Allen that is one of the oldest structures in Winooski, and the 1850s Allard House at 144 East Allen — would be moved or demolished.
Like the one displaced last year, both are important examples of early workforce housing, said Laura Trieschmann, a Vermont state historic preservation officer.
Winooski zoning administrator Paul Dreher used form-based code to approve the apartment project in July. There were no public hearings. Because it is so large, Dreher explained, the proposal still needs a state permit under Act 250.
The Act 250 regional commissioners can set special conditions for permits that affect historic properties — requiring them to be photographed and documented, or occasionally to be moved. In rare cases, the commissions forbid demolition of properties listed on the state register.
The developers, Giles Wagoner and Brian Libby of South Burlington, did not return calls, but their renderings show no sign of the historic structures.
Martel isn't the only one with concerns about projects in Winooski.
Brian Tarrant, cofounder of MyWebGrocer — one of Winooski's largest employers — and one of the owners of the Champlain Mill building, opposes the downtown hotel. Tarrant is among the neighbors who are suing to block the project, which has local permits but needs state Act 250 approval.
The hotel's plan to rely on valet parking at off-site locations will only worsen serious parking problems downtown, he said. "That's just going to squeeze everybody," he said. "I really think it's irresponsible for a hotel not to take care of its own parking."
Is there a solution? The new city manager aims to find out. Between meetings with developers, local employers, staff and residents, Baker is studying ways to resolve a capacity crunch at the city-owned 916-car garage.
She says there is more parking in the garage than some people think and that if you count downtown street spots, the total number of available spaces is more than 2,000. That's according to a new city parking study that suggests Winooski should stop leasing parking spaces to businesses, because those spots are often empty during off-hours.
Meanwhile, Winooski continues to tweak its on-street parking and is working on a better mobile app with maps of both 15-minute courtesy parking spaces and long-term slots.
Whatever it takes. Baker sees her job as part coach, part diplomat and part puzzle maker to fit together the pieces of a new Winooski.
If nothing else, she said, city managers are "problem solvers."