Cat Cutillo
TSA checkpoint at BTV
For months now, Burlington International Airport — known by its three-letter airport code, BTV — has been under construction. It's been hard to miss: The new wing is the first thing drivers and their passengers see as they approach the terminal from the entrance on Airport Drive.
Inside the airport, travelers entering BTV's first-floor Transportation Security Administration screening station have been greeted by a rendering of a spacious, new state-of-the-art checkpoint taking shape in the new building just beyond the wall.
On October 11, construction crews tore down that wall. The rendering is now a reality. It's a dramatic change: twice as many security lanes, better lighting, newer equipment and a whole lot more space to spread out. All BTV passengers will now pass through it, regardless of what airline they're flying.
→ Hover over the video to access sound controls, pause or replay.
The screening station is just one of the improvements made possible by the massive $19 million Terminal Integration Project, funded by a grant from the Federal Aviation Administration; U.S. Sen. Patrick Leahy (D-Vt.) and his team were instrumental in helping secure it. That project connected BTV's North and South terminals, enabling passengers to move easily from one to the other after passing through security.
Frequent fliers will notice more changes at the city's 102-year-old airport, and there are even more on the way. Spoiler alert: The upstairs of this new building is even nicer. Read on for a summary of what's been done and what's still to come, courtesy of newly minted Director of Aviation Nic Longo.
Cat Cutillo
BTV Director of Aviation Nic Longo
A self-described "aviation nerd," Longo got his pilot's license at age 17 and earned a bachelor's degree in aviation and airport management, followed by a three-year stint as an air traffic controller in the New York City area. He's been working at BTV for 10 years. He oversaw operations before taking over as acting director in 2021; Mayor Miro Weinberger and the Burlington City Council made his appointment official in September. Now he's leading BTV's 50-person staff, the team that works around the clock to keep the airport up and running.
Longo is a knowledgeable and enthusiastic tour guide with a deep understanding of the airport's history — and a vision for its future.
Burlington Mayor Miro Weinberger believes that future is bright. Weinberger calls BTV "a great asset" to the city, and the entire state. "The City of Burlington built BTV over 100 years ago and has stewarded this critical regional resource through many chapters of aviation history. I am proud of where we are today," he said. "We are excited to welcome roughly 700,000 passengers who take off from BTV each year, and this is just the beginning. We are going to continue this outstanding growth."
What's New
Expanded, Modernized TSA Checkpoint
Cat Cutillo
TSA checkpoint at BTV
Every commercial airline passenger has to pass through a TSA screening station prior to boarding their flight. That often means standing in long lines; having to take off jackets and shoes; sorting through bags; filling up bins with laptops, wallets, keys and phones — and remembering to gather all those things up again before heading to the gate. For many travelers, it's the most stressful part of the trip.
BTV's new checkpoint is designed to improve that experience. For starters, it's a whole lot bigger than the stations BTV used before. The TSA area takes up almost the entire first floor of the airport's new wing. It includes four lanes instead of just two. And at each lane is a brand-new screening machine. Now travelers can leave their laptops and liquids inside their bags — no more pulling things out at the last minute and sticking them in a bin. Longo likens these podlike devices to jet engines.
Passengers put their things into shallow bins and send them through the machines. TSA agents scan the items inside. If something that's possibly prohibited turns up, the conveyor belt automatically funnels the item to the agent in charge for further screening. Longo got a demo of the equipment before the area was opened to passengers. "When they showed me, I said, 'I feel like this is something in a movie,'" he recalled.
Longo's hopeful the expanded lanes and new equipment will reduce wait times. Elements like the carpeting, color and lighting choices are intended to have a calming effect, he said.
Once travelers are through security, they'll appreciate the new "recomposure area" on the first floor, which offers travelers a chance to get their belongings together before heading to the gate.
Second-Floor Future Seating Area
Cat Cutillo
The new second-floor space at BTV
After clearing the checkpoint, some travelers will continue on the first floor to the South concourse for Delta and JetBlue; everyone else will take an escalator, elevator or stairs to the second floor of the new wing.
The stairs open into an expansive space with a polished concrete floor. It will eventually include at least one gate and a jet bridge; the airport has already received additional funds to put it in. Currently, two of the airport's nine jet bridges are unable to accommodate mainline aircraft. They're too short and low to the ground to reach the current generation of jets. Eventually, Longo hopes to move all the airport gates upstairs and use the ground level for equipment storage.
The new second-floor space will also feature seating, which will give passengers a lot more room to spread out. While relaxing here, they'll be able to enjoy panoramic views of Camel's Hump and Mount Mansfield.
Reduced Carbon Footprint
The view from the second floor of the new wing also shows off the headquarters of the airport's most exciting tenant, Beta Technologies. Beta is building an electric aircraft and the charging infrastructure to support it, which is being installed at airports around the country. Founded by Vermonter Kyle Clark, the startup has received hundreds of millions of dollars of funding from entities including Amazon's Climate Pledge Fund.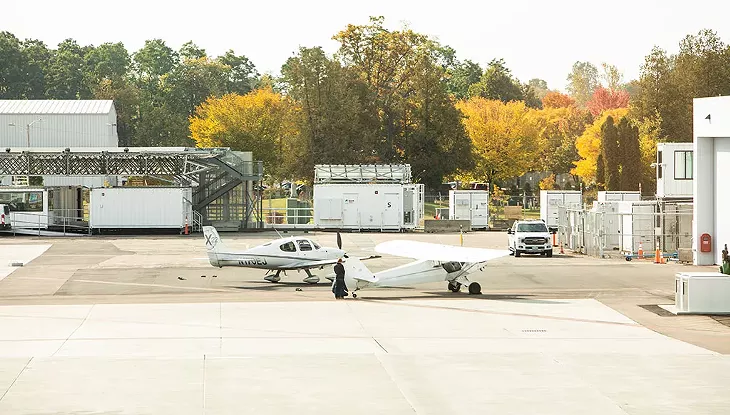 Cat Cutillo
Beta's electric aircraft charging station at BTV
BTV travelers can see a prototype of one of Beta's charging stations — a constellation of shipping containers and solar panels — on the tarmac and get occasional glimpses of Alia, Beta's not-yet-FAA-approved aircraft, which takes off and lands at BTV.
On a tour of the airport's new space, Longo points out a nondescript gray box in front of Beta's HQ — one of the first charging stations for an electric aircraft anywhere. "It doesn't look like much, but it's really cool," he said.
Also visible from the windows: a crane that's constructing Beta's new 355,000-square-foot manufacturing facility, accessible off Route 2. It's also on land owned by the airport; the company has a 75-year lease.
Until innovators like the ones at Beta figure out a way to cut carbon emissions from planes in the air, Longo and the airport's team are focused on the emissions they can control — the ones from vehicles on the ground. During the tour of the upstairs of the new wing, Longo looked out the windows and spied an electric pressure washer and street sweeper maintaining a stretch of road adjacent to the parking garage. BTV is working to upgrade its fleet of service vehicles to electric vehicles when possible.
The airport is also using LED lighting in the new building, which comes with some carbon savings. It's investigating geothermal heating and cooling and will install solar panels on the roof of the new building. All of that is included in the airport's new sustainability plan.
What's Next
Removing the Second-Floor Security Checkpoint
In the next phase of construction, BTV will tackle a $1.7 million project: getting rid of the escalators to the old second-floor security checkpoint and removing the screening equipment and glass barrier.
The current seating area outside BTV's busiest gate, No. 8, was not designed for social distancing. The rows of chairs are clustered close together; even when passengers sit with a few seats between each other, it still feels cramped.
This next round of renovations is going to be a game changer, Longo explained. "It's going to change the whole experience for passengers upstairs."
That new experience will include more restrooms. The ones in the busy second-floor gate area have just five stalls each — not enough for an area used by several hundred passengers an hour.
Moving Up, Branching Out, Plugging In
It's not a done deal yet, but Longo is hoping BTV will also benefit from Sen. Leahy's last and largest earmark before he retires, giving the airport another $35 million in federal money to make some big changes. These include demolishing the first-floor concourse entirely and replacing it with a modernized second-floor departure area.
Longo's also got his sights set on redesigning the North concourse, which includes four gates that extend from a long, narrow central hallway. It doesn't currently have nearly enough room for hundreds of passengers coming and going at once.
That work would also include upgrading the electrical systems so that planes parked at BTV can power up using the renewable energy generated by the Burlington Electric Department.
It's all part of the master plan, Longo said, to make sure the airport keeps up with changes in the aviation industry. "We're building today what we'll need for tomorrow," he said.
Courtesy
A rendering of the completed TIP development at BTV
BTV by the Numbers
$19 million
The amount of the FAA grant that's funding the airport's Terminal Integration Project.
700,000
Roughly the number of departing passengers BTV serves each year.
50
The size of the staff running airport operations. They do everything from clearing snow at 1 a.m. to changing electrical systems on the runway to security procedures to inspecting the runways.

600
The number of people employed by airport tenants and vendors, such as the TSA, Beta Technologies and Heritage Aviation.
15
The number of airports served by nonstop flights from BTV:
Atlanta, Boston, Charlotte, Chicago, Dallas, Denver, Detroit, Miami, Minneapolis-St. Paul, New York City (Newark, LaGuardia, and JFK), Philadelphia and Washington, D.C. (Washington National and Dulles).
5
The carriers that fly out of BTV:
Delta, American, United, Sun Country and JetBlue.