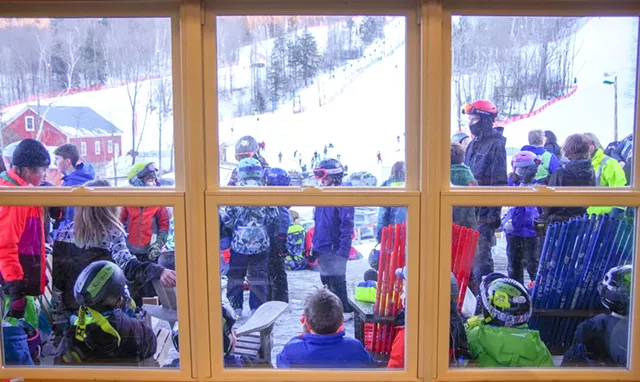 Stephen Mease
The new view from inside the Cochran's Ski Area lodge
W
hen Michelle Childs walked into the Cochran's Ski Area lodge in Richmond for the first time this winter, she knew something was very different. At first, she thought maybe the interior had been painted, but then she realized it was the windows. She could actually
see
out of them.
That was new. In previous years, the 12 windows facing the busy ski hill had always fogged up, obscuring the view. Childs quickly realized the windows hadn't just been cleaned — they'd been replaced entirely.
With the new windows, said Childs, the whole room felt different: brighter, friendlier, a more inviting place to hang out. In fact, the large, energy-efficient windows have transformed the space in a variety of ways, making it usable year-round for everything from conferences to wedding receptions.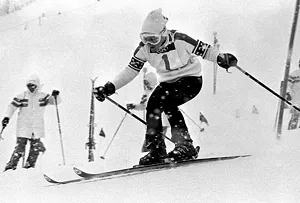 Gold medal winner Barbara Ann Cochran at the 1972 Winter Olympics in Sapporo, Japan
The ski-racing family that runs the ski area is thrilled with the outcome. Barbara Ann Cochran, winner of the gold medal in slalom in the 1972 Winter Olympic in Sapporo, Japan, teaches Cochran's popular Ski Tots program and pitches in most days at the lodge snack bar. The new windows are "incredible," she said. "It makes such a difference."
So far the windows have had the biggest impact on parents like Childs who bring their kids to ski at Cochran's. Her daughters, in first and third grades, participate in the Williston schools' ski program. "They're more independent this year, so I can spend a little time in here reading my book while they're skiing or in lessons," said the Williston mom. Because of the lodge's new windows, "I can still spot them on the slopes from here."
See the difference new windows make?

Slide the handle right to left.
<!— The before image is first —>
<!— The after image is last —>
John Beeman of Richmond agrees the windows have been a game-changer. His 10-year-old daughter skis at Cochran's twice a week, once with her Richmond school gym and again on Friday afternoons when Beeman usually joins her for a few runs, followed by dinner at the lodge. "It is so different in the lodge now, being able to look out the windows and see the action up on the mountain."
They can thank the folks at
Windows & Doors By Brownell
for the view. The renovation project is a great example of how friends, neighbors and a family-owned business can work together to support a beloved local institution.
Building a Slopeside Community
Countless young skiers have progressed from "making pizzas" and riding the Mighty Mite to racing through gates for high school teams since 1961, when Mickey and Ginny Cochran began operating their backyard rope-tow.
Now managed by their grandson, Jimmy Cochran, a U.S. Olympic Ski Team veteran of the 2006 and 2010 Olympic Winter Games, Cochran's Ski Area remains one of the last places downhill enthusiasts can truly experience the feel of a traditional, community-based family ski area. Cochran's hosts weekly races and training for eight local high schools, shares the hill with 800 kids from elementary school programs, facilitates races and training for the next generation of Olympic hopefuls in the Cochran Ski Club, and provides an unintimidating place for youngsters — and oldsters — to learn to ski.
The lodge, built in 1984, is a cozy winter home away from home. Jimmy calls it "the heart and soul of the ski area." Reminders of skiing legends line the walls. Race bibs hang from the ceiling. It's full of a palpable energy from young skiers and boarders and their families, fueled by hot chocolate and grilled cheese sandwiches from the Cochran's snack bar.
By 2018, its original windows were in rough shape. Most suffered from what the window world calls "seal failure," which creates a hazy fog between the two panes of glass. The fog, coupled with the heat and humidity inside that would then turn to ice, meant that the mountain outside often wasn't visible.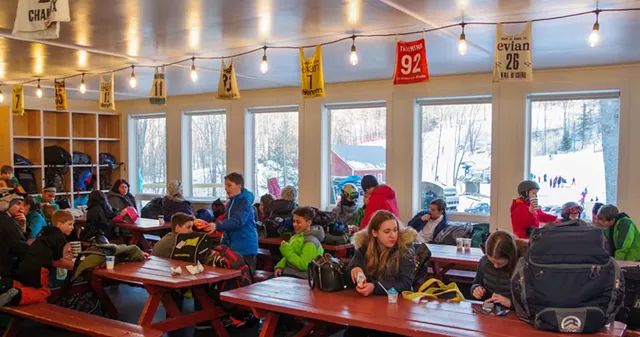 Stephen Mease
Cochran's Ski Area lodge
Last March, Jimmy came upon a fellow outside the lodge measuring the old windows. "I went up to him and asked if I could help him," he said. It was Les Brownell, founder and owner of Windows & Doors By Brownell. He had been tipped off about the need for new windows by Chris Chivers, Brownell's service manager.
Chivers, who lives in Jericho, comes from an active skiing family and has long been involved with the community at Cochran's. His children, who both have skied with the University of Vermont ski team and club, learned to ski and race at the Richmond hill.
In fact, Chivers has been on the Cochran's board of directors since 2004. "I knew for years that the windows needed to be replaced," he said, "but there was just never any money for it, as other upgrades like snowmaking and lights took precedence."
Last year, Chivers approached his employer of 23 years with the idea of replacing the lodge windows as a community service project. Like Cochran's, Windows & Doors By Brownell, established in 1991, has a long history in the local community.
'We Never Could Have Done It'
The renovation process, parts 1 & 2
The vision for this window project was seemingly simple, Chivers said: provide the Cochran's lodge with a Marvin Windows and Doors solution that would maximize the hill-viewing area, allow for air flow and last for many years to come. But it takes a village of window experts to pull off a project like this.
Chivers enlisted his friend John Beeman, business development manager at AW Hastings and distributor of Marvin windows, to help. And Chivers recruited his Windows & Doors By Brownell colleagues: sales and marketing manager April Bolin, who found funding for the project; designer (and past Cochran's Ski Club member) Sue Ray, who reimagined the layout of the windows; and Windows & Doors By Brownell's in-house window designer Alexandra Honkala, who created a digital mock-up of what the new windows would look like to present to the Cochran's board of directors for approval.
The final design includes Marvin's all-fiberglass window units, with a combination of fixed and operational awnings for ventilation. "We never could have done it," said Jimmy Cochran. "The cost would have been too much for us."
The renovation process, parts 2 & 3
When the windows arrived at Cochran's, community volunteers and club members banded together to install them throughout multiple weekends in the spring. As with all projects at the mountain, there were always several Cochran family members on-site assisting — and grilling burgers for the volunteers.
It was a team effort. Said Jimmy: "It's that kind of support that allows us to keep offering $5 tickets on Friday nights and keep the midweek ticket prices at $15 and $25 on the weekend."
Changing More Than the View
As the Cochran's lodge illustrates, "New windows can change a space dramatically," noted sales and marketing manager April Bolin. In addition to improving the aesthetics of a building's interior and exterior, "the energy efficiency from new windows can add a layer of comfort on cold winter days," she said.
The lodge's new windows have also opened up new opportunities to use the space year-round. It's now available for mountain-biking gatherings, special-occasion rentals for parties and, through a new partnership with the Round Church in Richmond, wedding receptions.
As Bolin pointed out, "Whether big or small, a replacement project can be an opportunity to bring new life to your home or building."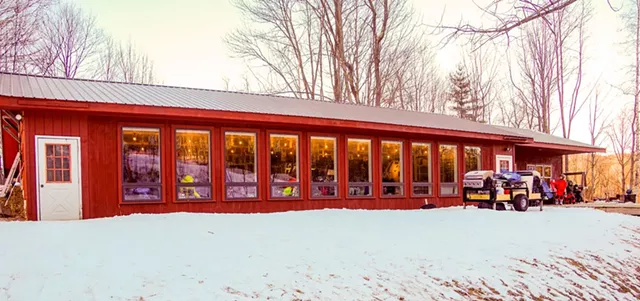 Stephen Mease
The finished project
In addition to working with contractors, architects and commercial clients, Windows & Doors By Brownell also does window and door installations for homeowners. Its staff of more than 60 spread across three showrooms — in Williston, West Lebanon, N.H., and Plattsburgh, N.Y. — run an in-house service and parts department, a shipping and delivery department, and an in-house paint shop.
Unlike many window dealers that work with a variety of vendors, Windows & Doors By Brownell is 100 percent committed to the retail and installed sales of Marvin Windows and Doors, making the staff experts on their product line. Vermonters looking for replacement windows or planning to build a new home can find the right Marvin window solution at Windows & Doors By Brownell.
And supporting a local business like this one that gets behind community partnerships feels good! It aligns perfectly with the legacy of Mickey and Ginny Cochran and their family's ongoing vision for sustaining the land, building relationships and nurturing a sense of community on a Vermont hillside.