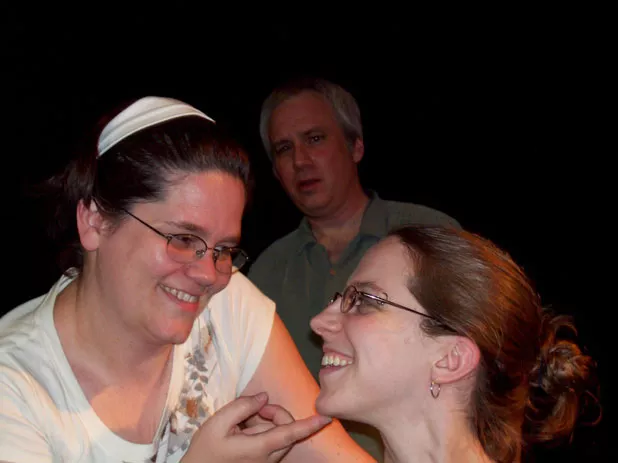 Kim Ward, F. Brett Cox, Amanda Menard
What if a Miss Vermont pageant were held but nobody came? What if somebody entered a cow in the contest instead? That's the premise of Johnson playwright Eddie Gale's The Heifer Pageant, one of eight new plays by Vermonters to receive a staged reading in the upcoming Vermont Contemporary Playwrights Forum. The forum, presented jointly by MOXIE Productions and the Vermont Playwrights Circle, will be held at Harwood Union High School from June 11-28. The event offers established authors such as David Budbill and Maura Campbell and newcomers like Gale an equal opportunity to hear their works-in-progress performed "on book."
According to MOXIE's Monica Callan, the forum is a substitute for her company's annual New Work Award, which customarily leads to a full production of a Vermont play. This year's submissions didn't quite stack up. "There wasn't one that wasn't going to be way out of our budget or that we felt was appropriate," Callan says. "We got a bunch of plays, but they weren't ready."
Enter Kim Ward, Vermont Playwrights Circle (VPC) president. Ward's call for plays in January yielded a bounty too great for the weeklong reading series she'd planned. So she and Callan joined forces. As a result, some forum plays were plucked from MOXIE's New Work Award pile, and others came through VPC. Each organization chose one by Budbill - MOXIE the satirical Thingy World (June 18) and VPC the poignant Song for My Father (June 21). Sunday, June 15, is a day of onstage workshops. The forum's closing two days will offer a "performance salon" of music, dance, theater, film and burlesque featuring artists from around the state.
Of the participating playwrights, Campbell may benefit most immediately from forum feedback. Her play Rosalee Was Here, which kicks off the event on June 11, will be staged at the New York International Fringe Festival in early August. According to Campbell, the forum is having a motivating effect. "It's working out really great to have this gun to my head of a public reading," she says.
A fiction based on the true account of a girl convicted, at age 11, of being a sexual predator, Rosalee Was Here hits close to home for the playwright: It draws on her experience as a paraeducational aide to a girl in similar circumstances roughly a decade ago. "There's a lot of material here," Campbell says, "covering everything from the juvenile justice system to medical experiments on children."
Such serious issues may reverberate throughout the forum. As Ward observes, "Most of the plays we received this year have a social questioning." Even Gale's The Heifer Pageant (June 13), which features two characters the playwright describes as "a one-eyed hockey-playing woman lawyer and a cantankerous woman dairy farmer," should give its audience something to chew on - say, thoughts on "how pageants treat women as meat," Ward notes.
The forum could be just the ticket for Gale and others seeking a fresh read on their plays and connections to get their works to the next stage. Callan and Ward support them, and even entertain dreams of holding similar events statewide. But while encouragement and exposure are key, from the producer's side of the boards, ultimately the play's the thing. "I salute everyone with a big imagination," Callan says, "but when it comes down to paying for it, I have to really believe in a work and believe that a work is ready for production before I back it."