elizabeth M. seyler
Dancers at the waterfront
On a recent windy morning, eight dancers gathered on the Burlington waterfront to turn their faces to the sun like flowers, swoop about conjuring birds in flight and sway in imaginary currents of water. One of 10 outdoor dance performances that day, the event called attention to the richness and challenges of dance in Vermont while heralding a new champion of the form.
The Vermont Dance Alliance is a fledgling group of artists, partners and patrons who network and share resources to support and expand dance in Vermont. The VDA sponsored the outdoor events on Saturday, which culminated with an evening party at the Skinny Pancake to celebrate the organization's past accomplishments and future goals.
"It's an invitation for people to become active in this art form and with this art form," said VDA director Hanna Satterlee. "It's for anyone who wants more dance in their life."
Dancer-choreographer Satterlee is a 2017 Vermont Performance Lab SEED grant recipient and former director of professional programming at Montpelier's Contemporary Dance and Fitness Studio. The VDA evolved out of numerous planning meetings that she convened last winter to ask Vermont dancers "what they needed, what was happening for them, what was a block for them [and] what resources exist in other places that don't exist in Vermont," she said.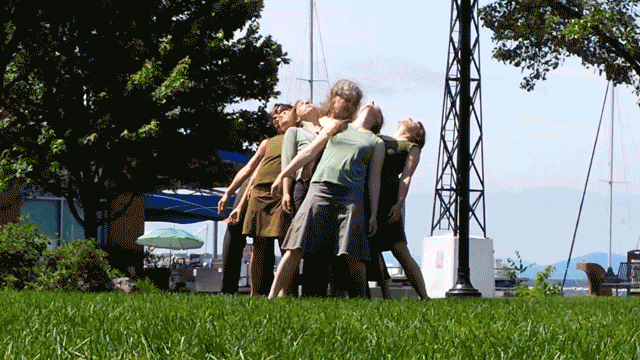 elizabeth M. seyler
Dancers at the waterfront
In its first year, the volunteer-run alliance served modern and contemporary dancers in three counties through a conference, workshops, performances and fundraisers. It also collaborated with Montpelier's Lost Nation Theater to host the Winter Dance Gala, featuring works by local choreographers.
By the following spring, Satterlee noted, "Everything was successful and people were totally into it, but it was kind of the same group of people."
She and her colleagues wanted the alliance to serve practitioners of all dance genres in the entire state, so she conferred with more dance professionals to identify the business model most likely to achieve that goal. Nonprofit status fit the bill.
"A nonprofit is a very big undertaking," said Satterlee, "but it's also a culture of giving, and this [alliance] is really about generosity and gathering and connection and relationships. It's not at all about winning or competition or being better than [others]."
Anyone may join the VDA at one of three levels: "Artist" members are instructors, performers and students of everything from tango to hip-hop; "partners" provide services related to dance, such as videography or lighting; and "patrons" support dance as viewers or donors. Annual memberships range from $70 to $140.
Each type of membership confers different benefits, but all members post a profile on the VDA website, receive the e-newsletter and event discounts, and have access to a database searchable by name, service, dance genre and other criteria. An interactive map allows users to find events, artists, sponsors and other resources by city.
"If you register as an artist," said Jessie Owens, a VDA volunteer and member, "you may select the dance or movement styles you practice or add one if it's missing." Nonmembers may view the database and sign up to receive information.
"We're dance activists," said Satterlee, "and [by becoming a member,] you become part of how dance culture in Vermont will advance and will increase."
Matthew Thorsen
Hanna Satterlee
Not since the early 1980s have dancers organized statewide toward a common goal, said Hannah Dennison, founding director of Cradle to Grave Arts, which has created large-scale, site-specific works in Vermont for 30 years. Two full-length productions called Vermont Dance at the Flynn, in 1981 and 1983, showcased local dancers and choreographers to sold-out crowds. In 1982, the Town Hall Tour brought dance performances to theaters around the state.
"Partnership with the Flynn has continued to be a vital part of dance in Vermont," said Dennison. Yet, if she were new to dance in the area, "or if I didn't have the roots that I have," she added, "it would be good to have an organization with a big Rolodex of people who understand the arts and understand the importance of them in community — [and] who are willing to brainstorm ideas for how to navigate this very restrictive world that we live in." Although the internet makes finding dancers and events easier now, Dennison added, "those sources are fractured. There is real value in the VDA's role as a hub."
Owens, Spielpalast Cabaret's art director and coproducer for eight years, looks forward to the VDA's networking capacity. "As a contemporary dancer, it's really hard to find each other here," she said. "There's [the University of Vermont] and Middlebury [College], and there are pockets [of dancers], but they don't all know how — or have the time — to source outside of their local communities."
The alliance plans to host an annual dance gala and two events per month, each in a different region. Satterlee envisions town chapters statewide that address unique goals and challenges. "The more people who join and take part, the bigger and more vibrant the Vermont dance ecosystem becomes," she said.