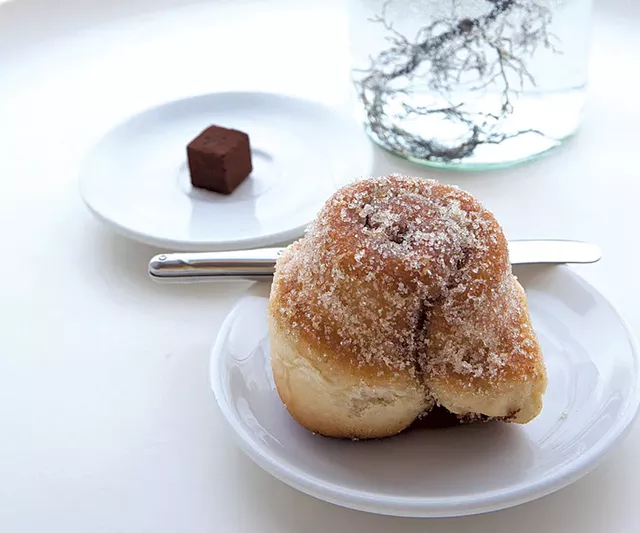 File: Matthew Thorsen ©️ Seven Days
Treats at Vergennes Laundry, 2014
The new owner of Vergennes Laundry is a longtime fan. The first time Nadia Dole considered buying the café and wood-fired bakery at 247 Main Street in Vergennes was three years ago, the first time it went on the market.
A photographer, writer and business owner, Dole fell in love with Vergennes Laundry as she covered it for magazines. It was the perfect place "to get fueled up" on drives from Vermont to her native Montréal, she said.
But Dole, who lives with her family on a farm in Putney, ultimately decided the timing wasn't right to purchase the bakery from Julianne and Didier Murat, who started the business 10 years ago. Chef Christian Kruse bought the spot in the fall of 2017 and renamed it Vergennes Laundry by CK. In December 2019, Kruse put the business up for sale; in March, he closed its doors.
Now Dole is realizing her dream of owning Vergennes Laundry by purchasing its assets (name, equipment, furnishings and contents) from Kruse. She will return the bakery to its original name.
"I walked away from it, and then here we are — which seems like a perfect time," Dole, 48, said. "I'm removed from the expectations, and I can be myself. My aesthetic is very much minimalist, and my baking is French. So it's the perfect fit."
Dole was referring to the standards and expectations set by the Murats. "They were so great at what they did," she said. "It was quite perfect to me."
The bakery will offer canelés, croissants, pastries, tarts, breads and cheese boards. Dole will also serve pizza. "My goal is to perfect my version of a pizza crust," she said.
Vergennes Laundry will house a small shop within the café that sells housemade mustards, kimchi and pesto, along with select grocery items, wine and home goods. The latter will be familiar to shoppers at Poëm, a Vergennes pop-up that Dole operated.
Vergennes Laundry will open in November and offer takeout café/bakery service and in-store retail shopping Wednesdays through Sundays, 7 a.m. to 7 p.m.
Attempts to reach Kruse by press time were not successful.