Molly Walsh
Lowell Deschenes
Pleased by evidence that shows fewer undergraduates are meandering through the University of Vermont on the "five-year plan," the school's new president has begun taking steps to help even more students finish in four years.
Graduating on time "directly and truly affects affordability," Suresh Garimella told school trustees on October 25. "I think if students are here for an extra year they are paying a lot more money."
The four-year graduation rate at UVM hit 69.5 percent this year, the highest number in decades and almost double the anemic 36.9 percent national average for public universities.
Just months into his tenure, Garimella followed his plug for on-time graduation with a rare proposal in mid-November — a tuition freeze next year. UVM last froze tuition in 1978, and the school's annual sticker price for room, board, tuition and other expenses is now among the highest for state universities: $35,220 for Vermont students and $60,468 for those from out of state.
Soaring student debt and growing competition to attract students from the shrinking demographic pool of high school seniors in the Northeast have intensified the admissions game. That makes affordability, Garimella said at last month's trustees meeting, "perhaps our highest priority."
As the new president carries out his cost-control mandate, many students say they've already received the memo and have no intention of dawdling on the way to their degrees.
"It's so much cheaper to do it in four years," said Luke Beeson, a 21-year-old junior, as he stood in line with friends to buy a grilled cheese at a food truck next to the university green last Thursday. He's hoping to graduate a semester early to save money and get into the world and the workplace. The wildlife biology major from Kennett Square, Pa., said he knows few students at the school who fit the stereotype of slacking college kids.
"All the people I know are really motivated," Beeson said. "I don't think they want to stay here and party. They want to go and do more important things."
His friend Lowell Deschenes, a 21-year-old junior from Amesbury, Mass., expects to graduate within four years "because I don't want to pay more money if I don't have to."
UVM's four-year graduation rate was a lackluster 46.3 percent back in 1999. It crept up over the next 15 years — with a few dips along the way — and measured 61.7 percent by 2014. The current rate of about 70 percent mirrors the University of New Hampshire, but trails the University of Connecticut's main campus at Storrs and the University of Massachusetts Amherst, which had a 2019 rate of 77 percent.
On-time graduation has always mattered but is considered even more important now, said Bernard Mair, senior vice president for academic affairs at the Association of Public and Land-grant Universities in Washington, D.C.
"Many parents and legislators and businesses are concerned about the return on investment," he said. Colleges also face competition from a marketplace full of quick-finish computer-coding boot camps and similar trainings in other fields.
Some very selective schools, many of which are private, have on-time graduation rates close to or above 90 percent. Middlebury College is among them. But such schools have the advantage of students who are highly prepared for college work and often come from higher-income families. Public universities draw from a broader pool, Mair noted, and in some cases accept students who struggle academically and may need to work many hours at jobs while also handling their course load.
Still, dragging out studies not only makes degrees more expensive, but costs students the income they could have made had they graduated, Mair said. Moreover, UVM and other public land-grant institutions have a mission to open higher education to more people, he added: "The longer a student occupies a space, the longer you deny access to an incoming student."
Delays may also increase the chance that a struggling student could lose momentum and never graduate, a potential worst-case scenario because the student would have no credential to help land a good job — but still have loads of debt.
Garimella's predecessor Tom Sullivan, who stepped down in June after a six-year run, pushed for gains in the graduation rate.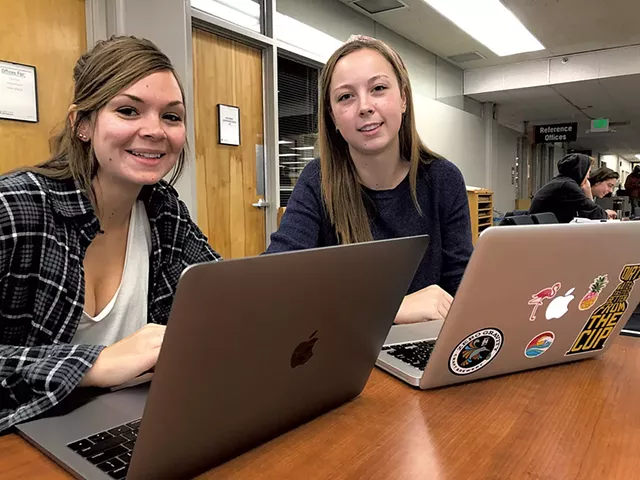 Molly Walsh
Catharine Harwin (left) and Hailey Muniz at Howe Library
Under Sullivan, UVM beefed up student support: Now undergraduates have academic advisers in their major, as well as access to peer and staff advisers on a drop-in basis. He pushed to reduce the length of time when students are in undeclared major status and rolled out a new online program two years ago that allows students to better track completed and uncompleted courses as they work toward earning their degrees.
"I think we have socialized students in a different way," provost Patricia Prelock said. Sullivan helped send a message that "we're not on the five-year plan. We're not on the six-year plan. We're on the four-year plan."
Garimella wants to expand on that by encouraging students to make more use of summer sessions and online courses, especially to catch up on required credits they lack because they studied abroad, did an internship or switched majors.
He also supports lifting certain requirements, such as the mandate that business majors also declare a minor.
And the president has backed the introduction of Navigate — advising software equipped with a mobile app that's designed to improve communication and help students stay on track. Some students have complained that the system provides too much of their information to staff and faculty who are not their personal advisers. In response to privacy concerns, UVM has agreed to restrict access to certain information, such as a student's financial aid status.
Tom Chittenden, a senior lecturer and president of the UVM Faculty Senate, is generally on board with the four-year plan but said some majors might require more time, including engineering and health sciences. He likes Garimella's tuition freeze but said many faculty want to know how UVM will make up the resulting estimated $8 million gap in revenue.
"The general impression I've had is 'OK, we would love to know how we're going to do that.' We're still waiting for more details," Chittenden said.
Sarah Alexander, an associate professor of English, was less skeptical. "I think it's long overdue," she said. "Tuition's gotten really out of control."
Trims can be found without hurting academics, she believes. "I think it doesn't have to come at the expense of the number of faculty we have or the quality of the education that we deliver," she said. "There are a lot of other places to cut costs. I think it's great."
During her decade at UVM, Alexander said, administrators have pressed to improve student advising. She is spending more time on that task than in the past, meeting face-to-face with her 23 advisees about course registration and academic issues.
The face time with students builds a sense of connection. It's also easier to track their degree progress in person than via email, she said.
The race for an on-time finish has its downside. There's not much wiggle room to change majors, according to Catharine Harwin, a 23-year-old senior from Hershey, Pa. She will graduate after the current semester, a four-year finish because she enrolled in January 2016. But as she searches for a job, she wishes her minor, statistics, were her major rather than environmental science.
The job market "isn't there" for the environmental science major, she said, but her scholarships last only four years and there was no way to switch majors without delaying graduation. She hopes eventually to seek a master's degree in data science and statistics but also feels intense pressure from her current loan debt.
She spoke to Seven Days at UVM's Howe Library last Thursday, shortly after she'd opened her laptop and calculated her final debt at graduation. The total: $77,400.
"I cried," she said. "This is a rough day."
Still, she hopes to land a job and put a dent in that balance before pursuing grad school. "Graduating on time is, like, a very big deal to me," she said.