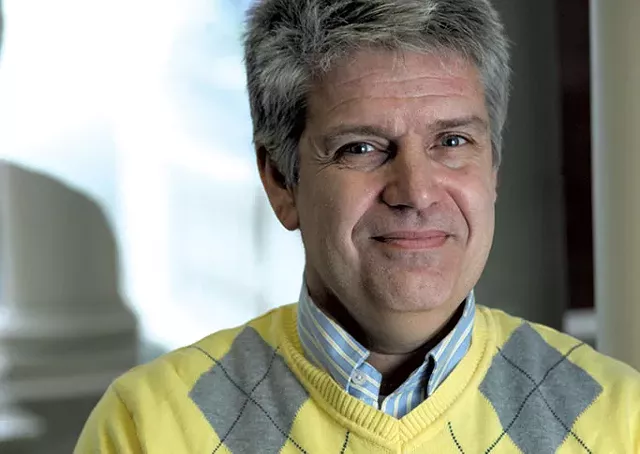 Matthew Thorsen
William Falls
The first in his family to attend college, William Falls is accustomed to a challenge. Both his parents worked at a General Electric plant in Lynn, Mass., his mother building aircraft engine parts and his father making turbines for nuclear submarines.
Falls himself might have wound up at the plant after high school, but his drive and intelligence pushed him elsewhere — to Bates College in Maine, and then to Yale University for his PhD. In February, after 17 years in the University of Vermont's psychology department, Falls was promoted to dean of the College of Arts and Sciences.
It's a big job with a big salary — $250,000 a year. The 50-year-old Essex Junction resident has already set his top priorities: to put the luster back on liberal arts and boost current enrollment.
"We keep on reading and hearing about sort of the demise of liberal arts,'' said Falls, sitting in his spacious office in a restored mansion at 438 College Street. In the past five or 10 years, he's noticed that "the students are a lot more anxious about their futures than in the past," he said.
For many, that economic uncertainty makes a preprofessional academic track look a lot safer right now than a degree in history, philosophy, English or mathematics. But Falls believes it's all the more important in this climate to emphasize that the study of classic liberal arts disciplines develops broad thinking and gives students a versatile tool kit. "The liberal arts train you for a lifetime; they train you for anything that you want to do," he said.
High-tech employers and graduate school deans want more than technocrats, Falls went on: "They also need thinkers; they need people who can communicate, who can work as part of the team."
With an open smile, thick salt-and-pepper hair and an unassuming manner, Falls does not look the part of a stuffy academic. During a conversation last week, he wore pressed khakis and a yellow argyle sweater over a striped dress shirt. A small stud glinted in one ear. His office wall displayed pictures of his four children, ages 14 to 24 — including one stepdaughter with his wife of 10 years, court reporter Darlene Falls.
The dean occasionally gets out on his Harley-Davidson Low Rider motorcycle in the warmer months, but the family is his biggest hobby, he said: "My kids are my life."
Falls' deanship is the culmination of years of work and study. His parents wanted to get out of Lynn when William, the youngest of their four children, was finishing middle school, he recalled. They moved to Derry, N.H., where Falls graduated from Pinkerton Academy. Teachers took an interest in him, and an uncle helped him fill out his college applications and financial aid forms. While his parents had no direct experience with college, Falls remembered them being supportive and proud as he prospered.
At Bates, Falls was exposed to a wealthier breed of student; he recalled his freshman roommate making multiple calls a day to his stockbroker. Still, everyone lived in the same dorms and ate in the same cafeteria, which was an equalizer, Falls said.
At Yale and UVM, Falls specialized in neuroscience. He served as chair of the UVM psychology department and as interim dean of Arts and Sciences for a year, after former dean Antonio Cepeda-Benito stepped down in February 2015.
Assessments of Falls' predecessor vary. Cepeda-Benito himself said he was proud of his work but ultimately not suited to a highly political job: "I cannot be who I am not," the Vermont Cynic quoted him as saying. Falls agreed that Cepeda-Benito did a solid job, adding, "We have the utmost respect for each other."
Others were less enamored of the previous dean, who continues to teach at UVM. History professor Denise Youngblood said she found Cepeda-Benito, who came from Texas A&M University after an expensive national search, to be a top-down manager during his three years on the job. Texas is "a massive research institution, but it's not an arts and sciences institution," which made it difficult for Cepeda-Benito to understand the mind-set at UVM, Youngblood said. "He was in every way the wrong person" to run the College of Arts and Sciences, in her view.
Meanwhile, in a faculty that rarely reaches consensus on anything, William Falls is seen by almost everyone as a good hire, Youngblood said.
"He is a person with a reputation for being truly collaborative," she explained. "They all say that, but Bill Falls really is. And also, he's a person with a very even temperament. He is a teacher and scholar himself. He's not a professional administrator. For all of those reasons, he has really hit the ground running."
It's good to see a promotion from within Arts and Sciences' ranks, Youngblood added: "The morale of the faculty in the college has just completely turned around since he became dean."
The College of Arts and Sciences is the largest at Vermont's state university, representing about 43 percent of the school's undergraduates. For most of UVM's history, A&S enrollment has been its bread and butter, yet that figure declined 20 percent between 2009 and 2015, from 5,418 students to 4,324.
Those students aren't all focused on the humanities; the college encompasses more than 50 majors, including mathematics and sciences such as biology, chemistry and physics. Still, the perception of the liberal arts as less "practical" persists. Nationally, many schools are seeing fewer A&S majors as interest grows in technology, engineering, nursing, business and other professional programs.
On the UVM campus, the investment priorities are evident in the construction of the $104 million STEM Complex, a 266,000-square-foot center for science, technology, engineering and math that is the largest capital project in the school's history.
Those aren't the only trends Falls must weigh. His arrival at the dean's office coincides with the rollout of a controversial new budgeting model designed to reward UVM's popular courses and schools. Incentive-based Budgeting (IBB), implemented last July, is unpopular with many A&S faculty, but Falls defends it. "It basically just sort of provides you with the resources to do what you're doing," he said.
The new budget process gives deans more control, Falls said, to assign funding according to their own colleges' priorities. Under the old scenario, the provost had greater authority to make budget decisions from a central office. So far, A&S has not seen decreases in funding under IBB, so Falls finds the new budget autonomy to be appealing. One of this dean's goals is to beef up first-year programming for A&S students and thus help with retention — right now, about 15 percent of UVM students leave in their freshman year.
IBB is new and still not fully understood, Falls said. But he likes the model. "I'm optimistic," he explained. "I think the challenges the college faces have nothing to do with IBB."
Others disagree. Felicia Kornbluh, president of United Academics, the UVM faculty union, believes IBB imposes a corporate model on an academic institution that should not be driven by profit-and-loss statements.
Many professors are worried that IBB will pit colleges against one another and lead to a reduction in course offerings and possibly faculty, she said. The number of part-time faculty teaching this year has dropped 12 percent compared with last year, and those who remain are teaching 30 percent fewer credit hours, according to United Academics. "That's one big concern," said Kornbluh, associate professor of history and director of gender, sexuality and women's studies.
She also believes that under IBB "finances are driving the bus in a way that's distorting."
Larger classes are inevitable under a system that rewards deans on a per-student basis, Kornbluh predicted, and this could hurt retention of students who already complain about introductory-level classes with more than 100 enrolled. "They don't want to be in alienating large lecture classes, and they don't want to be with professors who don't know their names," Kornbluh said.
Youngblood, the history professor and a former president of United Academics, agrees. IBB puts the university on a "corporate footing" that's all wrong, she said: "I do not believe that universities are anything like corporations. I don't see my students as my customers. And now there are people in the administration who actually talk about our students as our customers."
Kornbluh said there are early signs that popular courses in the environmental studies program are getting bigger — a negative for students, in her view. Meanwhile, Youngblood said she's hearing that some colleges are thinking about offering their own versions of history and other required courses, thereby bypassing the A&S to keep numbers in their own schools.
UVM Provost David Rosowsky defended the IBB model and noted that many other universities around the country have adopted the same structure. It gives the deans and faculty greater control, and so far the rollout has gone well, he said. UVM lacks the large lecture halls it would need to accommodate many more large classes, Rosowsky assured, and the university is committed to the current model of offering many classes with fewer than 20 students. "We are not going to mess with that," he said.
Rosowsky disagrees with the United Academics numbers on reductions in part-time faculty but said it's ultimately up to deans to make such staffing decisions. He predicts that some very small classes at UVM could be eliminated under IBB, but he also expects innovative new courses, summer seminars and executive trainings to crop up because the deans and faculty will now have the funding to create them. "They get the revenue, and they pay the bills," Rosowsky said.
As for Falls, the provost praised his ideas and energy and noted that internal candidates don't always rise to the top in a national search the way Falls did. "We have great hopes and great excitement for his leadership," Rosowsky said.
Many freshmen arrive at UVM excited, too — but not all stay. How can administrators help reach them? Falls recalled that at Bates, his professors were accessible — a quality often associated with the traditional liberal arts college. To this day, he said, he believes in "the importance of teaching, the importance of being there to support your students." Falls is still advising students this semester and hopes to get back to the classroom in the fall.
His faith in those personal interactions underpins his mantra about UVM: "Come here, and if you're engaged, you're going to get an amazing liberal arts education."