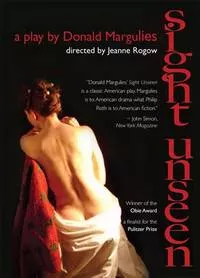 Jeanne Rogow, founder of the new Credo for the Stage theater company in Middlebury, is drawn to characters crafted with depth and realism. That's why she chose to debut her company with Donald Margulies' play Sight Unseen. But Rogow knows that intense, complex relationships — Margulies' signature — can bring the house down, and not in a good way.
It was Margulies' Pulitzer Prize-winning Dinner with Friends that led to Rogow's break-up with the Middlebury Actors Workshop after she acted in that troupe's summer 2004 production. "It was just one of those yucky episodes that left me feeling not great," Rogow says, citing oft-blamed creative and interpersonal differences with prompting the split. "The long and the short of it is, I wanted to do something different artistically."
To set her new dramatic enterprise in motion, Rogow will direct the Obie Award-winning Sight Unseen, which opens at Burlington's FlynnSpace this Thursday for a three-night run before moving to the Vergennes Opera House for shows on July 20 & 21, and ending its tour at Rochester's BigTown Gallery with performances on July 27 & 28.
A tale of missed romantic opportunities involving a famous painter and his former lover, now married to others, Sight Unseen promotes Credo's mission to take artistic risks. "I'm not interested in entertaining for entertainment's sake," Rogow says. "I feel like I want to ask questions and get people involved in a dialogue. Sight Unseen . . . gets people thinking."
What she thought of, when she began reading the play with actors roughly two years ago, was her parents — both of whom are recently deceased. The Jewish artist character in Sight Unseen brought to mind her "colossally creative" father. Her mother was, in Rogow's words, a "sacrificial shiksa." Jewish identity exerts a strong force in Sight Unseen, but more powerful still, Rogow suggests, is the sense of "something missing" in the characters' lives.
The long time she and her peers picked over Sight Unseen before deciding to mount it has yielded a strong commitment to the work. "That investment is really thrilling . . . We're doing this together," she says. "One of the things I love the most is collaboration."
She hopes the strength of their shared commitment will be evident when the curtain goes up on Credo's premier production, which will feature actors Bill Carmichael, Lauri London, Matt Schlein and Stephanie Strohm. "If you ever wondered what happened to that person you were in love with but didn't end up with, this is a play for you to see," Rogow suggests.
Such an open question may strike notes all along the emotional spectrum — nostalgia, regret, relief. Viewed in a broader context, Sight Unseen coheres around the theme of possibility — in this case, for what might have been. In Rogow's parallel work as a filmmaker, the theme of possibility looks more optimistically to the future.
For the past few years, she has been shooting a documentary on Ethiopian adoptions, focusing mainly on a few Vermont families involved in the process. She traveled to Ethiopia in 2004 and is slated to return later this year. While the movie is still a work in progress, Rogow sees a coherent story emerging about "the moment when people decide to make a change in their life that seems small at first but ends up having an impact on their community and the world," she says.
"People's stories about longing," Rogow muses, "are incredibly compelling to me."