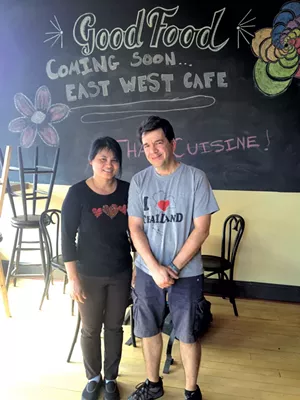 Stacey Brandt
Samran Kaewkoet and Brett Richland
Formerly the home of Stacks Sandwiches, the corner lot at the intersection of Burlington's Pearl Street and North Winooski Avenue will soon house authentic Thai cuisine. Later this summer, married business owners Brett Richland and Samran Kaewkoet plan to open East West Café in the erstwhile sandwich spot.
Kaewkoet, who will run East West's kitchen, spent years honing her culinary chops in her home country of Thailand before applying them locally at Winooski's Tiny Thai Restaurant. Currently, Kaewkoet works part-time at Burlington's Thai Dishes.
East West's extensive menu will feature Thai favorites such as noodles, soups and chicken satay, but also nod to pan-Asian influences. Gyoza (a Chinese-style dumpling) and Thai-style lo mein will appear beside lesser-known plates. "I like making original Thai food," Kaewkoet says.
Adopting flavors from bordering Laos, specialties from the Isan region tend to be sweet, sour and spicy. Kaewkoet's menu will feature a traditional roasted-chicken dish and its pork equivalent with a house sauce of lime, ginger and raw sugar. She will incorporate the Laotian staple of sticky rice (black and white) into her desserts as a base for homemade custard.
With no dish exceeding 12 bucks, "we want to keep prices reasonable," says Richland, who will handle the administration. He says he's confident in his wife's decades of cooking experience.
Owing to zoning permit delays, East West's initial orders will be exclusively takeout. When the doors open, the restaurant will have daily service from 11 a.m. to 8 p.m., with specials posted on a chalkboard. Richland says he hopes eventually to fit seating for 20.
— S.B.
Morrisville's Stone Grill Restaurant & Pub went stone cold in April, serving its final meal toward the end of the month. Since opening several years ago, the restaurant had struggled to fill its seats. So the closure may not have surprised locals still mourning the passing of the late, great Charlmont, which had occupied the same space, in various iterations, since 1964. But the real surprise was what came next.
Last Saturday, May 23, chef Steve Benson, who owned the Charlmont from 1980 to 1998, resurrected the beloved restaurant. "The community is ecstatic," Benson says. "I've had more hugs from customers saying, 'Thank you, we're so glad you're back' than I ever could have imagined."
Since closing the Charlmont, Benson has opened Melben's in Morrisville and Rick's Grill in Milton, and cooked at Stowe's the Shed and other restaurants. Now, he says, he's brought back a lot of the restaurant's old-school flavor. That includes his homemade bread recipe, a salad bar and many Charlmont favorites, including clam chowder, baked haddock, Friday-night fish fries and prime rib dinner buffets. Benson says he's sourcing his fish from Stowe Seafood and as much produce and beef as he can from local farms, particularly in the warmer months.
The Charlmont is open for breakfast, lunch and dinner, Tuesday through Sunday. Weekend mornings bring brunch buffets with omelettes cooked to order. In the next few weeks, Benson says, he'll open a downstairs lounge called the Charlmont Pub, which could host live music and other events.
"I was already here for 18 years," he says, "and the Charlmont's an icon. People still called it the Charlmont even when it was the Stone Grill." Now the name will fit again.
— H.P.E.
Courtesy Of Zero Gravity Craft Brewing
Zero Gravity Craft Brewing
Last Friday, Zero Gravity Craft Brewery opened its new South End space to the public. Located at 716 Pine Street beside South End Kitchen, the tasting room is open noon to 9 p.m., every day but Tuesday. It will eventually offer 10 beers on tap, but opened with just four: flagship brews Green State Lager and Conehead IPA, along with Little Wolf American Pale Ale and Bretthead, a Brettanomyces IPA.
All drafts are available in 32-ounce or full-size growlers to go. But patrons who want to hang out can sit down for a pint in the ample, airy tasting room or outside on the sun-soaked patio beer garden, which seats 50.
A brief menu offers simple bar bites, including German-style pretzels (made with tutelage from Bee Sting Bakery owner Heike Meyer), spiced nuts and popcorn. The menu may evolve, says brewery marketing lead Matt Wilson, who hopes eventually to offer cheese and beer pairings and other low-maintenance snacks.
The space serves primarily as a production brewery. Brewmaster and Zero Gravity founder Paul Sayler heads Pine Street operations, while head brewer Destiny Saxon will continue to turn out small-batch suds at the brewery at American Flatbread Burlington Hearth.
The new brewery's 5,000-barrel capacity allowed Zero Gravity, which had contract brewing out of state, to return its full production to Burlington. It also houses a canning line (look for ZG cans in a month or so) and barrel-aging operation, says Wilson, who also hopes to host special events, perhaps involving live music and food. "We're going to try and be creative about it. We have a ton of space!"
— H.P.E.
Courtesy Of Brocklebank Craft Brewing
Brocklebank Craft Brewing
In other brew news, this coming Friday, May 29, Brocklebank Craft Brewing will open in the old Organic Cow creamery in Tunbridge. From behind the hand-milled cherry bar, owners Ben and Anne Linehan will pour samples and growlers of Freedom & Unity, a hoppy pale ale; Stack O'Lee, a golden pilsner brewed with American ale yeast; and a German-style weissbier called Schatzi.
Brocklebank, which runs on a 1.5-barrel brewhouse, will be less hops-centric than many local breweries. Instead, brewer Ben — a professional plumber who has been homebrewing for years — will focus on easy-drinking, low-IBU ales, lagers, pale ales and IPAs. "So many people tell me they're tired of hoppy beers," Linehan says, "so we're going to concentrate on the quality styles we like to drink ourselves."
For the first few weeks, the Linehans will focus on serving at the brewery, but they hope to start kegging beer for restaurants in a few weeks, with help from nearby Bent Hill Brewery owner Mike Czok's in-house distribution company. "Mike has been very helpful," Linehan says. The two collaborated on a black IPA last winter, and Linehan says Czok is his first call for brewing questions.
Though Linehan says he plans to keep the opening simple — tastings and growlers only — he and Anne hope to get a wood-fired pizza oven up eventually. The brewery will be open Fridays and Saturdays, noon to 6 p.m.
— H.P.E.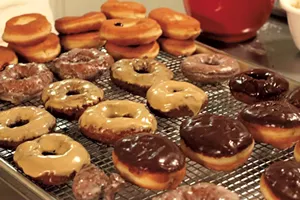 Courtesy Of Doughnut Dilemma
Doughnut Dilemma
On Thursday, May 21, Burlington Farmers Market favorite Doughnut Dilemma debuted a sweet new space at 55 Main Street in Burlington — and sold out of 700 doughnuts by noon. Now it seems owner Michelle Cunningham has her own dilemma: supplying a town-wide doughnut addiction.
An alternative to processed doughnuts, DD's handcrafted rounds offer a quirky selection of flavors and fillings. The shop is open Tuesday through Friday, 6:30 a.m. to 3 p.m.; and Sunday, 7:30 a.m. to 3 p.m. — or until the doughnuts run out. On Saturdays, look for Cunningham's wares at the farmers market.
Loretta's Fine Italian Cuisine closed the doors of its Essex Junction location on Saturday, May 16. Loretta's was owned by the one-time proprietors of Alfredo's Restaurant: In the Alley on Church Street, who thanked the community for its support via their Facebook page but could not be reached for comment by press time.
— S.B.