Luke Awtry
Rabbi David Edleson
He's a rabbi who loves music and includes folk songs, Yemenite tunes and psalms in his services — and who discerned a kind of music in sign language when he served a deaf congregation. He's a gay man who fought for the ordination of gay and lesbian rabbis 30 years ago in New York City. And David Edleson, the new rabbi at Temple Sinai in South Burlington, is a religious leader who said he's learned from other spiritual traditions he's "dabbled with," including meditation, Buddhism and "New Agey" practices.
"Sometimes you have to leave home to come home," Edleson, 57, said. "To find out how to make Judaism work for me personally, other traditions were actually deeply helpful."
Edleson started July 1 as rabbi of the Reform synagogue, where he succeeds James Glazier, who retired after 37 years. He said he intends to embrace and provide meaningful service to a broad community of people.
"I'm trying to make room for both faith and skepticism, because I think one without the other is missing something," he said. "In fact, I think one without the other is even dangerous. People who just believe and don't question can easily turn toward versions of authoritarianism and intolerance. But skepticism just by itself — without a sense of the human spirit — can really lead to a low view of humanity."
In its national search for a rabbi, the congregation employed marketing and organizational tools more commonly used by business and government. The process involved surveying and assessing the needs of the congregation through focus groups and other means. The data showed why members left and what would bring them back, said Paula Cope, president and CEO of the consulting firm Cope & Associates and a member of the search process. A key finding was that the congregation wanted a rabbi "who can be part of the community and not just lead the synagogue," she said. "Temple Sinai has always been very active with social justice issues."
The search culminated with Edleson, whom Cope said is "everything we ever dreamed of and more."
He was teaching at Community College of Vermont, working at a seasonal congregation in Bethlehem, N.H., reading Hebrew-language novels, playing guitar, cooking and gardening at the "little Vermont hippie house" that he and his husband, Tim Owings, built on a hillside in Lincoln 24 years ago. Onetime high school sweethearts in small-town Georgia, the two were joined by civil union in 2001 and married three years ago over dinner at Leunig's Bistro & Café.
Flower gardens surround their house, and a set of silvery-green Nishiki willows grows out back. A pair of hens bops around, so free range that Edleson can't find their eggs. A fire circle and a hand-dug pond form small hangouts. On snowy days, Edleson and Owings often park at the bottom of the hill and walk up their long driveway. With his new position, Edleson is suddenly a regular commuter.
His leadership at Temple Sinai coincides with a greater transition in the local Jewish community, said Susan Sheckler Leff, director of Jewish Communities of Vermont. Glazier's retirement was preceded three years ago by the departure of Rabbi Joshua Chasan after 25 years at Ohavi Zedek Synagogue. Amy Small succeeded him in early 2016 to become rabbi of Vermont's largest congregation.
"When synagogues go through transitions, people rethink what they're doing," said Leff, a board member at Temple Sinai. "[Congregants] leave and come."
In addition, a congregation formed three years ago in the Old North End, Ruach haMaqom, led by Rabbi Jan Salzman. This makes six active Jewish groups in the Burlington area, by Leff's count, including two Chabad congregations and the Hillel at the University of Vermont. In all, she said, there are about 600 participating Jewish families, 200 of whom belong to Temple Sinai.
"My philosophy is that we're all Jews together and that there's plenty of universal ideas, and doing things together strengthens everyone," Leff said. "David is very, very interested in collaborative programming."
Edleson believes the synagogue needs a "spiritual center" at its core. "I think there's a need for Judaism to find that balance between the culture and the spirituality, between tradition and innovation," he said during a conversation in his office. He intends to focus on relationships over programming and "to take the time to help people learn to pray."
Since his 1990 graduation from Hebrew Union College Jewish Institute of Religion in Manhattan, where he was a member of the first class of openly gay and lesbian rabbis to receive ordination, Edleson had never, until now, been the full-time leader of a conventional congregation.
"I've never been a career-move type of person," he said. "It's not how I think."
For more than 20 years, including after his move to Vermont, Edleson was rabbi for the Hebrew Association of the Deaf in Manhattan, conducting services, praying, counseling people and playing cards with them in sign language. A lover of languages, he learned signing from an 80-year-old Russian man and found the language to be "almost a form of music."
Edleson was a member of — and led services for — a congregation founded in 1973 called Beit Simchat Torah in NYC. The group — "complex, loving and vibrant," in his words — encompassed closeted Hasidim, lesbians and gay men, drag queens and transgender people. It convened in those days in the basement of an artists' community in Greenwich Village.
"I happen to really enjoy the mix of different people," Edleson said. "I learned a lot about how to navigate the differences [from] these communities."
Most recently, Edelson was a summer rabbi in the White Mountains. David Goldstone, president of the 98-year-old Bethlehem Hebrew Congregation, called Edleson "the gold standard of rabbis." He recalled a Sabbath at which Edleson sang prayer songs to the tunes of Broadway musicals.
"He's got tremendous energy, and he's a very warm human being," Goldstone said. "He's got a partner as well loved as he is: two wonderful human beings for the price of one."
In his three months at Temple Sinai, Edleson has built, with Owings, a gaga ball pit for kids; learned people's names; asked for God's blessing "on these exhausting and relentless Jewish holidays"; and collaborated with Ohavi Zedek on one holiday celebration and Ruach haMaqom on another.
At a Yom Kippur service, he acknowledged to his congregation the difficulty some people have "stepping into prayer." Then he helped to guide them. "Each of you can find a way into what it is you find sacred," Edleson said. "Pray for the New Year. Pray for forgiveness. Pray for what it is that is in your heart."
Edleson has introduced a repertoire of music that combines traditional and modern pieces "with respect for all," said Mark Leopold, who has been lay cantor at the temple for 52 years. On Rosh Hashanah, Leopold sang Leonard Bernstein's "Simple Song" with accompaniment from the rabbi on flute and Wendy Valastro on piano. "Before Rabbi Edleson came, it never occurred to me that I could go to YouTube and find Jewish music," said Leopold, 66. "Now I do it all the time."
Edleson's belief that "Judaism can't be a spectator sport" is playing out at the temple. During a recent Sabbath, one congregant halted the singing of a psalm to explain how it should be sung: "This is something I've been dying to say for years," Bruce Chalmer said from his chair.
After the service, Chalmer talked about Edleson's influence at Temple Sinai. "What's so amazing about David's being here is how the place has so come alive," he said. "The spirit of this synagogue has been revitalized with the coming of Rabbi Edleson."
Southern Roots
Luke Awtry
Rabbi David Edleson
Edleson was born in Tennessee and raised in Georgia, the youngest of three siblings. His family moved routinely for his father Bert's management career in military weapons contracts. Edleson attended eight schools in 12 years. His mother, Ann, was a surgical nurse with an interest in public health and women's reproductive issues. She left work every day when her kids were young to take them out of their public school classrooms during the Christian devotional.
"I always appreciated her fierceness," Edleson said.
When he was in seventh grade, his mother suggested that he'd enjoy school more if he took band instead of shop and physical education; she arranged for him to get out of those classes. "It's because I was gay," Edleson said. "She knew it at some level." He had played piano since age 4 and later added woodwinds — clarinet, flute and piccolo. He became drum major in the marching band.
But in 10th grade, when he was kicked out of the band for being Jewish, his mother directed Edleson to handle the situation on his own. The band director told the teen that, at a meeting of band parents — Edleson's were not in attendance — the adults decided they were not comfortable with "a Jew leading the band down Main Street," he recalled. In talking with the principal about the matter, Edleson called the band director, who denied the incident, a liar. And for that, Edleson was expelled from school. (The punishment was subsequently revoked.)
The experience at Chattooga High School in Summerville, Ga., compelled him to explore Judaism and the meaning of being Jewish in greater depth. "It drove me right to the rabbi, where I started studying," he said.
Edleson left Georgia for the College of William & Mary in Williamsburg, Va., where he majored in comparative literature and became president of the campus Hillel. When he graduated in December 1982, Edleson loaded his Pontiac Sunbird and drove to Georgia to be with Owings, then an architecture student at the Georgia Institute of Technology. (Owings was an architect before switching careers to become a hair stylist. His salon in Burlington is called Mister Lanier.)
"I moved in with Tim then, and that was it," Edleson said. Owings converted to Judaism, and the couple moved to Jerusalem for two years, where Edleson began rabbinical school.
He had considered doctoral studies in comparative literature but ultimately was drawn to the interdisciplinary curriculum of a rabbinical educational: literature, history, language, philosophy. Edleson wrote his thesis on how modern Israeli literature reinterprets Judaism. He thought he'd teach and be a Hillel rabbi on a college campus.
Yet at Hebrew Union College, Edleson was uncertain he would be ordained because he was gay. So he and some half dozen other students formed a group called Hineinu, which is Hebrew for "here we are." Edleson designed the group's graphic image — a door partway open. At his home in Lincoln, he retains Hineinu's printed literature from three decades ago that the organization distributed at Passover.
It reads in part: "Soon we will celebrate Pesah[,] our festival of freedom and human dignity. As gay and lesbian students at HUC, we are not free to openly express our identity and lives, nor are we granted the dignity that comes from such expression. Realizing that if we are not for ourselves, no one will be for us, we have formed Hineinu."
The document delineates the organization's goals, including "[to] mobilize student support for: the admission and ordination of openly gay & lesbian students at HUC, fighting discrimination and homophobia at HUC; a CCAR [Central Conference of American Rabbis] resolution recognizing the validity of gay and lesbian rabbis."
The effort was a success. Edleson and classmate Nancy Wiener, now a professor at HUC, were ordained in May 1990. Still, a prominent faculty member declined to sign Edleson's ordination certificate, he said.
"[Ordination] meant a level of acceptance that we didn't ever fully believe was possible," Wiener said by telephone from NYC. "We could transmit and receive the tradition that we love and teach without having to shut part of ourselves down. The diversity of families in the Jewish community," she added, "was going to be represented not just in the pews but everywhere."
While engaged in activism and rabbinical studies, Edleson and his friends were living with the collective terror and grief of the AIDS epidemic of 1980s NYC. At his Village synagogue, Edleson sensed that the Jewish ritual for mourning the dead — reciting the Kaddish — was inadequate relative to the siege and toll of AIDS, then a fatal illness.
"It started to feel like a formality that didn't relate to the magnitude of the horror," Edleson said. "You'd have a roomful of people starting to sob — that's meaningful — and then you read this thing in Aramaic.
"When something horrific is happening," Edleson continued, "the liturgy doesn't change quickly and easily to meet that need."
Making their own rituals, gay spirituality groups would leave NYC to camp out in the woods together, light bonfires and form a heart circle. "People would scream," Edleson remembered.
Moving North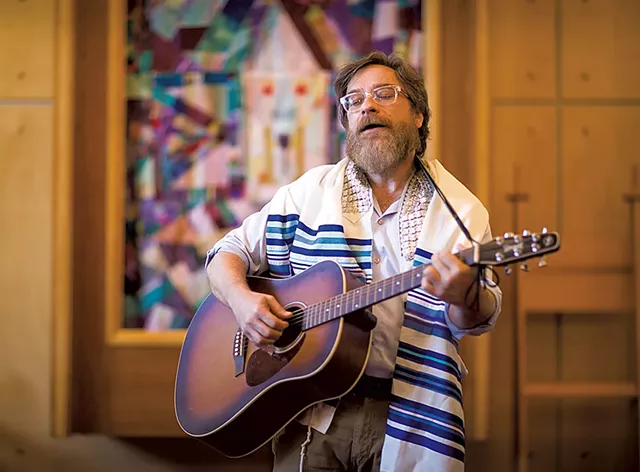 Luke Awtry
Rabbi David Edleson
In 1991, Edleson and Owings left the city to live on a kibbutz in southern Israel with the intention of staying there. But when things didn't work out as planned, the couple returned after a year to NYC. Edleson resumed his work with the Hebrew Association of the Deaf. But he grew increasingly interested in moving away, as many of the couple's friends had, to live in the country.
"After the worst of the crisis is over, some of the trauma starts to emerge," he said. "New York became really just haunted. We had a lot of friends die."
Edleson had studied Russian at Middlebury Language Schools and vacationed with his family in Vermont. He started to spend time with friends living in Northfield, and he and Owings decided to look for a place in the Green Mountain State.
It was his mother who spotted the ad for 30 acres and a basement in Lincoln. Though Edleson and Owings had been focusing their search on a house in Franklin County — between Burlington and Montréal — they agreed to look at the Lincoln land. They made an offer on it the next day.
"I naïvely felt that, as a white man in the empire, we could make it work," Edleson said.
First, they had to build their house. The project started on Halloween in 1994, when the couple moved from Brooklyn to a steep hillside with a partial dwelling that consisted of a concrete basement and some interior framing but no roof.
The men set up a tent on subflooring, then raised another tent over the first one. They hung plastic sheeting over their double tent to construct a kind of cocoon that faced the woodstove. They rigged up makeshift sluices to catch rain and snow from the leaky sub-roof they banged together, directing the water into garbage cans.
They put up drywall and installed insulation, made two bedrooms and nailed up siding. They sited a big window on the east wall for a marvelous view of Mount Abraham.
"It was the dumbest thing we ever did," Edleson said of building a home.
He worked for a time in administration at Vermont CARES, an AIDS/HIV advocacy nonprofit in Burlington, and taught literature and religion courses (among others) at CCV. Edleson also served from 1999 to 2007 as a dean at Middlebury College, where he taught courses in the religion department. As a commons dean, working with students in their residential communities, he and other such deans are a "designated port in the storm" for students, said Matt Longman, a commons dean and former colleague of Edleson's.
By being open about his life story and bringing his experience to his work at Middlebury, Edleson was able to make meaningful connections with students, Longman said, adding that the dean also helped plan events and participated with enthusiasm and a sense of fun.
"David was quite masterful at creating a safe space," Longman said. "He was really artful at knowing what question to ask to bring out an honest and timely next step in the conversation. David is someone who brings his full self to anything he's involved with — and that includes the strength of his voice and opinion."
Last November, Edleson applied to be rabbi at Temple Sinai. In doing so, he talked about his interest in making "a vibrant spiritual community."
Let them say no, he thought, elaborating that he owed it to himself to apply: "That was my big spiritual growth."
Edleson was thrilled to be selected and said he's at a "lucky place" in his life.
"I feel a little like Sally Field," he said, referring to Field's remark when she won an Oscar in 1984: "You like me!"
Yet he's thinking in broader terms.
"Liking me is great," Edleson said. "But if I don't use my position to get people to connect with each other, then it's not a community. In this day and time, connecting is powerful and deeply needed."