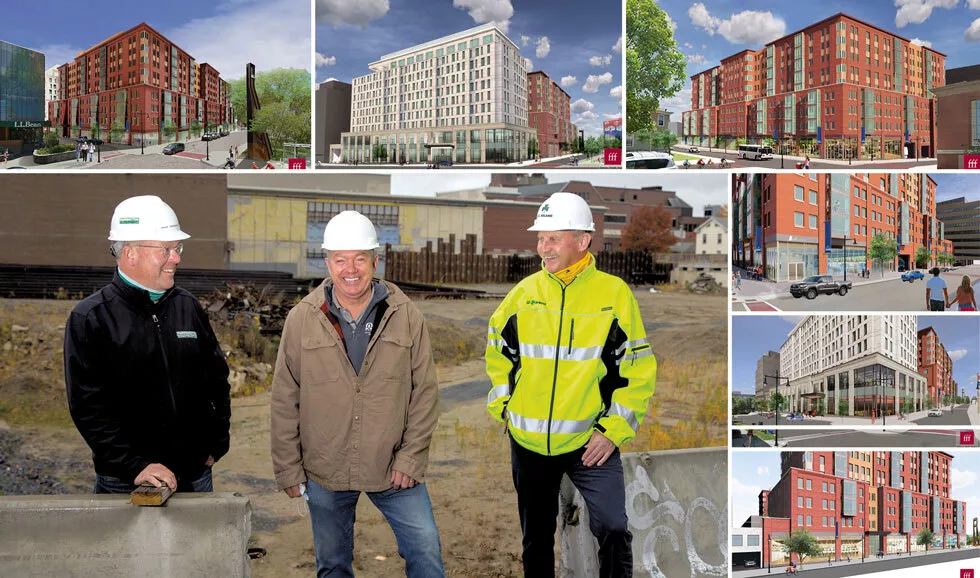 I
t may not look like much is happening at the three-acre vacant lot in the center of downtown Burlington. But behind the scenes, a new ownership team is working furiously to start construction on CityPlace Burlington.
When voters approved the ambitious CityPlace project in 2016, it was owned by Don Sinex and Brookfield Asset Management, but Brookfield bailed out in July.
Now a trio of locals has stepped in, buying Brookfield's 50 percent ownership stake from Sinex and taking over the property management: Dave Farrington Jr., owner of Farrington Construction; Al Senecal, owner of Omega Electrical Construction Company; and Scott Ireland, owner and president of S.D. Ireland Concrete Construction.
Each of them runs a multigenerational family business that has shaped the built environment of the Burlington area, and each has developed multiple residential and commercial properties. They're stepping up to save CityPlace, which would bring hundreds of new residents and a much-needed economic boost to downtown Burlington.
The three men had some involvement in CityPlace before they owned it: giving input on plans, working with potential tenants and helping to tear down the mall. Now they're determined to do what it takes to complete the project. Said Senecal: "We want to earn the trust of the city council and the mayor and let them know that we're here for real.
"We're here for the long haul," he added. "We're here for the people of Burlington."
Three of a Kind
File Photo
2017 S.D. Ireland St. Patrick's Day parade
Farrington, Ireland and Senecal, who range in age from 57 to 63, have more in common than the construction business.
Farrington was born in Burlington and attended Catholic schools here before graduating from the University of Vermont and going to work at the company his father founded in 1977. Ireland grew up in the Burlington area, too, attending Charlotte Central School and Champlain Valley Union High School before enrolling in Bryant University in Rhode Island; he returned after graduation and worked for the business his dad started in 1974, eventually teaming up with his brother, Stephen, to expand it. Senecal grew up in Massachusetts but has lived in Vermont since 1990.
All of them have children who have followed them into the family business.
The three have known each other, professionally and personally, for "a long time," said Farrington. In addition to working together on numerous projects, he and Ireland have sons the same age, and they coached Little League together. "We spent a lot of nights at the ball field," he recalled.
The Ireland family company made upgrades to Schifilliti Field in Burlington's New North End and was instrumental in building the SD Ireland Field at Calahan Park in the city's South End. Ireland, an avid Boston Red Sox fan, even built a regulation ballpark in his own backyard that has hosted the Shelburne Little League.
Senecal is a sports fan, too: He owns Essex Family Fun Entertainment, which includes seasonal batting cages, a driving range and a mini golf course.
Beyond athletics: Farrington, whose company helped build parts of the University of Vermont Medical Center, also serves on the UVM Medical Center Foundation's board of directors. Ireland and his wife, Kim, have a foundation that funds cancer research at UVM Medical Center, raising $4.5 million over the years. "It always goes locally," he noted.
The foundation's most visible and popular fundraiser is S.D. Ireland's annual St. Patrick's Day concrete mixer parade. Companies donate to the cause to put their logos on a couple dozen trucks, which drive around Burlington and Winooski honking their horns.
At the end of every year, the company also decorates two of its concrete mixers with 40,000 to 50,000 lights to celebrate the season.
'We Like Challenges'
What attracted the trio to this complicated and controversial project? "We like challenges," quipped Ireland.
Seriously, though, said Senecal, "We like to be busy. We go after as much work as possible." Senecal employs roughly 120 to 200 workers locally depending on the season. Ireland's workforce ranges from 320 to 400. Finding enough work to support 400 families is "a lot of responsibility," Ireland offered.
To keep its crews busy in the winter, S.D. Ireland started building and managing its own residential properties in 1996. It built and owns both Severance Corners Village Center in Colchester and Bayberry Commons Apartments in Burlington. Farrington has redeveloped and now manages several commercial office spaces in the city. In addition to his other businesses, Senecal has also owned and managed commercial office, retail and industrial buildings, as well as apartments and senior housing.
Senecal pointed out that CityPlace is "one of the largest projects" in Vermont. "It was that kind of challenge that pulled me in, and I'm sure you guys, too," he said on a Zoom call with his partners last Friday.
In the 12 weeks since they took over, they've filed their zoning permit application, begun negotiations with the city and made a deal with the school district to relocate Burlington High School to the old Macy's building, which they now own.
Ireland dryly noted, "We've been busy."
'Best of Both Worlds'
Courtesy Image
Close-up of Bank Street in the new plan for CityPlace Burlington
Their new design for the project includes two towers — nine and 10 stories high — that contain 426 units of housing, at least 84 of which will be classified as "affordable," as well as a rooftop restaurant and an observation deck, and community space that will be available and accessible to all.
It will house 45,000 square feet of retail space. Farrington noted that, as the project progresses through permitting, the developers will be reaching out to local restaurateurs and retailers. Though they have to price the rents at market rates, he said, they'll be considering the importance of tenants with local connections. Anyone interested in seeing the plans or discussing the space should give him a call, he said.
Farrington is excited to build all that housing downtown. He loves visiting cities like Boston and Montréal. "I really like that spark, what a city brings," he said. CityPlace will add 600 to 700 new residents to the city center, and he expects that will bring more services, restaurants and entertainment options.
Burlington, he said, will offer "the best of both worlds," with open land and outdoor recreation options just a short drive away. "We're going to have a real little city here," he boasted.
It would be a boon for the state's largest burg, and that would be good for Vermont. After all, he said, "If Burlington does well, everybody does well. It's the engine that drives the Vermont economy."
This article was commissioned and paid for by Pomerleau Real Estate.