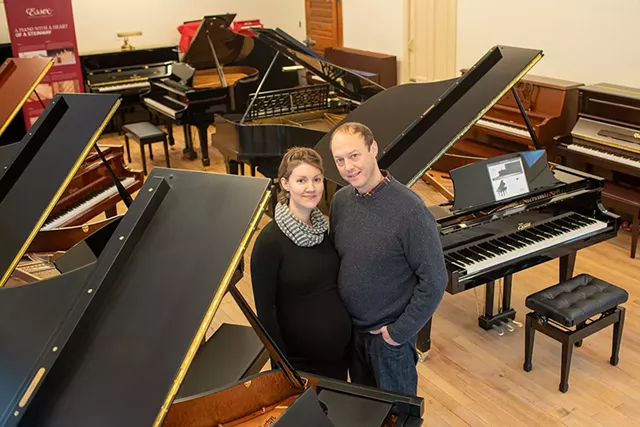 Caleb Kenna
Emily and Justin Rose
A roomful of pianos takes up an inordinate amount of oxygen. Not literally — although pianos do tend to be picky about humidity and altitude — but in terms of impact: Every piano has a distinct presence, and a roomful of them demands air, attention and reverence. In North Ferrisburgh, Justin and Emily Rose have assembled a shining baker's dozen of them, in hopes of establishing Vermont's foremost piano outpost.
Both Roses have been tuning and tinkering with pianos for years; they actually met through the Piano Technicians Guild. Emily has been playing piano since childhood. Justin, though primarily a double bass player, readily acknowledges the piano as the "king of instruments."
The couple had been reconditioning and selling pianos "casually" — as casually as one can sell an instrument that weighs up to 1,200 pounds. But, starting this month, they'll begin selling Boston and Essex models, which are designed by piano giant Steinway & Sons. The Piano Gallery will be one of few places in the state where residents can buy a new piano.
"There's a lot of people that play and have an interest in pianos," Justin said of Vermont. "Steinway, they kind of want to have a toehold up here."
The building that houses their showroom was built in the 1940s as an IGA country store. Next door, the Roses and their 1-year-old son reside in an 1880s farmhouse; out back, even more pianos are stored in the barn. The homestead is set on a hillside with a seasonal stream running through it — all in all, a picturesque location in which to set up a shop full of instruments.
Inside the showroom during a reporter's visit, Justin hovered over the open lid of a vintage Steinway grand piano and described the different elements of the instrument. When any of the 88 keys is depressed, a felt-covered hammer strikes a string, which reverberates against the soundboard, a large wooden plate that lies flat in a grand piano and stands vertically in an upright piano.
Though large in diameter, this system doesn't take up the majority of the instrument's casing — most of the rest of the piano comprises beams and bracing. An average of 170 pounds of force pull on each string, with 20 tons of pulling force in the entire instrument. If it weren't constructed sturdily and reinforced at every possible juncture, a piano's natural inclination would be to collapse upon itself. Older pianos, Emily said, have sometimes warped under the pull of their own strings.
For such a marvel of engineering, pianos are remarkably temperamental. The Roses describe piano tuning almost like a negotiation with the instrument — dozens of tiny adjustments to make the piano not only sound perfect but stay in tune. Though both Roses can tune by ear, they often utilize digital tuners to speed up the process.
"You could literally tune a piano every day," Justin said with a chuckle. A concert piano, for example, is often tuned before sound check, after sound check and sometimes even during intermission. A piano goes out of tune when it's moved to a new location or played particularly hard, or when it experiences a change in temperature or humidity. It also happens gradually over time due to wear on the piano's materials.
"If it's really flat, you basically have to tune it twice just to get it to stay," Emily said. "Because it wants to go back where it was. So you have to manipulate it."
"They can be stubborn," Justin agreed. "That's why we like the new ones, because they're fairly compliant."
Tom Cleary, who teaches jazz piano and improvisation at the University of Vermont, has hired Justin to tune his personal piano three times per year for many years. The Roses also tune some of the UVM practice pianos, which number around 20, twice per year, along with another local tuner named Rose Kinnick.
"It's kind of like servicing a fleet of rental cars that range from Chevy to Cadillac," Cleary said. "You have to be familiar with how to do the best possible upgrade in the shortest amount of time. Maybe it's like running an emergency room, as well ... It's not like doing the same thing to every piano; every one has a different ailment.
"It really is like being a physician," Cleary continued, "and knowing not only what a piano needs but what it can withstand and what its owner can afford."
"There's also a real cerebral element to it, too," Emily said, in reference to the math, physics and music theory that go into tuning. "There's no end to the things you can learn."
Though Emily and Justin were both tuning and servicing pianos before they became a couple and married, they said their pairing only helps their business prospects, because they can cover for each other and share clients when necessary.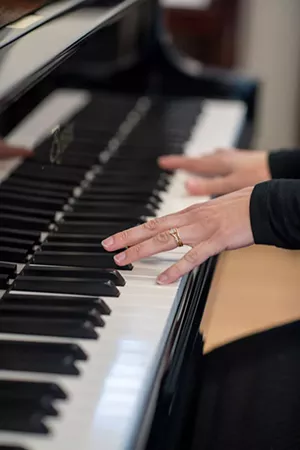 Caleb Kenna
Emily Rose playing piano
The showroom isn't their only new venture together — they're also expecting their second son in February. The showroom and their restored farmhouse are just a few steps apart, which makes it easier to balance childrearing and running a small business.
The Roses also replace and adjust parts on pianos old and new. Their shop is full of partially disassembled antique instruments; inside the cases or under the keys they've found everything from a 1907 Indian Head penny to a lizard skeleton.
Though Vermont has plenty of skilled piano tuners and technicians, multiple piano shops have closed around the state in recent years. Hansen & Son Pianos in Shelburne closed a year before the 2014 death of its patriarch, Ole Hansen. He'd been in the piano business in Vermont for 45 years. In White River Junction, Frederick Johnson Pianos lost co-owner Dale Howe in 2016, and just a few months later the entire shop — containing about 100 pianos — burned down when a coiled extension cord connected to space heaters got too hot.
The Roses' path toward a Steinway dealership began with becoming certified technicians, meaning they completed company trainings and are officially authorized to service Steinways.
New York City-based Steinway & Sons has been making pianos since 1853 and holds more than 130 patents related to the instrument's design. A Steinway grand, which many consider the gold standard in the market, contains more than 12,000 parts and can cost $75,000 to $175,000 new. But the company also designs pianos that are manufactured by outside partners at a lower cost — the Boston and Essex lines, which run from $6,000 for upright pianos to $50,000 for grands. These are the instruments the Roses will sell, but they'll also be able to assist any Vermonter who wants to buy the high-end version.
"The piano world is different than a lot of other retail, because in a lot of other retail you can buy things online," said Anthony Gilroy, Steinway's senior director of marketing. "Pianos are very different because people want to select them, they want to try them out; they want to actually play the piano, because they have different characteristics."
A piano, which arrives by tractor-trailer without its legs attached, also can't be assembled by the average homeowner. A technician is required to set it up, tune it and make sure it's ready to play.
"It's important for us to have representation in as many different areas of the country as possible ... while some other retailers are kind of downsizing," Gilroy said. "We can't really afford to do that."
Cleary said he was excited for the new showroom.
"They've really filled a vacant spot that was a real need," he said of the Roses. "It's kind of a wonderland, a candy store for somebody like me. Every time I go there, I just don't want to leave."
Correction, December 9, 2019: An earlier version of this story misidentified the people who tune practice pianos at UVM. Emily and Justin Rose tune a portion of the pianos, and Rose Kinnick tunes another portion.