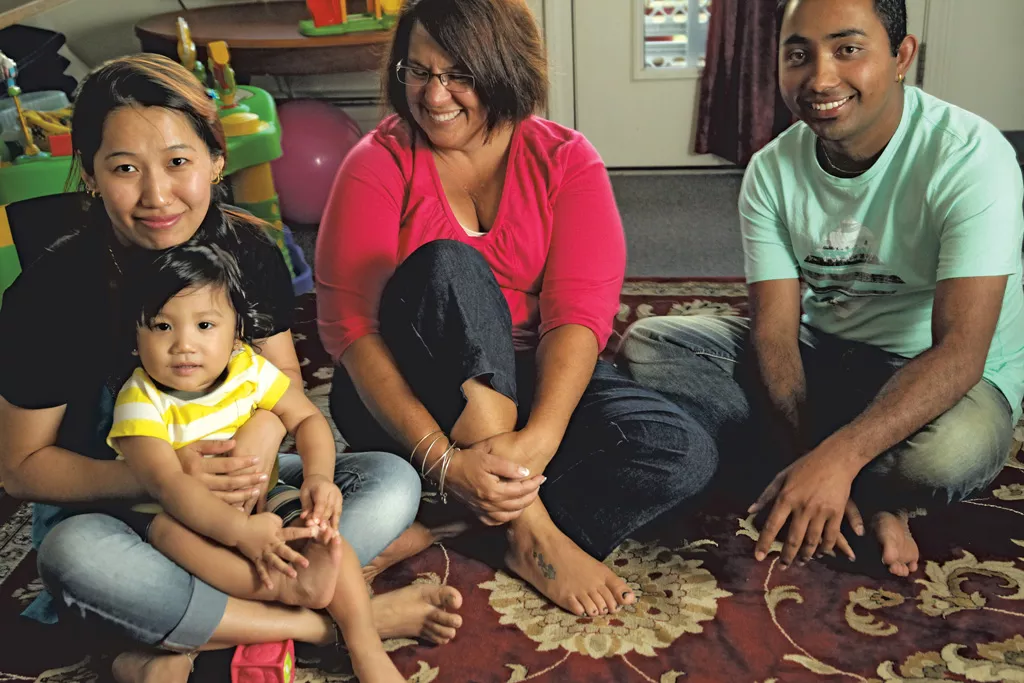 Matthew Thorsen
Chandra Bharati; her son, Aaron; Ellen Drolette; and interpreter Prem Bhattarai at Bharati's home*
Chandra Bharati's South Burlington living room offers toys in plastic containers, a bookrack and a fish tank. A pastel alphabet foam mat serves as the room's centerpiece. Stuffed animals adorn a couch. A "Happy Birthday" banner and snowman decoration have long outlived both occasions, but remain on one wall because they were pretty, Bharati explained sheepishly. To complete the room's daycare theme, the young Nepali woman childproofed a table by taping its sharp edges.
Bharati is one of 29 Burlington-area women who have been trained as childcare providers in a federally funded program called the New American Childcare Project. It's a collaborative initiative between three nonprofits: the Association of Africans Living in Vermont, Child Care Resource — which helps Vermonters find childcare — and Vermont Adult Learning. The program gives refugees the opportunity to set up their own home-based childcare businesses.
But Bharati and her peers may be forced out of work because of new proposed state childcare licensing regulations, one of which would require them to have a high school diploma or GED. That's despite the fact that childcare is in short supply in Vermont.
Child Care Resource, the Williston-based nonprofit that connects parents with daycare providers, said it runs about 1,000 searches for childcare in Chittenden County each year. It's difficult to find affordable daycare, and there's definitely a shortage of infant care in Burlington and on bus routes, confirmed Ellen Drolette, coordinator of the New American Childcare Project.
"For the State of Vermont to engage in this kind of review, they have to keep in mind that we're a resettlement state," said Jacob Bogre, executive director of the Association of Africans Living in Vermont. "At the federal level, they're making funding available to home-based childcare programs. So if they're putting regulations that would jeopardize the federal government's effort, it doesn't really make sense."
Last week, Bharati attended the second of two public hearings on the proposed regulations organized by the Child Development division of the Vermont Department for Children and Families. The Nepali woman was among a crowd of about 40 people who engaged in the hearing remotely at the Vermont Interactive Technologies site in Williston.
"I've already started my program, and I don't have a high school diploma, and I don't think I'll be able to get the high school diploma," the mother of two testified through an interpreter. DCF will collect public comments — made through online surveys, during the public hearings or in writing — before presenting the revised regulations to the Legislative Committee on Administrative Rules in January. If approved, the rules would take effect in September 2016. Bharati and her peers would have until September 2017 to earn a high school diploma or complete a GED.
The new rules are the result of discussions DCF started three years ago. The current regulations, created in 1996 and 2001, are "sketchy" and "open to lots of different interpretations," said Reeva Murphy, DCF deputy commissioner, in an interview after the hearing.
Although she acknowledged her department is "definitely worried" the new rules may force some providers to go underground, "we're walking a very narrow line here around wanting to improve quality without losing capacity." On a scale of zero to 10, "these regulations get us to 5," she said, adding, "Our old regulations are way below that."
Bharati was only three when her family, along with tens of thousands of ethnic Nepalis, fled their native Bhutan after a nationalization policy stripped them of their citizenship. She spent 18 years in a refugee camp in Nepal before arriving in the U.S. in the winter of 2011 with her husband, daughter and in-laws.
Bharati worked as a hotel housekeeper for two and a half years, but quit when she got pregnant and the work became too strenuous. She decided to sign up for the New American Childcare Project because she wanted to be able to take better care of her children — and make money doing it. Though she doesn't have a high school diploma, she attended school in Nepal until 10th grade.
Sophia Senning, project assistant with the New American Childcare Project, said some Somali childcare providers involved in the program were illiterate when they came to the U.S. Today, they can write their names and addresses. "That's a big accomplishment," Senning said. "I don't think there's any amount of time that would be realistic for them to get a high school diploma or GED to get registered," she said.
The program's organizers had hoped to train and register 44 childcare providers. So far, 29 women have taken the training. But just four are registered to have a home-based business; only three of them have opened one. Six others are still in the field but in different capacities. The services they offer tend to be consistent with the culture of clients who come from the same country and speak the same language, said Elizabeth Meyer, executive director of Child Care Resource.
According to Bogre, some who wanted to take the course were turned away because the grant stipulated that participants had to have been in the U.S. no more than five years. And many of the women who participated didn't have suitable housing for a home-based business, nor firm plans to start one, he said. There was the possibility, though, that their situation or intentions could change, Bogre said.
Over a two-year period, the federal Office of Refugee Resettlement provided nearly $400,000 for the New American Childcare Project. Once a week, participants attended the Fundamentals for Early Childhood Professionals course and took English language lessons.
Every person who completed the course and registered as a family childcare provider received startup funding of $2,500 to cover the costs of liability insurance, heating inspections, first aid kits, changing pads, safety items and toys. The current group consists of nine participants drawn from communities that speak Nepali, Arabic and Maay Maay, the language of Somalia.
"We certainly wanted more people registered," said program coordinator Drolette, noting the grant expires at the end of the year. Ideally, each of the providers in business would care for three to four children, she added, instead of the current average of only two per caregiver. But it's also important to consider other successes, she noted.
"These women are learning more English. Maybe they were not successful in starting up a home program, but they are continuing to get online training and national credentials," Drolette said.
Another barrier to the program's success: Some of the women aren't willing to give up their regular jobs, Meyer from Child Care Resource said. "It might be a job that they don't love, but it's a job that is secure. They know they're going to get a paycheck. And giving that up to do a business in their home when they come down to it, maybe they think, 'I'm not ready to take that risk.'"
Bharati, who's been operating a registered family childcare home since last October, charges $150 per week. It was five months before she got her first customer, a Nepali toddler. She later started caring for a 2-and-a-half-year-old Arab boy. But she's lost both charges, and the parents of one child never paid her. The families of both boys had qualified for childcare financial assistance, which covers part of their costs.
"The families getting childcare are barely making ends meet, and I think this is hard for any childcare provider, but particularly hard for those who are in a close-knit community or serving family. This becomes that balance between being a business and taking care of people," said Drolette. The New American caregivers charge less than many childcare providers, she said.
Despite printing and posting flyers in Nepali and English, Bharati is finding it difficult to attract new customers. Most local Nepali-speaking families live in the Old North End in Burlington. She lives in South Burlington's O'Dell Apartments.
Drolette said that other potential customers might feel hesitant about making connections with someone who isn't fluent in English.
Amy Johnson, on the other hand, is embracing the concept of multicultural childcare. When her husband got a new job that meant both of them would be working during the day, the United Way employee scrambled to find a childcare provider for her infant daughter, Luna. She encountered an all-too-familiar problem. She and her husband don't qualify for financial assistance, but they can't afford to pay $250 per week for childcare.
Drolette subsequently introduced Johnson to Nuna Ahmed, one of the registered family childcare providers whom Drolette trained. The Somali grandmother charges $150 per week. Having lived in Kenya, Senegal and Mali for three years, Johnson said, "I love the idea of Luna being exposed to a different language, different culture."
Johnson isn't worried about the language barrier because Child Care Resource has an interpreter, and she intends to use a picture system to communicate with Ahmed. She's not concerned that her child's caregiver doesn't have a high school diploma, either. She thinks it's more important that Ahmed "plays with Luna, engages with her, keeps her safe and loves her."
"Maybe her first words will be in Maay Maay — that'll be cool," Johnson mused.
Correction 12/14/15: An earlier version of this story misspelled interpreter Prem Bhattarai's last name.