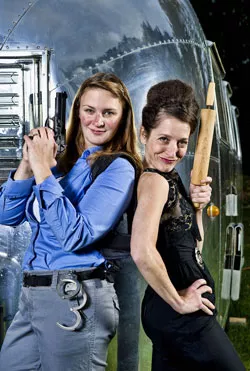 It wasn't your typical Friday-night scene at Burlington's Waterfront Video. To the strains of New Age music, three women and one man struck yogic poses in front of the "Directors" section and proclaimed their allegiance to Vermont-made, natural and organic goods. As the audience looked on from a half-circle of chairs, the hippie-dippiness abruptly became a satirical sales pitch — for ultralocal feminine hygiene products.
Renters at the store's customer appreciation night were getting a taste of Stealing From Work, a new Burlington-based sketch-comedy troupe with a vibe sometimes reminiscent of "Portlandia." The players are Chris Caswell, Kevin Christopher, Marianne DiMascio, and Geeda Searfoorce, all familiar faces from local theater productions. (Christopher is a cofounder of the Saints & Poets Production Company.) Last fall, Stealing From Work received a Vermont Artists' Space Grant that led to a February performance at FlynnSpace. The troupe also made an appearance in the Burlington Fringe Festival last month at the Off Center for the Dramatic Arts. But SFW's first major public outing will be at the Off Center starting October 17.
The troupe got its start in spring 2011, when DiMascio and Angie Albeck, both academic advisers at the Community College of Vermont, began meeting for coffee to discuss comedy writing. "We're very attracted to social and political satire and parody," DiMascio says in a postperformance phone interview. That fall, the two women enrolled in an online sketch-writing class offered by the Second City — and started calling on actor friends to perform their material. Robin Fawcett, who directed last year's Remember Me to All Good Folks at FlynnSpace, came on board as the troupe's director after she saw their February performance.
At Waterfront, Stealing From Work performed just four sketches of its current repertoire of 20, DiMascio says. But two elements were readily apparent: a satirical strain — with both right-wing ideologies and Vermont pieties coming in for spirited ridicule — and an R-rated one.
At the Waterfront show, the troupe cautioned the audience that its material is appropriate for anyone who can take the level of raunch on "Family Guy." A sketch involving public TV and "tantric yoga for mindful lovers," for instance, got hilariously physical, with the actors' solemn facial expressions contributing as much to the comedy as their bodily contortions.
"Our stuff is — what would we say — bawdy or filthy?" DiMascio says. "We often call ourselves 'filthy feminists.'" She says influences on her and Albeck's writing include "The Catherine Tate Show," "Mr. Show," "Saturday Night Live," "Monty Python's Flying Circus" and the sketches of Dave Chappelle and Carol Burnett.
Stealing From Work is the second sketch-comedy troupe to emerge from Burlington's theater scene in recent years, the other being Potato Sack Pants Theater. "They're awesome. We're hoping other sketch-comedy groups are born and go on," says DiMascio, who notes that "it's usually a very affordable kind of theater" because the players produce their own material.
Satire and parody may be ubiquitous on the internet these days, but groups like Stealing From Work can give them distinctive local twists even as they broach larger issues. "It's a way to be entertained, but also to examine the world around us," DiMascio says. "You laugh, and then you almost catch your breath and say, 'Hey, should I be laughing?'" m
Stealing From Work performs Wednesday through Friday, October 17 to 19, at 8 p.m.; and Saturday, October 20, at 6 and 8 p.m. at Off Center for the Dramatic Arts, Burlington. $15. facebook.com/stealingfromwork