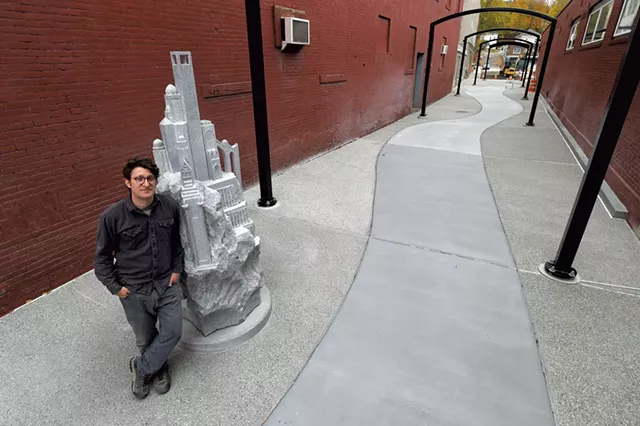 Jeb Wallace-brodeur
Sean Hunter Williams with his granite sculpture "Culmination"
Sean Hunter Williams' granite sculpture "Culmination" is an eight-foot-tall cluster of forms that suggests the silhouette of a city rising from a quarry. It's the newest addition to Barre's Art Stroll, which offers to strollers an outdoor collection of granite works.
Williams' four-sided sculpture is composed of domes and spires reminiscent of cathedrals and mosques, as well as stairways that lead to doorways and through arches. Echoing architectural styles from around the world, it honors the stone carvers who immigrated to Barre beginning in the 1880s for the city's high-quality carving granite, Williams said.
He created the statue in response to Studio Place Arts' 2015 call for proposals for the Stone Sculpture Legacy Program. The theme "From Many Lands, One Community" arose from Barre's first Ethnic Heritage Festival, dating back to the 1970s, said Sue Higby, executive director of Studio Place Arts.
When Charles Semprebon, a Barre businessman, bequeathed more than $2 million to the city in 2009, $103,000 of it funded the Stone Sculpture Legacy Program and the Functional Art Bike Rack Program. Both highlight the historical and ongoing artistic excellence of Barre's stone-cutting community.
"Programs like these create fresh momentum," said Higby, who coordinates the sculpture program. "Only nine years ago, there were three sculptures in downtown Barre. Now there are 14."
Of those, six were Semprebon funded. Others, such as "Mr. Pickwick," designed and carved by Giuliano Cecchinelli and funded by community supporters of the Aldrich Public Library, were inspired by the program, Higby said.
Williams, a second-generation stone cutter, said his career was inspired by his dad, Jerry Williams, who owns Barre Sculpture Studios. The elder Williams received the 2018 Governor's Award for Excellence in the Arts, along with fellow carver Chris Miller, for creating the 14-foot statue of Ceres, the Roman goddess of agriculture, for the Vermont Statehouse dome.
"Because I had an early exposure to sculpture, I just always had an inclination to do it," Sean said. "It didn't feel like a conscious decision. It came naturally." "Culmination," his first public art commission, is located on the Pearl Street pedestrian walkway, which isn't yet officially open.
Williams chose the granite for "Culmination" by browsing blocks already taken from the Rock of Ages Granite Quarry in Barre to find one that most closely matched the dimensions he had in mind. He then had the 8-by-3-by-4-foot block of gray granite trimmed.
"What's great about being in Barre is you can send the block to different sheds that have different capabilities and get the piece trimmed down to what you need," he noted.
To plan the sculpture, Williams first made a model half the intended size. He created a tightly grouped silhouette of buildings, inspired by structures such as the Amiens Cathedral in France and the Dome of the Rock in Jerusalem, as well as architectural features such as flying buttresses and German timber framing. The forms are based on actual structures but aren't exact reproductions, Williams said.
The tallest structure is the most contemporary: a rectangle with a big window at the top, representing a skyscraper. "I wanted to suggest growth and also provide an anachronism — that this could be in any era," the artist said. He packed the buildings together to emphasize the tightness of the stone-cutting community, which brought diversity to Barre.
"The way in which those forms emerge from the boulder but remain connected to it evoke the idea of a town which consists of many different parts but remains unified," Williams said. "In this way, 'Culmination' reflects the spirit of the quote by Aristotle that the whole is greater than the sum of its parts."
Williams doubled the measurements of his half-scale model to create each element of the full-scale sculpture. The basic silhouette of the skyline is the same, but there are small differences between the two. "When you have a larger piece, there are more opportunities for detail because you have more material to play with," he said.
To create the rough rock surface that comprises most of the base, Williams used shell rocking, a process he'd never tried before. He said it's an older way of splitting the stone off the block to make it look natural again.
"It's actually pretty hard, and it was a learning curve, but it's a good thing to know because not a lot of people do it," Williams said. "The process takes time because you're trying to guide the cracks that you make in the stone, and to control a crack you have to coax it to the place you want it to go."
Splitting off a chunk might take 20 minutes. "You have to use your ears, waiting and listening for that harmonic sound that means the stone is about to split," he explained. "It was definitely the hardest part about the piece."
In that stylized base, Williams carved shapes to represent quarry caves. "Those weren't planned in any of the models," he said; "they were just a freehand thing I did at the very end, because I had a lot of stone that was still showing at the sides."
Williams' favorite part was adding the architectural details, including windows, ridges and brickwork patterns. "You get certain effects using different pneumatic chisels with a softer hit," he said.
"Culmination" was completed in eight months, but the sculpture sat in Williams' studio for several years while construction of the pedestrian walkway continued. Designed by Robert White of ORW Landscape Architects, the area includes a serpentine, decorated sidewalk; an entrance arch; and overhead lighting. Williams' sculpture was installed there in September. Though "Culmination" was never weighed, he estimated it at three tons.
Williams has since received additional public art commissions. He created a marble sculpture called "Jungle Book" for the Downtown Rutland Sculpture Trail; it commemorates writer Rudyard Kipling's years in Vermont. The sculptor is currently working on a six-foot-long granite brook trout that's giving birth; the Vermont Arts Council's Art in State Buildings program commissioned it. The trout will be installed at the Roxbury Fish Culture Station.
A maquette for "Culmination" and photographs of the piece are currently on view at "Rock Solid XIX," the annual stone sculpture exhibit at Studio Place Arts.
Two more sculptures funded by Semprebon's bequest are expected in 2020. They'll nod to the donor's enthusiasm for cycling and will be associated with the bicycle trail, Higby said. In 2009, Semprebon left $500,000 each to Barre City and Barre Town to complete the bike path that links the two communities.
Higby hopes new donors will come forward to commission works for the Stone Sculpture Legacy Program. "How could you ever see too many sculptures in the city of Barre?" she asked.