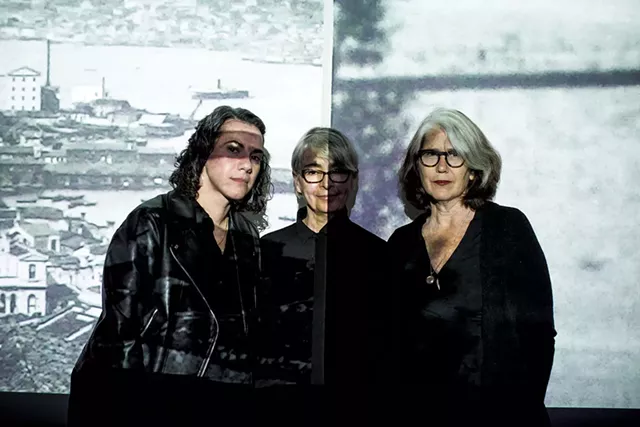 Luke Awtry
From left: Thatiana Oliveira, Sumru Tekin and Kate Donnelly
Vermont artists Sumru Tekin, Kate Donnelly and Thatiana Oliveira have launched a new collaborative venture called Single Channel VT. Its mission is to present a quarterly series of artist-curated screenings and discussions that explore the history and practitioners of time-based media. That is, works involving video, film, slide, audio and computer-based technologies.
"Our goal here is to help facilitate a deeper way of looking at the moving image," said Tekin, a multidisciplinary Turkish artist who lives in Charlotte.
The three artists came together organically, having intersected in previous venues. Tekin and Burlington-based Donnelly first met as members of 215 College Gallery, an artist-run space that closed in 2011. Both met Oliveira when she began working as associate director of the MFA in visual art program at the Vermont College of Fine Arts in Montpelier, where she also lives. At the time, Tekin was VCFA's exhibition coordinator for visual arts and Donnelly was completing her master's degree at the school.
"We found we share similar sensibilities and philosophies regarding contemporary art," Tekin said, "and it was a natural fit to start a project together."
Each Single Channel VT screening will feature a guest artist showing one of their works, along with a work by another artist chosen for how it influenced or informed the presenter's own work.
Tekin kicked off the series last Friday in the Greenhouse Building on Flynn Avenue in Burlington. Her presentation began with a viewing of Lebanese artist Walid Raad's 1999 video "The Dead Weight of a Quarrel Hangs." The 16:54-long color film "investigates the possibilities and limits of writing a history of the Lebanese civil wars (1975-1991)," according to publicity materials. Raad is a professor at the Cooper Union school of art and science in New York City.
"Encountering Raad's work was a revelation for me," Tekin told the audience of about a dozen people. "I was in graduate school and struggling with how to address the shifting relationship between ourselves, our memories and our past histories through a visual language, when visual language was proving resistant to the task.
"What could this look like?" she continued. "Perhaps it could be a series of specific ordinary events reflected against extraordinary events, allowing for movement from the particular to the universal."
Tekin said she thought about Raad's film for nearly 10 years before making hers, which is rather inscrutably titled "Adjustment – variation: ii – vi."
"The underlying impetus for my video and other work to date is the denial and rejection of the Armenian genocide by Turkey since its founding as the Turkish Republic in 1922 to the present day," Tekin said before showing her 15:41-long video. It includes footage of herself and her sister as children, taken in Turkey by her father, Şinasi Tekin. Snow scenes in the film were shot in various New England locations and serve as a reminder, she said, of Tekin's hometown of Erzurum, and of her mother, who hated the snow.
"One connection between Raad's film and mine is the use of deliberate, creative constructions as points of departure from their sources: fantasies based upon memories and stories, activating echoes of an event," Tekin said. "It was this idea of going from the specific and the personal to the universal. Everybody has conflicts within either their histories or their family histories."
She pointed out that family stories, just like cultural histories, are sometimes misrepresentations. "Maybe we find out later it wasn't true at all, or it wasn't how we remembered it," Tekin said. She related this to the history of her people and to how histories are told, who gets to tell them, who gets to shape history.
Last week's screening was a "beta test" for Single Channel VT, Oliveira said. "We're getting the temperature for what the interest and sustainability in something like this is."
After the screening of both films, audience members discussed their experiences of the works. Some asked questions about the meaning of certain images or text in the films, while others shared their own interpretations or observations. One woman admitted to knowing little of the Lebanese civil wars or the Armenian genocide.
The artists named the series Single Channel VT to reference viewing the moving image on a single screen and the idea of focusing on one medium — the moving image — which itself encompasses many forms, genres and histories, Tekin said.
"There aren't a lot of spaces in general, let alone in Vermont, that devote themselves to the idea of contemporary time-based media," Oliveira observed. While many galleries include video work, usually running on a loop that people view as they pass by, the screening format invites viewers to a theater-like showing, where everyone watches the whole thing together.
"That's different than being in a gallery space where the viewers have the agency to walk in and out," Oliveira said. "That's well and good and has a wonderful place, but it's not the same as looking at the entire thing, comparing two things, then having a dialogue around that."
Donnelly agreed. "I love to be able to talk about the works we just watched together, that everybody experienced at the same time," said the artist and educator, who runs a K-12 arts program at her Burlington studio. "It's interesting to hear how people experience the work differently, and that's one of the ways that the work can really expand."
"Collaborative discussion serves to deepen the experience for all involved," Tekin added.
The Single Channel VT founders plan to host quarterly screenings, in Vermont or elsewhere, with artists of geographic, ethnic, racial and gender diversity. They will include artists who incorporate time-based media into their practice but may not use it exclusively.
The next event is scheduled for March 28, 2020, featuring animator and moving-image artist Lisa Crafts, a VCFA graduate who teachers in the Film/Video Department at the Pratt Institute in Brooklyn.