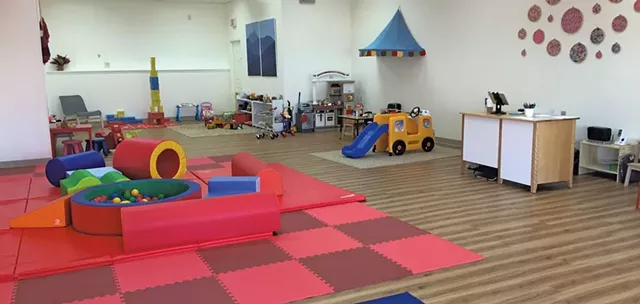 Megan James
Wiggle Room in Hinesburg
There's a new place to play in Hinesburg. Anne Broussard, a local mom of three young sons, opened a cheery play gym called Wiggle Room in October. The former Latin teacher at Essex High School spent the last several years as a stay-at-home mom in France. The experience of living abroad emboldened her to start the business when she returned to Vermont with her family last year. "I was ready to take a risk," she says. Broussard has filled the play space with a ball pool surrounded by soft tunnels and climbing structures, a plastic slide, a play kitchen, bikes and trikes, books, blocks, stuffed animals, and toy cars. Broussard knows her audience well — none of the toys are small enough to pose a choking hazard, and, as an added incentive for weary parents, the coffee is free.
Wiggle Room, 90 Mechanicsville Road, Hinesburg. Open weekdays, 9 a.m.-2 p.m. $8 per child; $5 each additional child; free for babies under 9 months old with a sibling; twins for the price of one; $70 for a 10-session pass. Info, 482-2622.