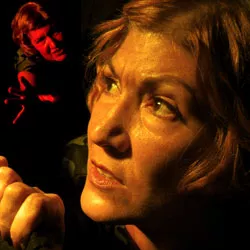 Concrete Kingdom, the second play from Burlington's Josh Bridgman, puts us in a superlatively creepy place before it even starts.
When theatergoers file into the compact seating area of the still-new performance space Off Center for the Dramatic Arts, they find actress Tracey Girdich on stage and in character. She wears a full-skirted camouflage dress and combat boots that make her look like a demented, militarized hausfrau. (Rosie Grannis did the costumes.) Behind her, a backdrop evokes her surroundings: a cinder-block bunker illuminated by a single bulb. In the foreground, a teddy bear occupies a high chair beside a card table that holds a chess set. A game is in progress.
As the house lights remain on, we watch Girdich frantically sort through her collection of tin cans. We see her dandle the bear, make a move on the chessboard, and unzip a duffel bag to reveal a long, shiny knife, which she examines with grim relish. Meanwhile, Marlene Dietrich songs play in an endless loop, often distorted by static and echoey effects.
Could anyone who's watched this bizarre pantomime forget it? Probably not. When the lights go down and the play proper starts, things get a little more predictable.
Bridgman's drama — actually a highly dramatized monologue — draws on familiar tropes of alien-invasion science fiction to take us down familiar, but still compelling, pathways of paranoia. Girdich's character, called simply "the Woman," believes ancient alien beings live among us. They masquerade as human, but she's glimpsed their true nature in their cold eyes. "The world is not ours," she proclaims, her own eyes glittering with her imagined insight, "and it never has been."
The Woman speaks into a microphone, recording her revelations for posterity. As the roughly hour-long play progresses, she takes us on a journey into her prebunker past, when she dated a handsome man who was, she slowly began to suspect, too good to be true. Her earlier, naive self speaks in pretaped segments, a girlish voice babbling from a more innocent past. Gradually, we learn what brought her to this claustrophobic cell.
By its nature, paranoia is already claustrophobic — obsessive, circular. It's not easy to bend into a standard dramatic arc. Sometimes Bridgman (who also codirected), Girdich and codirector Genevra MacPhail manage to give variety and modulation to the monotony of madness. (We don't, of course, know whether the Woman is mad or a genuine prophet of doom. But she is playing chess with a teddy bear.)
There's dark humor in the Woman's assertion that "the Freemasons, the Communists and the Zionists are all working together" to conceal the alien presence. There's resonant spookiness in her claims that "we're just bit players in the aliens' drama," and "they know us better than we know ourselves." The theater of paranoia always has a shadowy directorial presence who controls everything, like a malevolent god.
At other points, the monotony of repetition threatens to take over. The Woman's past narrative needs more vivid detail and shaping to absorb our attention. Girdich's onstage performance occasionally gets shouty, though her taped monologues are masterful, alternating between chipper and chilling.
But the staging, which keeps Girdich nervously moving, is effective. And Nathan Jarvis' sound design, weaving the old vampy and sentimental melodies with additional music by Tom Cleary, becomes a drama unto itself.
After the show, Bridgman says the fractured soundtrack reminds him of the experience of listening to a cassette tape someone has imperfectly recorded over, leaving pieces of the original recording behind in palimpsest fashion. It's a fitting metaphor for a play whose protagonist insists she perceives a hidden world behind the bland façades of reality.
As Hollywood keeps churning out alien-invasion movies that are basically just glorified slashers and shoot-'em-ups, it's nice to know someone can still dream up the modern equivalent of a truly twisted "Twilight Zone" episode — and realize it in the avant-garde theater.
Formerly a garage and loading dock, the Off Center's black-box space is plenty bigger than a bunker, but it still evokes an industrial "concrete kingdom." (Bring a sweater.) It's the perfect venue for Bridgman's play — which is, let's hope, a harbinger of more risk-taking productions to come.