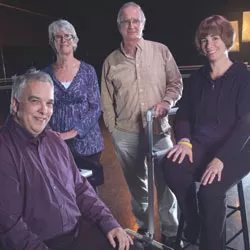 The name "Studio Three" implies there are also studios one and two. That is precisely the case at Spotlight on Dance in South Burlington. Housed in a nondescript beige building, a former print shop on San Remo Drive, the place has been providing dance instruction to kids and adults here for three and a half years (the biz started in Colchester in 1996). The third studio, installed last year in the back of the building, is a capacious, rectangular "black box" with a long, mirrored wall, professional lighting and a sound booth overhead. Surprisingly comfortable folding chairs — for up to 80 — and staging can be arranged as needed.
Anyone interested in an intimate, alternative performance space, listen up.
Since they added the room, Spotlight on Dance owners Tim and Jen Barden have used it for dance workshops and a performance of the play Love Letters. This week, they'll debut Studio Three's newest incarnation: music venue.
A concert series dubbed Green Mountain Gold launches on Friday with a rare performance of "Steel String Americana" by Burlington guitar virtuoso Paul Asbell. Near-future performers include the Too Tight Trio, featuring bluesman Kip Meaker, and singer-songwriter Mary McGinniss.
To organize the music series, Tim Barden called on another Tim — McKenzie, an old friend "since before college," he says. "I used to follow Tim as a musician." Indeed, McKenzie was a guitarist in local acoustic acts, including '70s bluegrass legend Pine Island String Band. In his day job, McKenzie was noted for his involvement with Vermont's pioneering land-trust movement. He moved away for 10 years, worked as a housing consultant around the country, and returned to Burlington in 2009.
"From the start, we had the idea to create an intimate performance space for dance, music and theater," continues Tim Barden, the director of information technology for the city of Burlington and a longtime singer in the vocal group Encore!. "Serendipitously, Tim came back, and we reconnected." As it happens, Spotlight on Dance offered McKenzie another familiar face: His sister, Martha McKenzie Akey, is the manager.
Barden asked Tim McKenzie to handle programming at Studio Three, and says he'd also like to see the space used for "cabaret singers of note, an open mic once a month, small theater performances," and the like. The idea is to "provide local artists with a nice place to perform without the competition of a bar or restaurant, and to get a decent paycheck." Barden says he envisions a "coproduction model — us and the artist," but acknowledges the business details are evolving. The main focus so far has been on creating the space and spreading the word.
"The audiences around Burlington are known as being savvy and discriminating," says McKenzie. "I'd like those people to know about what we have going on here."
Booking "has been a wee bit more involved than I'd thought," he concedes, "but as I've been stirring the pot among musicians, people are starting to call me."
McKenzie has three shows lined up for this spring and a couple in the fall, and expects to fill in more dates over the summer. For now, the spotlight is on … music.