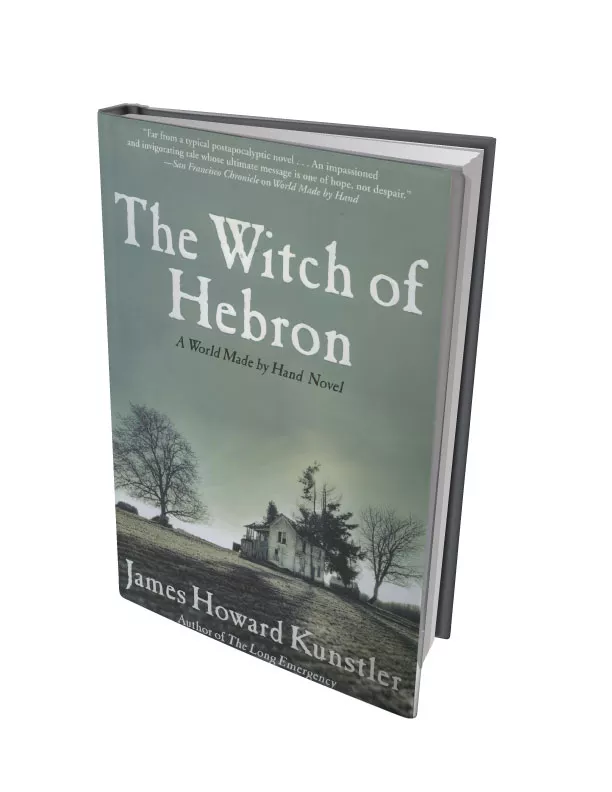 You know gas prices have gone up when you start receiving multiple locally authored novels about life in the U.S. after oil. Or maybe "post-peak-oil scenario" is now its own distinct literary genre, just like zombie apocalypse and domestic drama.
Granted, James Howard Kunstler, who lives over in Saratoga Springs, N.Y., has been writing about this stuff forever. His nonfiction best seller The Long Emergency: Surviving the Converging Catastrophes of the 21st Century (2005) is practically a bible of peak-oil prophets, and his novel World Made by Hand (2008) imagined how that survival might play out in one small Hudson River Valley town.
Turns out that novel was the first in a series. The second, The Witch of Hebron, published last fall, returns readers to the town of Union Grove in a year "which has yet to come in history." The protagonist, 11-year-old Jasper Copeland, only dimly recalls a petroleum-driven world that disappeared before he outgrew his kiddie car seat: "He remembered the speed of objects rushing past a window, and the brightly illuminated signs of commerce, and his own discomfort in the strangely aromatic plastic seat." Now all that remains of the Kmart is a sign reading "art," leading Jasper to imagine "some kind of great bazaar at which objects of art were bought and sold." The rest of his world is a lot more like rural life in the 19th century than what we'd anticipate from the 21st — and, Kunstler strongly implies, it's better that way.
Whether you agree or not, Jasper's coming of age — in a richly detailed landscape more akin to Cold Mountain than Mad Max — is a compelling read.
While Kunstler infuses his prose with retro gentility, Randolph-area writer Eric J. Best takes a totally different tack in his self-published short novel The D Generation: Volume One. Best's protagonist, James Mann, is more likely to quote Blue Oyster Cult than the Bible — particularly since he's a goddess-worshipping pagan. It's 2056, and China has invaded the U.S. from the West Coast. Gas is "obsolete" and illegal, but technology lives on for those Vermonters who can afford it. "'Keeping it real' had taken on a whole new meaning," Best writes.
James drives a '68 Camaro that runs on ethanol; for him, the dream of speed isn't dead. He doesn't like to dwell on what he's lost to social upheaval: "His friends looked to him for some indifference." But when his car is stolen by a local diesel-driving badass, James has disturbing precognitive visions of the violence it might take to retrieve it.
Best keeps his story fast paced, action packed and irreverent; this is closer to Mad Max (or Stephen King) than to Kunstler's future. But the characters are fleshed out, the world is carefully imagined, and there are thoughtful moments, too. "People had died, starved, sickened, run away, been shot, or murdered for a bite to eat," James reflects at one point. "And yes, people had become more spiritual in leaps and bounds. The backyard shrine was as common these days as a garden of struggling vegetables and a cupboard full of empty dinner bowls. ... How could he not be spiritual? There was nowhere else to turn."
If Kunstler writes neo-Victorian novels about the post-peak world, Best is scripting the drive-in movie. We'd like to see the sequel.
Of course, the future isn't the only place to look for stories of communities bound by shared spirituality. Nancy Kilgore, who lives in Vermont and practices psychotherapy in Hanover, N.H., has crafted a quietly absorbing one in her first novel, Sea Level.
This is the type of book big publishers often bypass because they assume its audience is limited — in this case, to readers interested in the troubled intersection of feminism and organized religion. Set in 1980, Sea Level introduces us to Brigid Peterson, a suburban Virginia wife who feels called to the Methodist ministry but encounters more than she bargained for when she steps into the pulpit in a small-town church on the Delmarva Peninsula. As her parishioners oppose her attempts to introduce mildly nontraditional language to the service, she finds herself questioning the patriarchal aspects of her faith.
While its cover copy makes it sound like a well-meaning, rather stiff novel of ideas, Sea Level is actually a vibrant story of manners and place. Kilgore brings to life a world of ocean mists, oyster fairs and elderly, quince-jelly-making Southern ladies who grow militant at the hint of a threat to their precious fund for the caretaking of the cemetery. Their lives and their reasons for resisting Brigid's innovations are never caricatured. Kilgore has obvious affection for this coastal world of "wet gray light," which already belongs partly to memory — "they're even saying we might all be oystered out soon," notes one old-timer.
When the subject is theology, the novel can become talky. But, in her evocative descriptions of the town of Sand Hill from the point of view of Mary Bradley, an artist who returns home from Manhattan and falls in love with a difficult, elusive man, Kilgore treads the same territory as Alice Munro. It's quiet, indeed, but for readers who prefer the domestic to the apocalyptic, Sea Level is worth seeking.