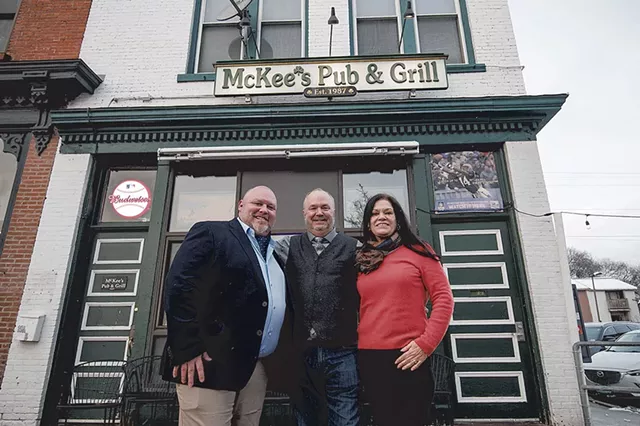 Courtesy
From left: Ryan Johnston, Lance McKee and Jamie Lacourse
McKee's Pub & Grill has been a Winooski staple for 35 years. As of January 1, it has new owners: Ryan Johnston and his aunt Jamie Lacourse bought the bar at 19 East Allen Street from Lance McKee, who still owns Papa McKee's Pizzeria in Richmond in his "semiretirement," Johnston said.
Johnston started working for the McKee family in 2001; he has owned McKee's Island Pub & Pizza in South Hero since 2016.
"We didn't buy McKee's [Pub & Grill] to change the world," he said. "We bought McKee's because it's part of our life. We grew up there, and we want to keep the vibe."
McKee's food favorites, such as the turkey club and corned-beef Reuben, aren't going anywhere, but expect to see new items on the menu, including pizza. Next week, Johnston will start renovating the kitchen of his South Hero restaurant to expand its capacity and add a new pizza oven. He'll move his current pizza oven to Winooski and add a full lineup of regular and gluten-free pizza, pasta, soups, subs, salads, and baked goods.
McKee's new owners plan to expand late-night hours for industry folks and bring back live music, including DJs, bands, karaoke and open mic nights. Starting this week, the Winooski pub will host trivia with Top Hat Entertainment on Monday nights — a popular offering in the islands, Johnston said.
Lacourse introduced Johnston to what they call "the mothership" when Johnston was a teen; they'd go to the Winooski pub together to hear Irish music or an Elvis impersonator on Sunday afternoons. Lacourse's father, Ronald "Pete" Lacourse, was once mayor of Winooski and dreamed of having a restaurant, Johnston said.
"I'm so proud that Jamie and I get to do this together," he said. "We're excited to give back to the little city that's given us so much."