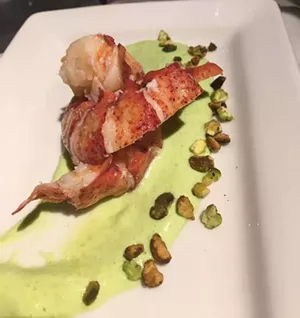 Just two months after they purchased Arvad's Grill in Waterbury with plans to upgrade its look and fare, owners Jason Palmer and David Hubbard have decided to take the restaurant in a new direction. Now closed, the former Arvad's will reopen on September 15 as Allium.
Said Palmer, "In fairness to ourselves, we really needed to start our own restaurant ... In order for it to really be ours, we had to do it from the ground up." That means a renovation so extensive that "it will feel like a new space," he suggested.
The food at Allium, said Palmer, will take its cues from "provincial dining," with plenty of Belgian and French influences. Dishes will evoke the European countryside, offering elegance without fussiness.
For instance, the dinner menu will feature chicken confît with cider glaze and celeriac purée; mussels and fries with a classic herbed wine sauce; and an onion stuffed with wild mushrooms, apples and Parmesan. Diners will be able to enjoy snacks — such as deviled eggs with lobster creamed into the yolk — and a raw bar with shellfish and ceviche.
Complementing the food will be a rotating 30-bottle wine list, 15 beers on draft and about 10 specialty cocktails.
In Palmer's view, the overall goal of the renovation and renaming is simple: "We really want people to come in and have an absolutely wonderful meal and enjoy themselves," he said.