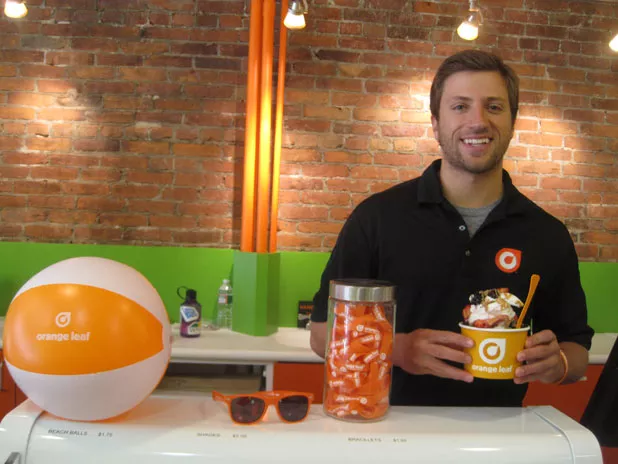 Juni is no longer in the Dog Haus. Executive chef Martin Smith tells us that Juni's Dog Haus, the creative hot dog eatery at Waterbury's Cabot Annex, now goes by Juni's Take Out in the wake of a cease-and-desist order from California. The complainant was a Pasadena-based mini-chain called Dog Haus. "We got a letter from a high-powered southern California attorney saying we were in direct copyright infringement," Smith says. Turns out, the other Dog Haus is starting a national franchise campaign, and its owners were concerned about confusion.
*****
On June 29, Burlington got its first taste of the 279-strong Orange Leaf Frozen Yogurt franchise. The spacious location at 192 College Street is now host to the city's newest self-serve fro-yo.
Alex Gruber, who owns the franchise with his father, James, says he fell in love with Burlington in college while working for the Lake Monsters. "I absolutely loved Burlington and knew this was where I wanted to be," he recalls.
After earning his MBA from Clarkson University, Gruber worked for his uncle as a rotating manager for four Orange Leaf stores in Massachusetts. Realizing the downtown Burlington market had room for just such a business, he began searching for spaces.
The College Street location allows for plenty of seating alongside a flat-screen TV, sure to be a boon when it's too cold to go outside with frozen treats.
From a menu of 65 flavors, Gruber offers 16 different options at any given time. Currently, the menu includes uncommon flavors such as banana, oatmeal cookie (those two are placed side by side to facilitate swirling), "wedding cake" and root beer float. Thirty-five toppings include fresh fruits and granola for health junkies, as well as popping boba, cereal and marshmallow sauce for those looking for big flavor, damn the calories.
*****
When Paul Sarkis purchased Warner's Gallery Restaurant in Wells River in 2010, his goal was to make his adopted homeland healthier with wholesome Lebanese food. On July 28, Sarkis's Mediterranean Restaurant will close for good.
"It's a painful decision. I'm so depressed, so upset, so mad. I can't do nothing to change it," Sarkis says. The academic-turned-restaurateur says he waited for his chef to find another job before announcing the closing, but he knew it was coming after $150,000 in losses.
"I was completely rejected by the local community," Sarkis says, and adds that the only business he got was from customers visiting from Boston, New York, Montréal or, occasionally, Burlington or Montpelier.
Sarkis believes his fatal mistake was banning the deep fryer from his restaurant and refusing to cook the French fries that locals love. Instead, the Beirut native offered 12-course mezze dinners made with local meat and vegetables and olive oil from his parents' garden in Lebanon. "I went 180 degrees, and the locals here are not ready for it," Sarkis says. "But I cannot sell you things I will not eat myself."
In the restaurant's remaining weeks, Sarkis will serve à la carte dinners on Friday and Saturday only. He says his new lamb chops are worth the trip.