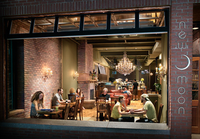 A warm interior and awesome chandelier lend this breakfast-and-lunch spot a funky elegance. Munch on house-made sandwiches, salads and baked goods. Or build your own, drawing from more than 60 ingredients. Full espresso bar, too. Closed Saturdays.
More information
$10 Lunch Special (Soup 'n' Sandwich)
Please select from two of the three categories listed. All meals come with a mini cupcake of your choice, including vegan and gluten-free options.
Half Sandwich Options
Chicken Caesar Club
Baguette, turkey bacon, sun-dried tomato pesto, spinach, Parmesan and Caesar dressing
Tomato, Basil and Mozzarella
Baguette with balsamic vinaigrette
Nantucket Chicken
Sourdough, avocado, blue cheese crumbles, tomato and fresh-cracked black pepper
Vegan Curried Chickpea Salad
Mad River Grain bread, vegenaise, lettuce, tomato and pickle
Side Salad Options
House
Field greens, roasted red peppers, Vermont goat cheese, tomatoes, carrots and balsamic vinaigrette
Spinach
Spinach, sliced mushrooms, red onions, hard-boiled egg, turkey bacon and feta vinaigrette
Caesar
Romaine, Parmesan, toasted croutons, fresh-cracked black pepper and Caesar dressing
Vegan Red & Green
Field greens, tomatoes, tofu, fresh basil, strawberries, cucumbers and balsamic vinegar
Soup Options
Choices change daily. Soups listed below are only samples.
Chicken and Dumpling
Tomato Bisque

Truffled Corn Chowder

Wheat Bean Florentine

Creamy Potato-Garlic