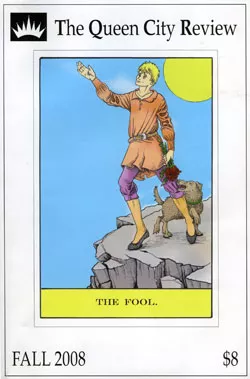 New literary magazines sprout in college towns like mushrooms. But Burlington College's Queen City Review, whose inaugural issue appeared in December, is more than a forum for students and the folks who put it out. (The founding editor is Heidi Berkowitz, who teaches in the college's Interdisciplinary Studies program and coordinates its writing center; Dartmouth lecturer Kevin McCarthy oversees the poetry.) Though students, faculty and local writers — such as poetry slam champ Geof Hewitt — are well represented in its pages, the QCR also offers art and lit from across the country. There are love poems by Matthew Dickman, an Oregonian whose work has appeared in The New Yorker. Black-and-white drawings by Dallas artist Michael Savoie, who used to live and exhibit in Burlington, evoke the suffering caused by Hurricane Katrina.
The local stuff is well chosen, too. Anna Blackmer, Burlington College's Chair of Arts and Humanities, contributed a poem called "A Middle-Aged Woman Reaches into Her New Purse" that has some killer lines: " . . . I repeat the same ten actions every morning / and go to work like an armored car on fire inside. / No one seems to notice."
Two prose works have user-friendly vignette structures, with bite-sized pieces ushering the browser into a longer narrative. BC student Aaron Mitton's story "Smoky Vignettes" is a mini-cultural history of smokers, both famous and obscure. And Alice Eckles, who teaches printmaking at the college, tells her life story through a series of ill-fated vehicles in the dryly funny essay "The Cars She Drives." It ends with a classified ad of sorts, offering a deal on her current Kia Sportage.
While the car may no longer be on sale, the magazine is — $8 from Burlington College, or call Berkowitz at 862-9616 to request a mailed copy. She accepts submissions until April 20 at queencityreview@burlington.edu.