Anne Wallace Allen ©️ Seven Days
New Leaf maple lines
For a town with a population of just 1,500, Marshfield has a lot of businesses tucked away in its rocky hills. But few take up as much space, or attract as much attention, as New Leaf Tree Syrups, which has miles of sap-collection tubing on maple, birch and other trees through the nearly 3,000 acres of land it owns east of Route 2.
New Leaf is part of a New York-based sap and syrup company called Forest Farmers that also owns about 7,000 acres and a sugarhouse in Lyon Mountain, N.Y., in the foothills of the Adirondacks.
The company started in 2016 with three business partners and built an eye-catching post-and-beam sugarhouse on Route 2 that, in normal times, welcomes visitors and sells its products. All of the syrup created in the sugarhouse is sent back to New York for bottling and distribution.
Mike Farrell, cofounder and CEO of both companies, ran Cornell University's maple syrup research center for 13 years, until 2018.
Farrell said New Leaf — Forest Farmers' sap and syrup brand — is the largest producer of birch sap in the United States. The company has about 15,000 birch taps in Vermont and about 20,000 in New York, along with 46,000 and 107,000 maple taps in those states, respectively.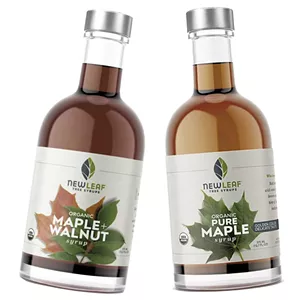 Courtesy Photo ©️ Seven Days
New Leaf maple syrups
"We measure our maple syrup production in the tens of thousands of gallons and our birch syrup in the hundreds of gallons," he said.
Farrell knows New Leaf is the largest in the nation, he said, because he knows pretty much everyone in the birch sap and syrup industry. While tapping birch trees has a long history in Alaska and Russia, it's a fairly new practice on the East Coast.
Mark Cannella, a farm business management specialist at University of Vermont Extension, started hearing about birch sap roughly a decade ago. He said people who were tapping maple trees were looking for a way to diversify.
"I don't want to say it's fringe," said Cannella. "It's a novel crop. It's that group of people who are in the woods. Either they own birches or they own equipment for processing maple, and naturally a lot of people have thought, Is this a complementary business for my equipment?"
If the question has arisen, not many Vermonters have followed through. The Vermont Maple Sugar Makers' Association has just two members producing birch syrup, and they're nowhere near as large as New Leaf, said communications director Cory Ayotte.
Back before the pandemic began, birch sap and syrup were gaining traction as flavoring and novelties. New Leaf labels and sells birch sap as a beverage in single-serving bottles and cans. It also sells a maple-birch blend.
COVID-19 sharply reduced demand for the beverages made by New Leaf, said Farrell. The company now has a surplus sitting in barrels in its 5,000-square-foot Vermont sugarhouse, said manager Andrew Giroux, whose wife and two teenage children also work at the business. Giroux owns a stone masonry business that operates in the spring, summer and fall.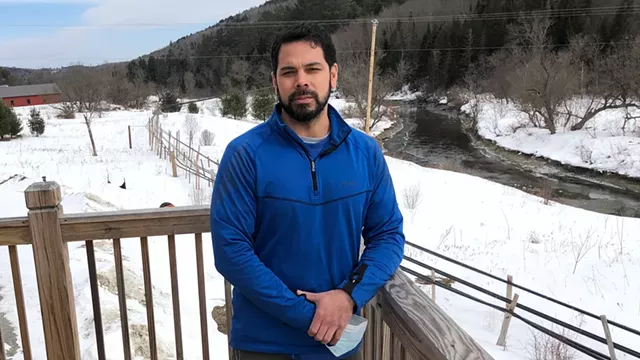 Anne Wallace Allen ©️ Seven Days
Andrew Giroux
But New Leaf and Forest Farmers are forging ahead strongly, and Farrell expects demand for the birch to recover. He said New Leaf's birch syrup won first place at a Russian birch syrup festival last year.
New Leaf also taps walnut and beech trees in New York for sap and syrup, which travel through miles of underground tubing to five 60,000-gallon storage tanks — the greatest sap storage capacity in the world, according to the company website.
New Leaf's size and scale alarmed some Marshfield residents when they heard about the proposed operation, and Farrell met with the selectboard and with residents in 2018.
Rumors circulated that the company planned to buy another 2,000 acres and install hundreds of thousands of taps. There are still complaints about the look and impact of the banks of tubing — blue for maple sap and green for birch — that are visible from trails and roads. New Leaf also constructed a sap collection building next to a railbed that is a popular walking route. When sap is running, the building houses two or three seasonal workers.
Jon Groveman is policy and water program director at the Vermont Natural Resources Council. Speaking in his other role as a council attorney and as a Marshfield resident, he said the rapid growth of New Leaf shows that Vermont needs better tools to regulate the very large-scale sugaring operations that have emerged in the last several years.
While the majority of Vermont maple sugar producers are small, according to a 2019 market report commissioned by the state, a small number of large-scale operations with more than 5,000 taps produces most of the state's syrup. One is Sweet Tree Holdings, the largest maple operation in the world. Owned by a Montréal-based investment banking firm, 8-year-old Sweet Tree has about half a million taps and produces syrup in an 84,000-square-foot former Ethan Allen furniture plant just outside of Island Pond.
One reason for that expansion, says the market report, is new technology such as vacuum systems that can increase sap yield by as much as 100 percent. Other innovations, such as reverse osmosis, significantly reduce the time it takes to make syrup from sap.
About 2,300 acres of New Leaf's forestland is enrolled in the state's Use Value Appraisal Program, significantly reducing its local tax bill.
"They're exempt from everything because they're considered agriculture," said Groveman, who is on Marshfield's Development Review Board. "They're exempt from local zoning. They're exempt from wetlands laws for the agricultural purposes."
Farrell said the company doesn't plan to acquire more land but will put in another 50,000 or 60,000 taps when doing so makes economic sense. He couldn't estimate when that might be.
"I believe he cares about the forest; he's a forester," said Groveman of Farrell. "They want to do this the right way." He added that residents are lucky the company has pledged to keep its trails — including the land it owns on the railbed — open for recreation.
But thanks to Groveman's experience with New Leaf's impact in the Marshfield forest, VNRC is now taking a new look at the impact of industrial-scale sap extraction in general on Vermont's water quality, wildlife and recreation.
"Are we set up to deal with this in the right way? Our current systems of agricultural exemptions and taxing don't fit this," Groveman said.
Anne Wallace Allen ©️ Seven Days
Steam evaporator
The Vermont Agency of Agriculture, Food and Markets welcomes the rapid expansion of the sugaring business in the state. In its "Vermont Agriculture and Food System Plan 2020-2030," the agency noted that an increasing global market for maple sugar products is putting pressure on sugaring operations to lower their production costs and improve their marketing.
The agency wrote that tap count and gross agriculture sales of maple syrup doubled in Vermont from 2008 to 2018, with production valued at $54 million in 2018. It also found that only 12 percent of the state's maples are being used for syrup production, "leaving a large amount of untapped forest available for expansion."
"Maple leaders are optimistic about sustained growth but recognize the need to adapt to new policy, climate, land use and market forces to maintain Vermont's role as the premier maple state in the United States," the agency wrote.
But maintaining that sweet reputation means maintaining the natural resource that makes it possible: trees. New Leaf's miles of tubing prompt questions about whether it's good for the trees to have so much sap removed by vacuum pump technology.
Cannella said he's heard those questions, too, about sugaring in general.
"There is definitely technology getting more sap out of trees (than in the past), but there is a lot of research on best practices to make sure the health of those trees is maintained," he said. He added that trees make much more sap than even vacuum pumps can extract.
"But with climate change and other things that could create shocks or morbidity for trees, people are certainly aware of this," he said. "These are long-lived trees. You can't replant a maple and [harvest] it for 60 to 80 years. So people want to maintain tree health and forest health."
Many studies show that there is no harm to the trees, said Giroux, who remembers working for maple sugar producers in Cabot when he was growing up.
"This certainly beats collecting sap in buckets," he said.