JL Damon
Alysia Coyle with her students
A
lysia Coyle is up each weekday at 5:30 a.m. By 6, she's on the job — cleaning an office building in Vergennes. After a couple hours, she heads to the Bristol Family Center, where she's a preschool teacher, part of the workforce
behind
Vermont's workforce. The parents whose children are enrolled at the center can't work unless educators like Alysia do.
And Alysia, 25, works hard.
Though teaching is her full-time job, the cleaning gig is one of her two part-time positions; she also works as a nanny on Saturdays. She doesn't make enough as a preschool teacher to pay off her student loans. Alysia graduated from St. Joseph's College in 2018, with a bachelor's degree in child and family services. It's what prepared her to teach preschool at the center this fall — along with more than a hundred hours of training and experience in the field.
She might be able to pay down her debt more quickly working as a kindergarten teacher at a public school. On average, they make more than $55,000 a year in Vermont, compared to about $38,000 for preschool teachers with similar qualifications, according to the U.S. Bureau of Labor Statistics. Public school teachers also get health insurance, which few child care programs can offer. Alysia isn't covered through the Bristol Family Center.
That's a common refrain among early childhood educators in Vermont, so it's not surprising that there's a shortage of them. Pre-COVID-19, three out of five of Vermont's youngest children didn't have access to the child care they needed, and the state needed an additional 2,000 early childhood educators to meet the demand. The shortage has intensified since.
To address it, Vermont made strategic investments in child care during the pandemic, one of the first states to do so. In June 2021, the legislature passed and Gov. Phil Scott signed landmark child care legislation, H.171, into law. It sets Vermont on a path to solving the child care crisis once and for all.
Want to help improve equitable access to child care in Vermont?
Join the Vermont child care campaign and became a champion for Vermont children.
The new law builds on the work early childhood educators and advocates have been doing for years. Organizations like
Let's Grow Kids
and the Vermont Association for the Education of Young Children have been working with educators to create a child care system that works for everyone — kids, families, educators and Vermont employers.
H.171 sets a goal of ensuring that early childhood educators are fairly compensated and well supported. While Vermont has yet to figure out funding streams for increasing early childhood educators' compensation and benefits, new funding for loan forgiveness and scholarships can help current early childhood educators reenvision a way to stay in the workforce. What does this mean in practice? For Alysia — in the short term — it could mean help with loan forgiveness. For Staci Otis, a mid-career early childhood educator in Springfield, it could result in a scholarship to pursue a bachelor's degree or enroll in additional coursework. We talked with both women about how the law could help them and what more needs to be done to strengthen the system.
Alysia Coyle: 'Really passionate about the work'
JL Damon
Alysia Coyle with her students
Alysia was a cost-conscious college student. She relied on scholarships and was careful with her money, but she still graduated with $12,000 in student loan debt. She's managed to pay off $3,000 so far, with another $9,000 to go.
The new law's need-based student loan assistance program would help reduce that burden. Educators like Alysia who earned a bachelor's degree in an approved major within the last five years can apply to get up to $4,000 in repayment assistance — if they make less than $50,000 working at least 30 hours a week at a Vermont child care center.
Helping Alysia pay off those student loans seems like a wise investment. She's the reason 21 children will be able to access universal prekindergarten this fall at the Bristol Family Center.
Most families rely on Vermont's universal pre-K program to provide their 3- and 4-year-olds with affordable preparation for kindergarten. Child care centers can only participate in the program, which offers 10 hours of state-funded, high-quality pre-K per week, if they have a teacher with a Vermont state teacher's license in early childhood education or early childhood special education.
That rule makes sense, but it's harder to implement than it should be, says Janet McLaughlin, executive director of the Vermont Association for the Education of Young Children. There are centers that qualify for universal pre-K in other ways but can't find a qualified teacher. "That means those families may miss out on the quality offered within universal pre-K programs," McLaughlin says. "But also, from an affordability standpoint, that's $3,500 that the state would be contributing to their tuition. That's significant for families."
The Bristol Family Center was in that position a few months ago, when its one licensed teacher gave notice. Without another one on staff, those families would lose state funding.
Alysia explains that "we wanted to find someone who lined up with our philosophy, who was really passionate about the work we were doing." That "someone" turned out to be her.
Alysia wasn't licensed, but her bachelor's degree enabled her to apply for a teaching license. And during the pandemic, the Vermont Agency of Education reinstated a pathway to give provisional licenses to educators who were qualified to complete the process.
Now that Alysia has her provisional license, she's working with a mentor to put together a portfolio that she'll present to the Vermont licensing board. She's also taking a graduate-level course at Castleton University.
Getting licensed will mean a pay bump, though "I wouldn't say it's a whopping big raise," says Alysia. "There's definitely not enough money in the early childhood field, which makes it hard for a lot of people to stay, even great workers who have amazing skills."
She'd like to remain in the field. "I hope we can continue to make progress to make children, families and early educators a priority," she says.
Staci Otis: 'The parents I serve can't pay more'
Ben DeFlorio
Staci Otis
Staci Otis has run her own in-home child care program, Little Allstars Child Care & Preschool in Springfield, for the past 15 years. But when her eldest daughter said she wanted to work in a child care center, Staci pointed her in a different direction — one that would lead to a bigger paycheck.
"It killed me, being in the profession, to have to say that to her, because she has a huge passion for kids," Otis said.
Now her daughter is finishing up an undergraduate degree in early elementary education and plans to teach in a public school setting, where salaries are sometimes double those in the child care field.
But though she steered her daughter away from working in child care, Staci is involved in efforts to improve the industry for others. She's a member of Vermont's Advancing as a Profession Task Force, a workforce-led initiative run by VTAEYC.
The group examines the standards and professional development pathways for early childhood educators, says McLaughlin, the executive director. "They're creating a totally new way of thinking about early childhood education as a profession, as a career, as meaningful work that should be valued," she explains.
VTAEYC has offered funding support for associate's degrees in the past, but the new law will help the organization provide 25 to 30 scholarships to Vermont students seeking a bachelor's degree in early childhood education. Applications just opened, and "we immediately heard from 25 people who are interested," says McLaughlin. "The desire is there. The need is there."
Staci may be one of the first to sign up. Before starting her program, she'd worked outside the home and paid to send her four children to a child care center. But her take-home pay just barely covered her expenses, even as a participant in the state's Child Care Financial Assistance Program.
So Staci opened her own program to bring in an income while caring for her own children. She soon realized she wanted more education so she could better support the kids in her program. "I work with a lot of kids who are in DCF custody for a lot of reasons," says Staci. "It's nice to give them what they may be missing, what they may not have gotten at home."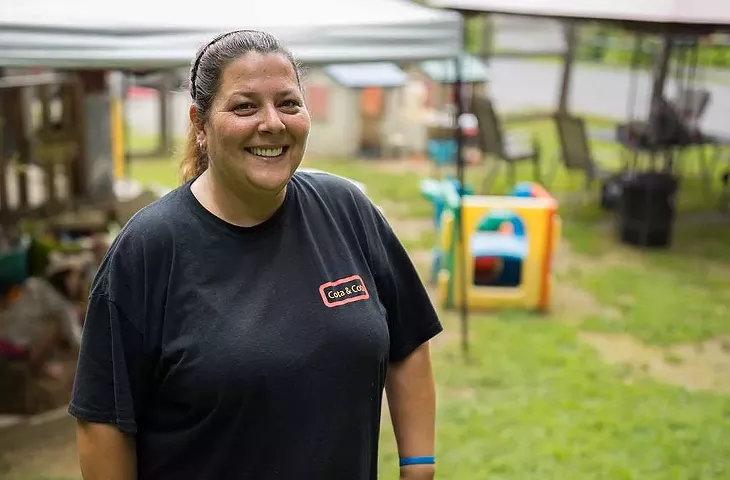 Ben DeFlorio
Staci Otis
She was able to do a full-time online program through the Community College of Vermont while continuing to provide child care. And she qualified for a Pell grant that covered almost all the costs. She graduated in 2013 with an associate's degree in early childhood education.
Staci would love to get her bachelor's degree. Before now, the financial commitment was too great, and she wasn't comfortable raising her rates to cover her costs. "I know that I should be getting more. But I also know the parents I serve can't pay more."
Want to help improve equitable access to child care in Vermont?
Join the Vermont child care campaign and became a champion for Vermont children.
To Staci, the scholarship is not just about getting the degree; it's about essential training so she can better address big issues in her community. "In Springfield, we have a lot of children that have trauma issues — between poverty, the opioid epidemic and other things — which affects their ability to learn," she says. "So to be able to have the higher-quality training would be nice."
There are many other educators like Alysia and Staci who need support, says McLaughlin. Her organization is working with other groups, and with educators themselves, to improve the system today while also advocating for the long-term policy changes and major investments necessary to solve Vermont's child care crisis.
Early childhood educators are "smart, capable, hardworking people who have been doing this work even without the respect and compensation they need," she says. "Ensuring they can enter and remain in the field and be ready to do this work with our youngest children is one of the most important investments we can make."
This article was commissioned and paid for by Let's Grow Kids.