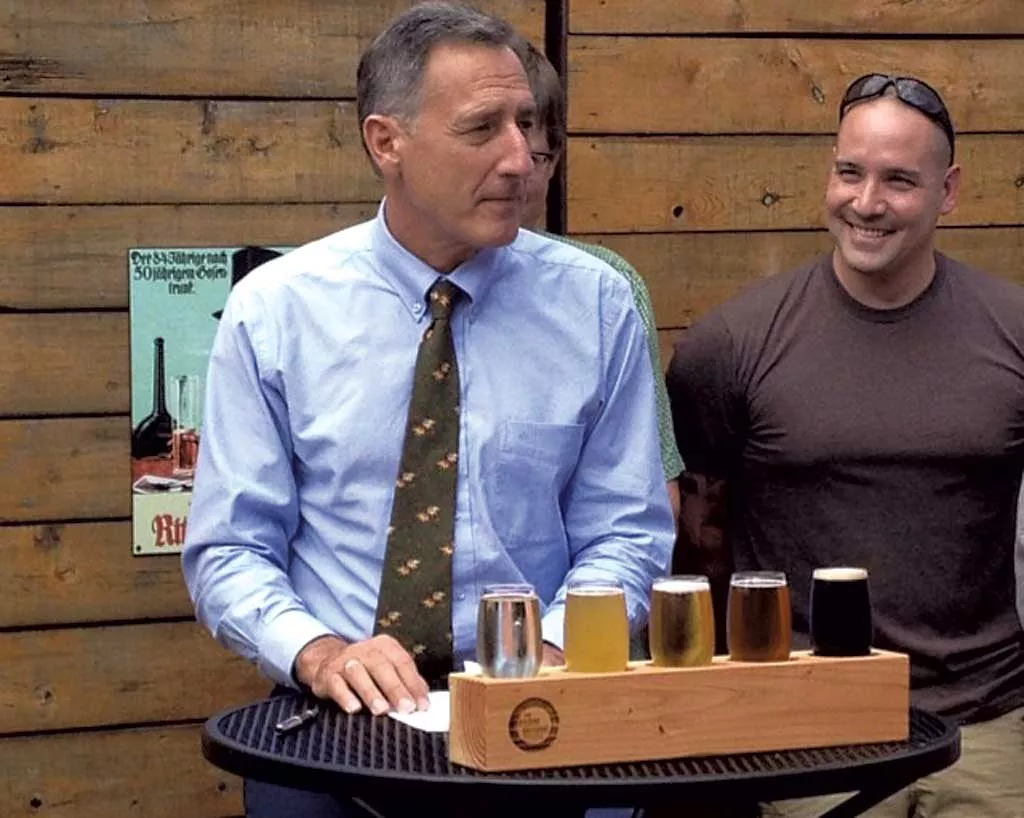 Courtesy Of Farmhouse Tap & Grill
Gov. Peter Shumlin
Last week, Gov. Peter Shumlin stopped by Burlington's Farmhouse Tap & Grill to sign Vermont Senate Bill S.299 into law. It allows Vermont restaurants to pour "flights" of beer, wine and spirits — sample-size portions, poured several at a time, that give patrons the opportunity to taste beers side by side for comparison purposes. Previously, brewery tasting rooms and other second-class permit holders could offer flights, but the practice was illegal in restaurants until July 17.
In an email, Shumlin — who caught flak from the beer community last year for glibly comparing craft beer to Gucci and saying he preferred Budweiser — touted the law as improving access to some of the world's worthiest liquids. "Vermont makes the best beers in the world, literally ... There are also wineries and liquor producers hoping to introduce their high-quality 'brews' to Vermonters and visitors alike," he writes. The law, Shumlin adds, couldn't come at a better time: "Vermont is developing a global reputation for its beers, and more wineries and distilleries are producing high-quality drinks that are earning global respect."
In Vermont, most restaurant patrons will see beers served in the flight format, but it can also be used for samplers of whiskeys, wines and other boozy beverages.
Wasting no time, Farmhouse Tap & Grill commissioned custom "flight block" sample holders from Vermont Butcher Block and started pouring flights of five 6-ounce beers on Monday, according to bar manager Jeff Baker. Sample prices vary by beer, he adds, so the cost of a flight depends on the drinkers' choice.
Baker says he sees the law as a strong show of support from the legislature, calling it a "great tool" for educating drinkers with a thirst for knowledge. "I'm a huge proponent of not tasting in a vacuum," he says. "[With flights,] you're not just spinning in space with one beer and no frame of reference. You can see how one beer compares to another. It's great to extend that [service] to our guests."
Drinkers seeking variety can also belly up to Williston's Vermont Tap House — where front-of-house manager Jay LaFountain was reportedly fined for serving flights in the past — for flights of 4-ounce samples from the 28-beer draught list.
The original print version of this article was headlined "Taking Flight"