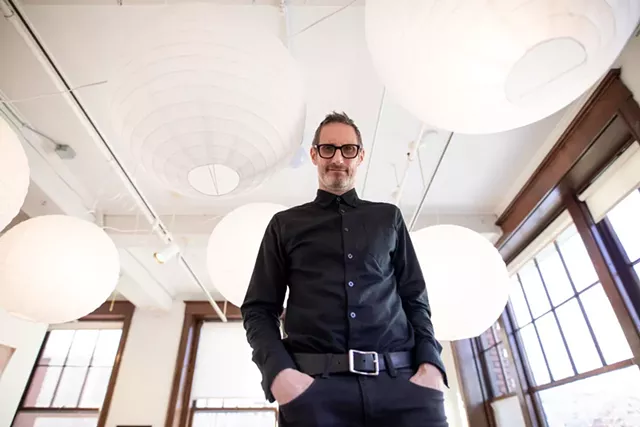 Luke Awtry
Michael Jager of Karma Bird House
A lot is going on at Burlington's Karma Bird House. The coworking space at 47 Maple Street is a maze of hallways and creaky wooden floors leading to shared spaces and the offices of therapists, acupuncturists, environmental nonprofits and marketing firms. It includes, as well, Kestrel Coffee Roasters and Iskra Print Collective. Now, building co-owners Michael Jager and Giovanna Di Paola Jager, are launching a new event series, aiming to bring together locals from different disciplines to learn about new subjects and make new connections.
Michael Jager said the series, dubbed the Head Stretchers Society, is inspired by a quote from 20th-century Supreme Court justice Oliver Wendell Holmes Jr.: "One's mind, once stretched by a new idea, never regains its original dimensions." Karma Bird House, in partnership with the Jagers' design and branding firm Solidarity of Unbridled Labour, will host the first event on Thursday, January 23.
"There certainly is no lack of startup interactions and meetings or lectures and talks," Jager said. "There's a lot that goes on with that, and a lot of it is very interesting ... But one of the things that we've been finding is missing is trading opportunities where people have diversity of learning [opportunities]."
Head Stretchers was born out of what Jager sees as a need to return to hands-on learning in the age of YouTube and smartphones. He thinks audience involvement will differentiate these presentations from other lecture series. The events will begin with an expert presenting on a topic, followed by the opportunity for attendees to try out the subject at hand.
At the first Head Stretchers event, attendees will hear from Alex Coulombe, cofounder and creative director of New York City-based Agile Lens: Immersive Design. An alum of St. Johnsbury Academy, Coulombe creates virtual-reality experiences for architecture, so that people can experience a space before it's even built. He's also looking at ways to integrate virtual reality into opera and theater.
"The fact that he was doing it with operas around the world really captured my imagination," Jager said. "That's something that would be so interesting, that would really, truly stretch people's imagination of what could be done with that technology."
Jager also believes virtual reality can transform technology into more than what we experience on our smartphones. It's important, he said, that learning experiences include more than simply visual experiences.
"We are so inextricably linked to technology and the wonder and awe of it, but I think we have to be eyes wide open about how we engage with it and not underestimate the fact that we are a multisensory species," Jager said. "We need to keep those things vital."
Coulombe will give attendees a chance to experience virtual reality for themselves.
Head Stretchers events will take place every other month and will feature experts in architecture, agriculture, writing, cooking, yoga and more. Jager wants to connect innovators around Vermont with new audiences, as well as bring in talent from outside the state.
"One of the things that Vermont undeniably has is countless numbers of people doing creative and amazing things, all over the state," he said. "But there's so many that people just don't know about."
The Jagers were two of the partners behind JDK Design, the former powerhouse firm credited with helping launch Burton into mainstream culture and working with countless other national brands. In 2014, Michael Jager redesigned the downsized firm and renamed it Solidarity of Unbridled Labour; he is its chief creative officer. Giovanna Jager is the director of Karma Bird House.
The first Head Stretchers event will take place in the gallery adjacent to Kestrel's coffee shop. "There's a spirit to Vermont and Burlington that is, to my mind, a beautiful, unpretentious kind of quality, which is great," Jager said. "I think that invites more discourse than many other cities have. And that, I think, is one of the key conditions for curiosity."