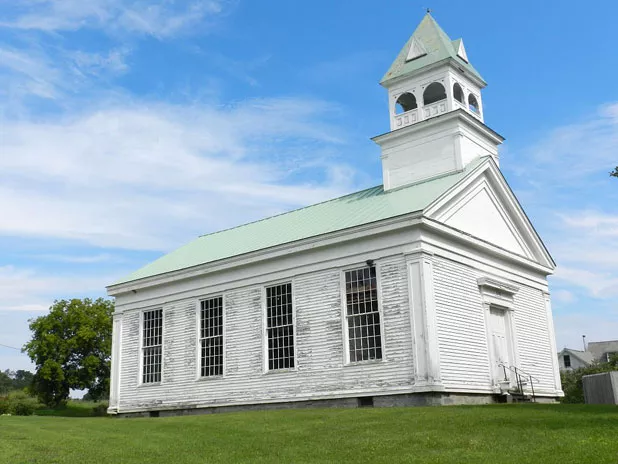 The paint is peeling on the little old church in New Haven Mills, but inside, local musicians will soon be swinging.
This weekend, the Preservation Society of the Union Church of New Haven Mills is launching a concert series in the Greek Revival building. There's no electricity yet, but "the acoustics in the building are amazing," says Susan Barron, who has been working to restore the place for the last three decades.
On Friday, the Sounding Brass, an Addison County ensemble specializing in early-20th-century vaudeville tunes, will perform. On June 28, Bob Recupero and Mark Lavoie jam on the guitar and harmonica, respectively, as Cooper and Lavoie. All proceeds will go toward restoring the church.
The church was built in 1851 when the community flourished around a lumber mill. But after the devastating flood of 1927, people moved away, and the church fell into disrepair.
Then, in the 1940s, a Middlebury College student named Burt Rolfe stumbled on the church and "became smitten with it," says Barron. He dropped out of school to become a lay preacher there. After he was killed in World War II, the building was again abandoned.
Barron got involved with the New Haven church when she moved into a house across the river from it in the early 1980s. "Something spoke to me about it," she says. "To have it fall into disuse again just didn't seem right."
She has many reasons to love the place. In the early '90s, Barron and her late husband, Berkeley Bennett, spearheaded the restoration efforts. It was there she met her current husband, Brooks Barron, whose late wife was involved in the restoration, as well — her brother was Burt Rolfe, who had tried to revive the place in the '40s. Susan and Brooks Barron were married at the church in 2005.
The restoration has been slow but steady. In 1992, the Vermont Division for Historic Preservation awarded a grant to build a new foundation. "A lot of plaster fell off the walls when we righted the church," Susan Barron says. Another grant paid to restore the windows, and the group is now working on fixing that plaster.
"We really want it to be used for the community," Barron says, "for concerts, plays, readings, weddings, family reunions. It lacks electricity, but that's down the road. What it needs is to be painted on the outside. To get people in the door."
Mills Church Concert Series: Sounding Brass, Friday, June 14, 7 p.m. $10. Cooper and Lavoie, Friday, June 28, 7 p.m. $10. The church is located on East Street in New Haven Mills.
The original print version of this article was headlined "Church Revival"