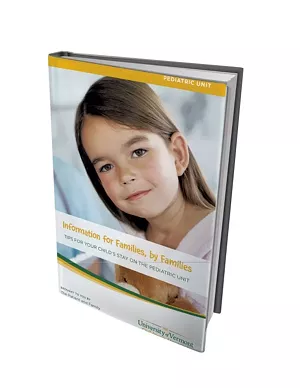 Find the navigation guide at the University of Vermont Children's Hospital this spring
Finding your way around a large medical center can be stressful. That stress is compounded when you're a parent with a sick child. To make it a little easier, the University of Vermont Children's Hospital Patient & Family Advisory Council — a group of doctors, nurses, patients' family members, hospital staff and former patients — has created a navigation guide. The slim booklet, geared toward families with children staying on the pediatric unit, is filled with useful information, including descriptions of medical professionals' roles, a list of sample questions to ask doctors, and logistics like where to get food, do laundry and shower. There's also a place for parents to take notes during meetings and record things like medications and the names of hospital staff caring for their child.
"The new navigation guide created by and for families is a wonderful addition to the many ways we foster and promote patient and family-centered care at our children's hospital," says Dr. Lewis First, chief of pediatrics at the University of Vermont Children's Hospital. "It is a must-read for not just our patients and families, but our staff as well."