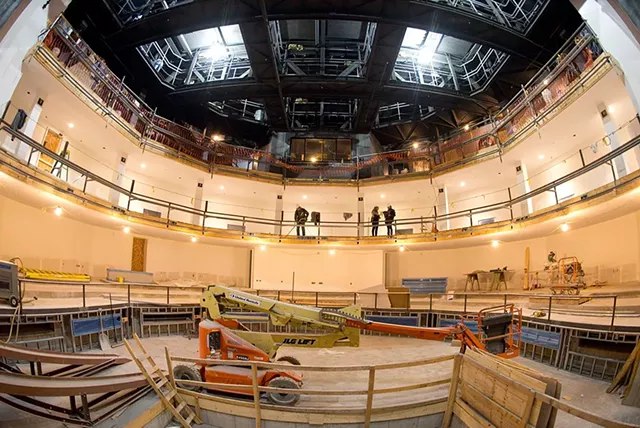 Greensboro is about to get a brand-new town landmark — and a restaurant to match. Builders are hard at work finishing up the Highland Center for the Arts, featuring a main theater that will seat 275 — more than a third of the population of the tiny town. In addition to performance spaces, the building will be home to the new Hardwick Street Café.
The eatery, with about 40 seats plus summer outdoor seating, will open toward the end of May, said manager and chef Alice Perron. Initially, she hopes to serve breakfast and lunch six days a week, as well as evening fare when the Center hosts events and shows.
Although she eschews buzzwords such as "farm-to-table," Perron said she's excited to showcase ingredients from her Northeast Kingdom neighbors. Beef and eggs will come from right down the road. There will be lamb from Bonnieview Farm in Craftsbury Common, bread from Patchwork Farm & Bakery in Hardwick and, of course, cheese from the Cellars at Jasper Hill in Greensboro.
Perron will use the goods in dishes such as maple baked beans, sliders, seasonal soups and plenty of daily specials, including a variety of ethnic foods. The experienced baker, who used to own Bien Fait Cakes, will showcase her recipes for Boston cream pie and a variety of pastries made with reduced sugar.
Most important to Perron, she said, is keeping the café "accessible and affordable. It doesn't have to be really expensive to be good."