Oliver Parini
The gelato case at La Villa Bistro
La Villa Bistro in Shelburne opened in 1995. But the local staple for pizza and handmade pasta hasn't succeeded on inertia. Since last fall, owners Adam and Jill Spell have been working on a new plan for the next 20 years. The center of their gambit: a batch freezer from Italian company Cattabriga. In the next couple of weeks, the Spells will open Gusto Gelato next door to their restaurant, in the space that previously housed their wine store, Enoteca Wine & Provisions.
Oliver Parini
Adam and Jill Spell
La Villa's freezer, which holds 12 flavors, has been an open secret since it moved into the restaurant in November. In that time, it's evolved from a receptacle for experiments to a destination where locals find a rotating cast of 40 farm-fresh, ultra-creamy gelati.
Why gelato? The business owners see it as a healthier, better-tasting alternative to ice cream. Because the frozen treat's base is composed of 98 percent whole milk, there's little room left for heavy cream. That means the average scoop has as much as 60 percent less fat than its ice cream counterpart. Add in the facts that it's stored at higher temperatures than ice cream and whipped up with less air, and the result yields far more intense flavors.
Gusto may be the newest gelateria in Vermont, but it's far from the first. Pizzeria and market freezers throughout the state have been filled with Barre wholesaler Leonardo's Italian Gelato & Sorbet since 2000. Peter Solley, a former member of the band Procol Harum, began selling uncommon creations at his Newfane Café and Creamery in 2008, before branding as Vermont Gelato. Just over the border in New Hampshire, Morano Gelato has built up national cred since 2010. Three years ago, Nora and Theo Kennedy began attracting fans to Montpelier's Chill Vermont Gelato. And in Burlington, there's a small-batch delivery service that's yet to complete its branding.
But don't Vermont taste buds belong to Ben & Jerry's and creemees? Not anymore. Some Ben & Jerry's scoop shops have closed in recent years. Yogurt shops have absorbed some of the business, but not all. When the Kennedys opened Chill, the Montpelier B&J had been closed for four years and there was no Orange Leaf or Yogurt City to be found. Shelburne, too, lost its Ben & Jerry's store years ago.
Jill Spell says that at first she considered joining the yogurt bandwagon. "We saw that yogurt was doing well, but there are a million yogurts," she recalls. "We realized we needed to be different. This is us."
That individualism is fitting for Vermont gelati. Adam Spell says that the "small-batch, artisan" aspect of gelato making was part of what attracted him to the project. The chef crafts gelato every morning — meaning there's lots of opportunity to experiment with new flavors. The product is always fresh, because each batch typically sells out in three days or less. Compare that to big-production ice creams, which could be almost a year old by the time they make it to the scoop, says Spell.
That freshness also makes it possible to keep the sweets ultra-seasonal. This summer, big boxes of fruit from Sam Mazza's Farm Market in Colchester have produced dark-purple blueberry and fluorescent-pink raspberry sorbets, which taste as vivid as they look. As Adam Spell puts it, "It feels like [the fruit] is saying, 'It's hot, it's 90 degrees out. I don't want to be with milk. I want to be on my own." But his wife is right when she says the gelato machine churns up uncommonly creamy, rich-tasting sorbet.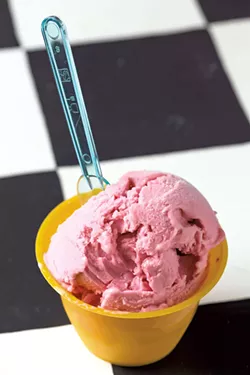 Oliver Parini
Raspberry gelato
In the fall, Gusto's lineup will include a Mazza's butternut-squash gelato and one made with goat cheese and figs grown at Charlotte's Paradiso Farm. But the Spells' top sellers — Oreo with sweet cream, salted caramel and Heath bar — won't be going anywhere.
Creativity with flavors is what attracted Solley to gelato, too. The Brit musician jokes that he's lived "two or three" lives so far, including playing keys for Eric Clapton and producing hits such as the Romantics' "What I Like About You" and Motörhead's Grammy-nominated album, 1916.
Solley says that his Cordon Bleu-trained mother instilled cooking skills in her children, and he always considered himself a savory cook. That is, until he fell in love with making gelato in a small home machine. "I never thought about ice cream. Everyone does ice cream. That's easy. Gelato is much harder," he says. He's right. Because of its low fat content, variations of just a few grams of sugar can mean the difference between gelato and a milkshake. Each base must be perfectly sugared to freeze into an optimally smooth, tasty gelato.
Solley says that since he sold his share of the Newfane market, his business has expanded organically. Vermont Gelato began supplying restaurants such as T.J. Buckley's in Brattleboro and Popolo in Bellows Falls. Now, Solley makes custom gelato for 10 southern Vermont restaurants. Scoop counters at the Freighthouse in Lyndonville and Stratton Mountain Resort's Mountain Sweets serve up the product.
Then there are the pints, which travel to stores in Massachusetts and New Hampshire, as well as to Vermont locations including City Market/Onion River Co-Op in Burlington and Hunger Mountain Co-op in Montpelier. Solley plans to continue to grow his pint business, as well as open a Brattleboro store of his own.
Despite his company's growth, Solley says he would get bored if he stuck with "normal flavors." He's more satisfied juicing raw ginger for his piquant ginger gelato or sourcing local, organic honey for a mouth-buzzing journey to the hive. Even his vanilla is uncommonly floral, thanks to Tahitian vanilla.
"The chocolate is really popular, but I can't say I enjoy it," Solley says. "I'm happier when I do our esoteric flavors." That means more sweet-corn gelato for the rest of us.
Nora Kennedy of Chill also came to gelato from a background unrelated to sweet treats: She's a freelance sign-language interpreter. Her husband and business partner, Theo Kennedy, is a lawyer. When they decided to collaborate on a business project, it was a no-brainer to focus on "the best stuff ever."
Like the Spells, the Kennedys also bought a Cattabriga EFFE machine. The North Carolina company that sells the brand (there are only about 50 of the freezers in the United States) trains its clients for three days before sending them off to start their businesses. Nora Kennedy says their staff gave her a few recipes; in the three years since, she's developed some 200 of her own.
For some customers, the simplicity of the recipes can be disarming, she says. "It's so funny when people taste the banana and they're like, 'What is this?' It's banana," she says, deadpanning. "The Mintpelier? It's mint. There's no crazy flavorings. Simple is best."
Florals, including lavender and rose, have become calling cards at Chill, but at times flavors have gotten even more eccentric. On a dare last Passover, a friend asked Nora Kennedy to make a special Seder palate cleanser. The result was a "sunshine yellow" golden-beet gelato spiked with horseradish. It could have ended with that Seder, but a family from Boston happened upon the holy gelato and ordered 16 pints to share with their whole synagogue. "It was exactly what it was supposed to be, and the dare worked," Kennedy says with a laugh.
Chill also sells a regular red-beet flavor, Beetiful. And it may appear outside the capital before long. St. Albans Co-op Creamery is about to start pasteurizing milk for the company, which will allow Chill access to far more of the local dairy they serve. Kennedy is on the hunt for a Burlington space and hopes that a Chill will open there in the next year.
That could translate to some healthy competition with Gusto. But for now, that new store will be Chittenden County's only gelateria.
The Spells will still sell bottles of wine in the store, but beverages won't end there. Espresso and cappuccino will be on offer, and Adam Spell foresees blending milkshakes from his scoops, which will enable Gusto to serve affogati, too. Jill Spell says that last winter she became particularly fond of enjoying the espresso-over-gelato treat using her husband's chai scoops — made with a house chai blend, naturally. "We're really not afraid to keep the ideas going and just add as much as we can," Adam Spell says.
The open-minded Spells are already selling their gelato to Hinesburgh Public House and are considering supplying more restaurants. Jill is looking at gelato carts online with the hope of selling at local farmers markets.
Could gelato one day be identified as much with Vermont as with Italy? Probably not. But, for now, things are looking sweet for fans of the ice cream alternative.