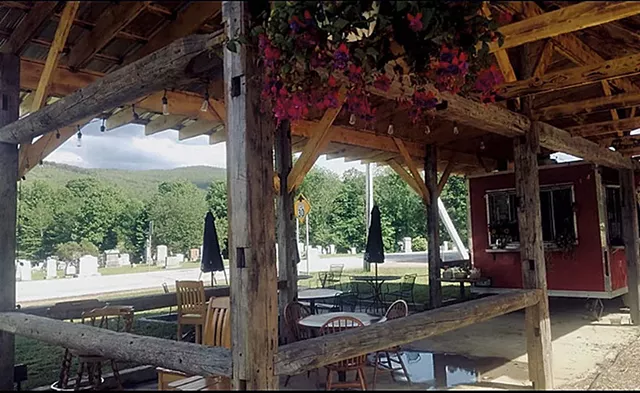 Courtesy Of Noel Simonik
The Grub Wagon in Worcester
A food truck is now open in Worcester, and it's filling a restaurant void with its burgers and fries.
Owned and operated by Noel Simonik and Kyle Devitt, the Grub Wagon serves a changing menu of quintessential comfort food and unique creations to the small central Vermont community.
Simonik and Devitt noticed a lack of places in town to get a hot dinner and took matters into their own hands. The couple purchased a food truck, made a few alterations and constructed a covered seating area with beams reclaimed from a local barn. Business has been steadily picking up since opening night on June 7.
"We've gotten really positive feedback from the community," Simonik said. "They're happy not to have to drive to Montpelier to get food."
Parked at the Landing, just north of Worcester Village at 66 Elmore Road, the Grub Wagon is open for dinner Thursday through Saturday from 5 to 9 p.m. and for brunch on Sunday from 9 a.m. to 2 p.m. The Landing is also the site of the popular Thursday night Worcester Community Market, which Devitt helped found.
The dinner menu features burgers, corn dogs, fries and creemees, as well as rotating gluten-free and vegan options, including a recent vegetable coconut curry. Sunday brunch is inspired by diner classics. "We're trying to give people the burgers that they really want, but have something that everyone can eat," Simonik said.
The Grub Wagon will be open through early fall, and the couple hopes to bring in live music and other entertainment throughout the summer.