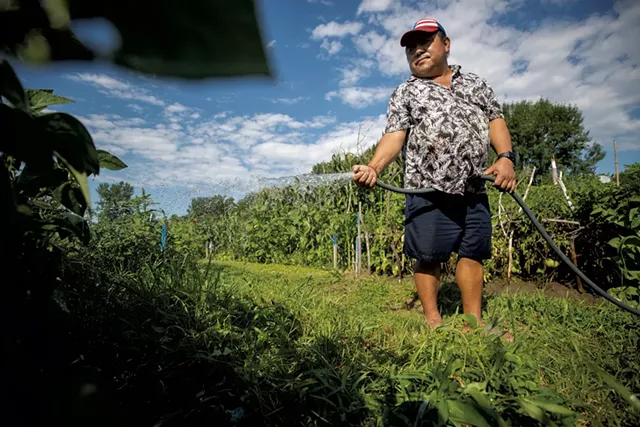 File: James Buck
Harka Rai on a New Farms for New Americans plot
The U.S. Department of Agriculture announced last week that New Farms for New Americans in Burlington was selected as one of 10 nationwide awardees from among 500 applicants to a new urban agriculture grant program.
New Farms for New Americans is a 13-year-old gardening and agriculture program run by AALV, a Burlington nonprofit serving refugees and immigrants. The program, which was recently featured in Seven Days, manages seven and a half acres on which 67 families raise food for 250 to 300 people.
AALV program specialist Alisha Laramee explained that the $300,000 grant will help to connect participants in the program with the broader Vermont food system.
"We are going to work with 16 farmers over two years to establish a corps, [a] group of mentors and leaders within the five ethnic groups we currently serve," Laramee wrote in an email. Programming will involve organizations such as the Northeast Organic Farming Association of Vermont, the USDA and the Intervale Center — "all the 'big' players," she detailed.
"Our overall goal is for this grant to provide a path for NFNA participants and their respective communities to be invited and included at the proverbial table," Laramee wrote, enabling "the New American community [to] become more active participants in Vermont's agricultural network."