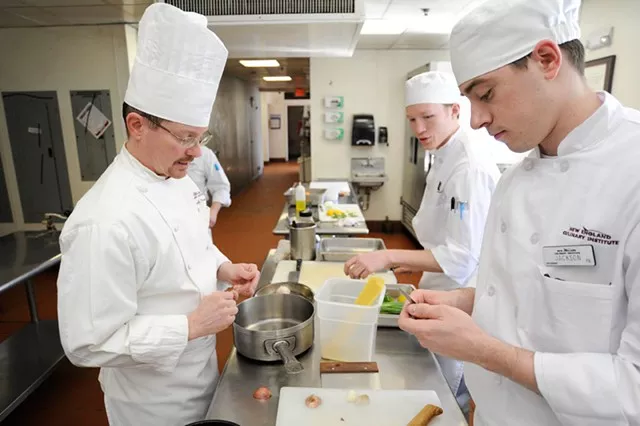 File: Jeb Wallace-Brodeur
Chef-instructor David Parson and students Jackson Person, right, and Aidan Murch in a Sensory Analysis class in 2014
Updated December 28, 2020.

New England Culinary Institute has announced that it will discontinue all credit-bearing programs, effectively closing the 40-year-old Montpelier-based culinary school after its current students complete their degrees.
The undated website announcement signed by NECI president Milan Milasinovic states that no specific closing date has been set, but that the school expects students to graduate in Spring 2021.
Reached by text, Milasinovic confirmed the pending closure and said there are only five students remaining, plus a few whose externship completion has been impacted by the pandemic.
"All current students are on externship scheduled to graduate by April. The old campus in Montpelier including the restaurant and bakery are permanently closed," he wrote. "Sad, but coronavirus was the final straw."
In the letter on the website addressed to the NECI community, Milasinovic cited the pandemic as "the burden that we could not overcome." He noted that NECI closed its retail operations at the direction of the state in March, "which severely limited our ability to continue to deliver a college-level, hands-on culinary education on an economically viable basis."
However, as previously reported by Seven Days, NECI has been struggling financially for years. As of February 2020, Milasinovic told Seven Days that enrollment at NECI was just 50 students. The school had about 800 students at its peak in 1999, according to a 2014 cover story in Seven Days.
Milasinovic took over as president of NECI in 2016. He is also president of Lakewood, Ohio-based Virginia Marti College of Art and Design with which NECI merged in 2017 in an effort to save money through shared resources and infrastructure.
The innovative for-profit culinary school was founded in Montpelier in 1980 by Fran Voigt and his wife, Ellen Bryant Voigt, with business partners John Dranow and his then-wife, Louise Glück. Dranow left the business in 1998; Fran Voigt died after a long battle with cancer in May 2018.
At its peak, NECI ran campuses in both Montpelier and Essex Junction as well as several restaurants in Montpelier and Essex Junction along with a flagship restaurant, NECI Commons, on Burlington's Church Street Marketplace.

It was named Cooking School of the Year in 2004 by the International Association of Culinary Professionals for its emphasis on small classes and intensive hands-on learning. High-profile alumni include TV celebrity chef Alton Brown and Gavin Kaysen, chef-owner of several restaurants in Minnesota and former executive chef and director of culinary operations for Daniel Boulud in New York City.
The school had a major impact on the culinary landscape of Vermont, supporting the growth of the farm-to-table movement and introducing a wide range of food and beverage professionals to the state.

The culinary institute played a lead role in founding the Vermont Fresh Network, and a number of alumni stayed in Vermont to build successful culinary businesses like the Kitchen Table Bistro in Richmond and Mirabelles Bakery, originally in Burlington and now South Burlington.
Many of the school's instructors and managers also stuck around after they left NECI and contributed to Vermont's national reputation for culinary and food systems leadership. They include James Beard-award winning teacher and cookbook author Molly Stevens of Williston, chef-owner Robert Barral of Café Provence and Gourmet Provence in Brandon and Amy Trubek, founding director of the food systems graduate program at the University of Vermont.
But, as detailed in Seven Days' 2014 cover story, by the early 2000s, declining enrollment and management disagreements had weakened the school. NECI also faced more competition and many students started to question the high price of a culinary education relative to starting salaries in the industry.
Most recently, in February 2020, the institute's bakery and café, La Brioche, moved out of its longtime home at the corner of State and Main streets in Montpelier into NECI on Main at 118 Main Street. At the same time, NECI on Main stopped offering dinner service, the only meal it was serving.
In an April 24 interview, Milasinovic told Seven Days that the pandemic was presenting a new set of challenges to a school known for hands-on education.
"For us to turn kitchen classes online is not just difficult, it's also against our DNA," he said. "Until I see the vaccine I don't feel comfortable letting our students mingle. We don't know. We don't know if they're going to come back. If they won't come back, then it doesn't look good for us."

Jordan Barry contributed reporting.