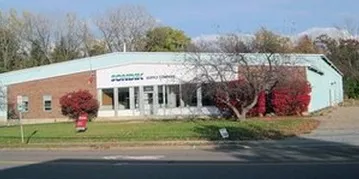 the former Sondik Supply building
A classified ad in last week's Seven Days quickened our pulses: "Lake Champlain Chocolates is seeking a creative executive chef to participate in the development of a new rustic-Americana south end eatery..." it read. We imagined the savory chocolate dishes that might result — perhaps a Vermont mole?
We'll have to wait to find out. While the chocolate company is planning to open an eatery inside the former Sondik Supply building at 716 Pine Street, which it purchased last year, the details remain under wraps. "We have no time frame, but we're looking at integrating food and chocolate. That would be a no-brainer," says Gary Coffey, LCC director of retail operations. LCC is far from having a concrete vision for the eatery, he adds.
Farther north on Pine Street, the space formerly known as Cheese Outlet/Fresh Market is still on the leasing block, according to Tony Blake of V/T Commercial, the building's agent. No one has signed on the dotted line yet, and Blake blames the size of the space: 4800 square feet. "Any type of reasonable proposal from a qualified operator would be considered," he adds.
Nearly 5000 square feet wasn't quite enough for City Market, which checked out the place as a potential South End satellite but decided to strike it from its list of options, according to member services director Allison Weinhagen, because of parking limitations and other particulars. Though City Market has looked at spots throughout the neighborhood, it has yet to find a "suitable space," she says, which could delay expansion plans. "We assumed the second, larger [South End] store would be next, but we might pursue a location in Winooski or the Old North End," Weinhagen notes.