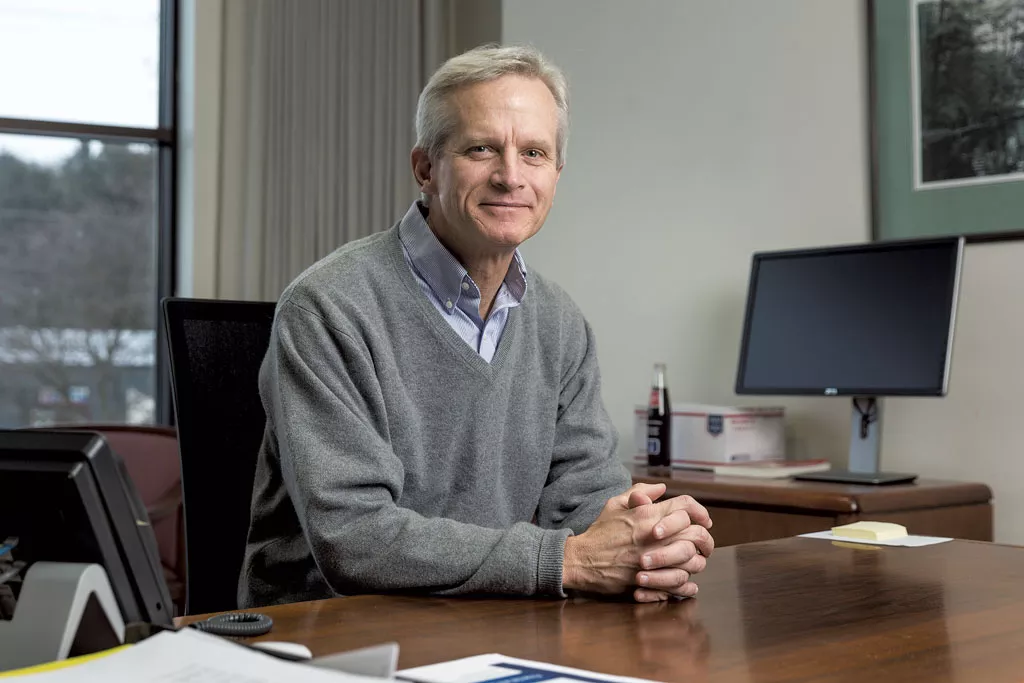 Oliver PARINI
Don Rendall
When Don Rendall assumed the top spot at Vermont Gas Systems on the first workday of 2015, the former Green Mountain Power executive promised a fresh start for the embattled company. Since Vermont Gas announced its three-part plan to build a pipeline along the west side of the state, the Canadian-owned utility has faced stiff opposition, including protesters who occupied its corporate offices and the private home of its former CEO.
Rendall, who replaced Don Gilbert, isn't alone in seeking a fresh start. Last week, the Vermont Public Service Board decided to reopen deliberations on Phase I of the pipeline project, which that board initially green-lighted with a Certificate of Public Good in late 2013. The decision came after Vermont Gas announced the latest in a series of cost increases for Phase I, which would carry gas to Middlebury. (Eventually the company intends to build pipelines to Ticonderoga, N.Y., and Rutland.)
The current Phase I estimate is nearly 80 percent higher than originally projected. The new $154 million price tag motivated opponents of the pipeline and the Vermont Public Service Department, which advocates on behalf of ratepayers, to ask the PSB to revisit the case.
In reopening deliberations, the board could decide to revoke, alter or leave alone the company's permit.
The reassessment comes at a time of flux for Vermont Gas: Rendall isn't the company's only new face. Two new communications execs are handling PR and public outreach, replacing former spokesman Steve Wark. Vermont Gas ditched its former engineering firm in favor of another company, and last fall tapped vice president Jim Sinclair to lead the project internally. It hired a new rights-of-way manager and, of course, reestimated the cost of Phase I "from the ground up."
With Vermont Gas in transition, and with many pipeline opponents firmly entrenched in their disapproval, will a new leader make any difference?
Many longtime critics of the project — including landowners along the route and environmentalists generally concerned about the construction of fossil-fuel infrastructure and fracking — are reserving judgment.
"Actions speak louder than words, and they have to understand that we're not just going to trust again," said Maren Vasatka, a landowner in Monkton who has juggled full-time work, care of an elderly parent and the time-consuming job of learning about the pipeline for more than two years. "They are claiming, 'We're going to start over and reset.' We don't get to reset."
To the assertion that actions speak louder than words, Rendall's response was simple: "I agree. We will be judged by what we do, not what we say."
Rendall, who turns 59 this week, moved to Vermont with his wife, Sandy, a native of Norwich, in the 1980s. They landed in Rutland, where he worked as an assistant U.S. attorney, and moved to Burlington three years later. Rendall settled in at the private law practice of Sheehey Furlong & Behm, where he got his first introduction to the utility world while representing Green Mountain Power. In 2002, he left the firm to become GMP's in-house counsel.
Rendall's role at GMP expanded over time, and he was no stranger to controversial projects. By the time he left, Rendall was a senior vice president overseeing strategy, finances and legal matters at the utility. He played a key role in the company's 2012 merger with Central Vermont Public Service and headed up the utility's Kingdom Community Wind development in Lowell.
GMP CEO Mary Powell said the fact that the wind project came in on time, and under budget, speaks volumes about Rendall's ability to shepherd a utility build-out that, like the pipeline, sparked concern from neighbors and environmentalists.
"I confess I had more than one sleepless night over that project," Rendall recollected with a slight smile. He noted that his challenge at Vermont Gas — to find common ground "wherever we can" — is not dissimilar to the one he faced when dealing with opponents to the Lowell wind project.
"While our disagreements sometimes were sharp, and the opposition was fierce, I hope that most felt that Green Mountain Power had treated them respectfully and had listened to them," said Rendall. "That's certainly my goal for this company, and for the communities that we hope to serve."
When Rendall set up shop at Vermont Gas earlier this month, he brought some of GMP's office culture with him in eschewing a cushy, private office in favor of an open and accessible work space. In practice, that meant converting an alcove on the second floor, perched above the main entrance to the office, into Rendall's makeshift office. His somewhat battered office furniture is wedged between the restrooms and a loud, clanking door that leads to a stairwell.
"I want to be accessible," said Rendall, over the sound of a toilet flushing on the other side of a thin wall.
"What you see is what you get," said Tom Torti, president of the Lake Champlain Regional Chamber of Commerce, of Rendall. "He's a nice guy. It's not a facade." Rendall serves on the chamber's board of directors. Torti recalled that when the chamber had to weigh in on public policy issues, Rendall, as a member of the board's executive committee, had to navigate strong and sometimes opposing views. That required flexibility and respect, according to Torti. When he heard Rendall had been tapped for the Vermont Gas job, he said he thought the company had found the "right person."
That's in part because the pipeline project got off to a "very bad start," as Torti put it. Choosing his words carefully, Torti said Vermont Gas made some enemies early on — unnecessarily — and turned potential allies against the pipeline "because of how they felt they were treated."
"His challenge is to step back, lower the level of rhetoric ... and let people calm down and start a discussion process over again," said Torti. "That's going to require building trust with those with whom trust has been perhaps broken. That's a heavy lift."
Opposition to the project runs deep. Detractors have long complained about how Vermont Gas representatives allegedly bullied landowners, trespassed on private property and were generally incompetent. Some have reported waiting weeks or months for the company to provide responses to simple questions. Others felt land agents, tasked with negotiating the easements necessary for completing the project, weren't totally honest with impacted communities.
While Vermont Gas could theoretically make amends on some of those fronts, there's another, thornier issue — the environmental one.
"This pipeline has no place in Vermont," said Cornwall resident Bethany Barrie. She isn't a landowner on the route, but opposes the additional build-out of fossil fuel infrastructure and the use of fracked natural gas. "There is not one redeeming quality, no redeeming factor in this proposal," said Barrie. In her mind, a change of leadership is "completely irrelevant."
"It's like saying, 'Would ExxonMobil be better if it had a different CEO?'" Barrie asked. Her answer: "No."
Rendall, like Torti, is careful not to point fingers or cast aspersions on how Vermont Gas operated prior to hiring him. Pressed to elaborate on how the company could have better handled the rollout of the pipeline project, Rendall redirected the question. "It's just too easy to second-guess when you weren't in the moment, having to make the decisions yourself," said Rendall. "I just don't think that's a productive exercise."
Rendall prefers the rephrased question: Where could outcomes have been better? Atop Rendall's list is the issue of building respectful relationships with communities and families. He acknowledged that Vermont Gas didn't do that successfully in the early stages of the pipeline project. The company also didn't have a firm grasp of the challenges and costs associated with building a project of this magnitude, Rendall said.
He believes Vermont Gas is making headway on both fronts. "It starts with listening," he said, of repairing community relationships. "It starts with building a relationship that's based on mutual respect and understanding."
Rendall also said the company is getting a better handle on the project itself. He made the decision last fall, as he began the transition into his new job, to push the pause button on Phase II of the pipeline's permitting process, which would shuttle gas from Middlebury, under Lake Champlain, to the International Paper plant in Ticonderoga. He didn't want to repeat the mistakes of Phase I and move ahead with estimates that might not be accurate or up-to-date.
"We are under the microscope, and we should be," said Rendall. Internally, he said, he wants to cultivate a "culture of the highest standards," of "asking hard questions" and of accountability.
But Rendall stressed that there's more to Vermont Gas than the pipeline projects. Looking ahead, he said he wants to find more ways to incorporate renewable sources of gas, such as methane digesters, into the company's portfolio. He's interested in partnerships to increase reliability for some of the company's biggest customers and is thinking about new ways to deliver natural gas beyond pipelines — including "gas islands," like the one Vermont Gas and NG Advantage kicked off last month in Middlebury that allows for natural gas delivery without a major pipeline in place.
Natural gas, he said, "gets us to our goal in Vermont of 90 percent renewable by 2050," said Rendall. "We all recognize that there will be a place for nonrenewable fuels in that energy future, and we want the nonrenewable energy fuel to be the cleanest source, the lowest greenhouse gas-emitting source that we can use. Natural gas wins."
But he's realistic about winning hearts and minds — particularly when it comes to the pipeline. "We have rebuilding to do. That won't happen overnight," Rendall said. "I'm optimistic that people will give us the chance to demonstrate that we're on the right track."
Before he takes on the public, though, Rendall may have to convince the Public Service Board. The permit for Phase I of the pipeline project is currently before the Vermont Supreme Court; last week the PSB asked the high court to send it back to the board for reconsideration.
"There's no doubt that the benefits are less than they were at the original numbers," Rendall conceded. That said, "We remain confident that the project has real, significant benefits for Vermont."