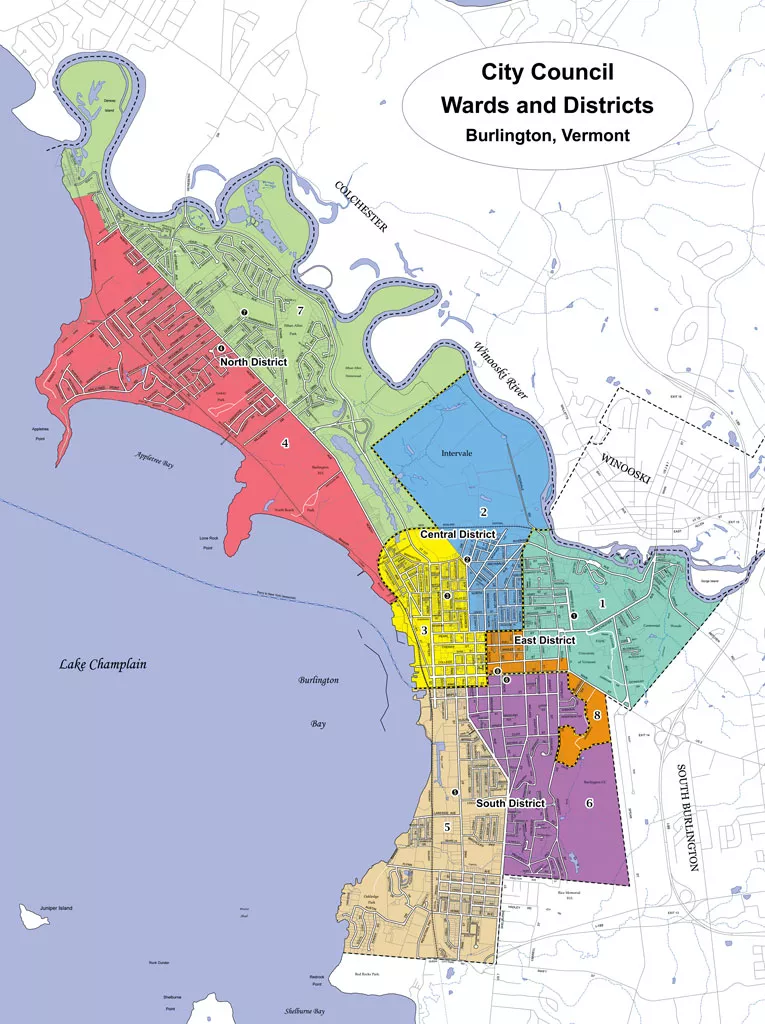 Councilors agreed on the new boundaries last year after a protracted discussion. Dotted lines show the four districts, which are made up of two wards each. The colored regions represent the eight wards.
"Fifty-two-card pickup" — that's how political newcomer Jason L'Ecuyer characterized the upcoming election season in the Queen City. On March 3, every city council and school board seat — as well as the mayor's — is up for grabs.
For the past 21 years, Burlington has had seven wards that elected two councilors apiece during alternating years. Starting in March, that system will be replaced by one that more accurately reflects Burlington's population: eight wards and four districts (comprising two wards), each of which will elect one councilor.
The same structure applies to the school board, which, like the council, will be reduced from 14 members to 12.
Campaigning has yet to start in earnest, and candidates could still surface — the deadline for filing is January 26 — but several interesting matchups have already emerged. In the race for mayor, Progressive-endorsed Steve Goodkind, the former public works director, is challenging his old boss, Miro Weinberger — the developer-turned-Democratic politician who's wrapping up his first three-year term.
It's been a rocky year for the school board, which clashed with the school administration while trying to fix financial problems. Half of the members are finishing their first terms, and those who run for reelection will be peddling a budget that likely entails school staff cuts and a tax increase. At least two new candidates have publicly announced bids: Mark Barlow in the North District and Helen Hossley in Ward 7.
On the council, nearly a quarter of the incumbents are stepping down, and L'Ecuyer is one of at least seven new candidates stepping up.
University of Vermont juniors Ben Vidal, an independent, and Brock Gibian, a Democrat, will compete to represent the brand-new, student-heavy Ward 8.
As executive director of Emerge Vermont, Sarah McCall has been working to get female Democrats into office. Now she's running in the Old North End's Ward 3 against Progressive Sara Giannoni, another new candidate. Giannoni works at the Committee on Temporary Shelter.
In the New North End, Michael Ly, who nearly won a House seat in November, is campaigning again, this time hoping to reclaim the Ward 7 council seat for Republicans. The self-employed financial consultant will face a to-be-determined Democrat.
At the outset, redistricting seemed ripe for drama, since the redrawn lines lumped councilors of the same political stripe into the same district, meaning they would have to compete against each other for a single seat. But the potential for intraparty contests has mostly fizzled. During the last few weeks, incumbents quietly decided among themselves who will run for which seat and who will bow out.
In Ward 3, one Progressive — either Vince Brennan or Rachel Siegel — was positioned to lose a seat. Instead, both announced that they are stepping down, and Giannoni will try to fill the single spot. Brennan said he wants to spend more time with his wife and two teenage sons; Siegel said she's dealing with several minor health issues.
Initially it looked like there would be more incumbent Democrats — Chip Mason, Norm Blais, Karen Paul and Joan Shannon — than the number of seats available in Ward 5, Ward 6 and the South District. "I figure it'll be a question of who wants it least," suggested Blais, who represents Ward 6, to Seven Days in late November. That individual turned out to be Blais, who explained more recently that he bowed out because "I don't want to run against another Democrat."
Democrat Bianka LeGrand, who came to Burlington as a Bosnian refugee and is finishing her first term on the council, is also stepping down, avoiding a showdown in Ward 7 against fellow Democrat Tom Ayres. LeGrand said she is leaving not to avoid a primary, but for personal reasons.
Meanwhile, some internal challenges have cropped up in unexpected places. L'Ecuyer, an IBM employee and first-time candidate, is challenging Ayres for the Democratic endorsement. The party will make its pick during a January 11 caucus. (Progressives and Republicans chose their candidates last month. Libertarians haven't met yet, but Loyal Ploof has declared his candidacy for mayor.)
In the New North End, Kurt Wright, a Republican state rep who's closing out his sixth term representing Ward 4, made a turf deal with Democrat Dave Hartnett, his friend and political ally. Hartnett is going for the North District seat (Wards 4 and 7) while Wright runs for reelection in Ward 4. But now Carmen George, a former councilor and current marketing director at TruexCullins architecture firm, has decided to challenge Hartnett for the North District Democratic nomination.
The rest of the city is shaping up to be an incumbent's market. In Ward 1, no one has yet emerged to challenge Sharon Bushor, an independent who has served 28 years on the Burlington City Council. The coast is similarly clear for Max Tracy, a Progressive who has represented Ward 2 since 2012. The same goes for Wright in Ward 4. Mason is so far unopposed in Ward 5, as are Paul in Ward 6 and Shannon in the South District (Wards 5 and 6).
Emily Lee, a former candidate and financial adviser for Merrill Lynch, has scrapped plans to run in the East District (Wards 1 and 8), according to Fauna Hurley, chair of the Burlington Democratic Party. That means Progressive Selene Colburn currently has no competition. Nor does Prog Jane Knodell in the Central District (Wards 2 and 3).
Despite all the potential for upheaval, no party has managed to stack the deck in its favor. The Republican Party could double its presence on the council — but that's only because it boasts just one member to begin with. In addition to the lone R, the current 14-member council includes seven Democrats, five Progs and one independent.
The Dems are best positioned, with candidates in seven races. Several more are mulling runs, according to Hurley. "We still have a few folks out there who are hemming and hawing and testing it out," Hurley said, adding that the party is well positioned to preserve half the seats on the council.
The Progs stand to lose at least one seat, but in a smaller body, that's not as dire as it sounds. Party labels don't always stick on the Burlington City Council — Bushor and Wright often side with the Progs, and if Vidal prevails, he might align with them, too. The economics professor who convinced the college student to run happens to be Knodell. Vidal got a taste of city politics working on her campaign.
Siegel's parting wish is for some change in the status quo. In her opinion, politics often trumps principle on the council, and part of the problem is that Democrats rarely break with Weinberger out of party loyalty. In practice, that's meant, "Almost every single policy idea that I've been passionate about, I've lost," Siegel said.
Her seatmate, Brennan, agreed that Democrats consistently vote as a bloc and nearly always carry the day.
Blais, however, argued the opposite — that Progressives have more of a pack mentality when voting.
Last month, during a council discussion of plans to redevelop the Burlington Town Center, Siegel ruffled some feathers when she called out Democrats for not publicly asking any questions about the project. (Progressives had already posed several dozen in previous weeks.) If the Dems were to lose their plum position — which would happen if they lose two of their three contested races — "There will be a need for them to reach out more and find more common ground," Siegel said.
The original print version of this article was headlined "Queen City Shake-Up: New Districts, Candidates in Landmark Election"