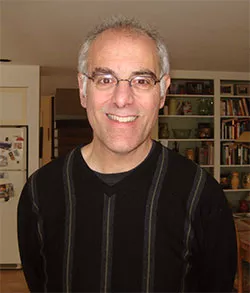 Burlington's South End Arts and Business Association has a new executive director. Roy Feldman is coming in from Massachusetts, but he already has deep roots in the Queen City.
Feldman, 53, moved from New Jersey in the mid-1970s to play fiddle in a Celtic band with his boyhood neighbor, Robert Resnik (now a librarian at the Fletcher Free and host of Vermont Public Radio's "All the Traditions"). Feldman briefly attended the University of Vermont, then left to launch the first Jewish-style bagel shop outside the New York metropolitan area. He sold the Burlington Bagel Bakery in 1988 after what he recalls as "nine years of working seven days a week, three shifts a day. It was time to declare victory."
That entrepreneurial experience, along with his role as a viola player with the Vermont Symphony Orchestra, led Feldman to another pioneering local venture: the Burlington Violin Shop. He sees the 14 years he spent selling musical instruments as an important qualification for leading SEABA, which also bridges the worlds of arts and commerce. Feldman sold that business, too; it continues to operate in conjuction with Vermont Violins.
Feldman left Burlington for the Boston area five years ago to work as a violin dealer, but he also attended Harvard for seven semesters, and earned a degree just two weeks ago. He concentrated on museum studies with the aim of finding work in the nonprofit sector.
"Roy's studies at Harvard will bring strength to his role with this nonprofit," says SEABA board chair Kathy Soulia. She notes that Feldman has also helped raise funds for the Vermont Mozart Festival.
Taking over from outgoing SEABA director Carlos Haase, Feldman says his first task will be to canvass businesses, artists and residents of the South End with the aim of advocating effectively for their interests. He also wants to increase corporate sponsorship of the South End Art Hop, which has developed over the past 16 years into one of Burlington's signature cultural events. Hiring a coordinator for this extravaganza would help make it more sustainable, Feldman suggests.
In recent years, the Art Hop and SEABA were at the center of controversy over some politically charged exhibits. Asked whether he views artistic expression as an absolute right regardless of content, Feldman bows his head, pauses pregnantly and finally says, "It would be premature for me, as a representative of SEABA, to make any comment." It appears he can add diplomacy to his already diverse résumé.
A return to Burlington also serves as a family reunion for Feldman. His brother, sister, daughter and ex-wife all live and work in the area. "I have a deep and abiding love for this city," Feldman says. "And it has only increased by being away from it."