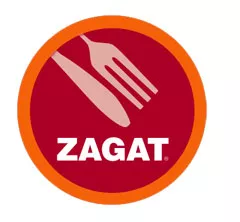 After decades of dishing on the restaurants of major metros such as New York, Chicago and Los Angeles, the Zagat empire is turning its sights northward. By this winter, Queen City residents will see the first-ever Zagat ratings of Burlington-area eateries.
However, Zagat's new coverage wasn't exactly inspired by northern Vermont's vibrant food scene. "We're pretty much in the process of doing everything in the world," quips Tim Zagat, who cofounded Zagat with his wife, Nina, more than three decades ago. "I would have laughed if anyone said that to me a year ago, but being part of Google is no laughing matter."
He's referring to last fall's high-profile purchase of his company by the internet giant, which features Zagat reviews prominently during Google searches for restaurants, as well as on Google+ Local. Zagat now has 40-plus new surveys under way in addition to the one in Burlington.
A Burlington survey on the Zagat.com site asks diners to rank food, décor, service and cost at local restaurants. Zagat says the survey should be completed by September, and the results will appear by winter. The local editor for the project is Melissa Pasanen, food editor of Vermont Life and correspondent to the Burlington Free Press.
"We're trying to see how energetically local people will step up," Zagat says. "We totally depend on our surveyors, because nobody in New York knows Burlington the way you do." But ballot stuffers, beware: Zagat editors are trained to assess "the honesty of the voting" — i.e., to identify restaurant owners who call on assorted besties to vote them to the top of the crop.
With its current accelerated expansion, Zagat has come a long way from its birth at a 1979 dinner party. When fellow guests kvetched about newspaper restaurant reviews, Tim and Nina Zagat — both attorneys at the time — decided to collect, print and distribute the informal reviews of diners. The popularity of those crowdsourced critiques later birthed a little red guide that grew to cover 90 cities. Eventually, the Zagats expanded their iconic 30-point ratings to hotels, theaters, shopping, nightlife venues and even airlines.
Yet, in the aughts, Zagat's relevance paled with the rise of free reviews on sites such as Yelp and Urbanspoon — for which, ironically, Zagat served as a template. The Google sale liberates Zagat content from behind its online paywall and makes it accessible to a tide of new readers.
Tim Zagat became familiar with northern Vermont during the summers when his now-grown sons attended Camp Dudley on Lake Champlain. Though he can't recall the precise names of the restaurants the family visited, he says his kids found each visit to Vermont — replete with good eats — "an enormous treat from beginning to end."
Zagat is currently busy with the wild expansion of his company, which he calls "daunting, to put it mildly." But, if he had more free time, he'd write a book about the enormous changes in restaurant culture he's witnessed during his career. We'd love to read it.