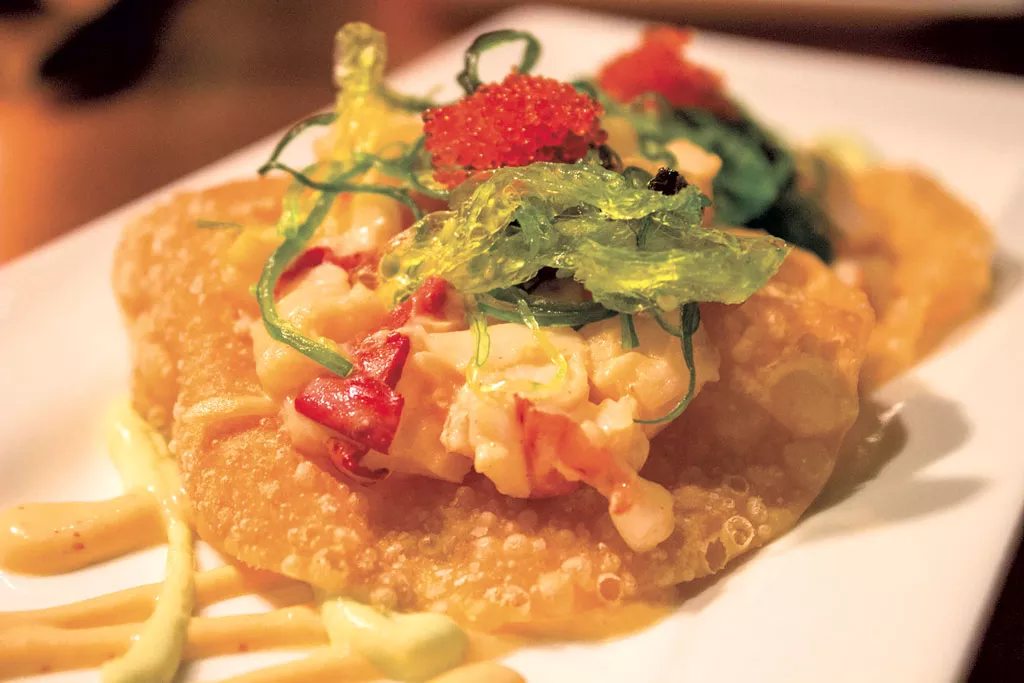 Courtesy Of Daily Planet
Lobster nachos at the Daily Planet
In September, a new chef quietly took over the kitchen at Burlington's the Daily Planet.
Two weeks ago, chef Justin Bigelow debuted his new menu. It's different, very different. Gone are the old entrées and apps. Daily Planet owner Copey Houghton says he wanted to get away from the app-entrée-dessert format and restructure the menu around creative small plates and slightly more upscale cuisine. A new cocktail list is in the works, he adds.
Bigelow grew up in Windsor County, graduated from Le Cordon Bleu's Atlantic Culinary Academy in Dover, N.H., in 2001, and has worked in coastal New Hampshire for most of the past decade. For the last couple of years, he was the executive chef at Mombo Restaurant in Portsmouth, where his cooking garnered a string of awards, including Taste of the Seacoast's best restaurant honor in 2013.
Despite those successes, Bigelow says he was ready for a change. "I was doing well in Portsmouth," he says, "but I just took a chance. I needed some adventure, [and] I wanted to go somewhere where I felt I could really impact the food scene." He considered cities around the country, he adds, "but for some reason, Burlington was just calling my name."
Bigelow's first interview was at the Planet, where Houghton's plan to revamp the menu excited the chef. "As soon as he said he wanted to change the whole format and turn it into something much bigger — and scale it up a bit — I was sold," Bigelow recalls. "Small plates are my favorite culinary trend. I hate going to a restaurant and being full before I get my entrée. You've got this $30 dish in front of you, and you're not hungry anymore ... That's a bummer."
Bigelow's plates are both affordable and small, so guests can piece together a meal from several. "You could have seven to eight different plates and not break $60," the chef says. "So that, to me, is pretty exciting."
On the menu, the chef works with familiar flavors in new presentations. So there's buffalo chicken, but in croquette form, or grilled confit chicken, but glazed in Korean barbecue sauce. Mac-and-cheese gets a Cajun twist, while "nachos" are more Asian than Mexican, topped with lobster, wasabi avocado, wakame salad, tobiko and Sriracha cream. "I wanted to make food that's really going to surprise people," Bigelow says. "I keep telling everyone I came here to make some noise ... I felt like there was a place for me here, and for my style."
It's a style that incorporates fine ingredients and preparations in a casual way. "Fine dining can come across as pretentious," Bigelow says. "The Daily Planet doesn't have that stigma about it. It gave me this opportunity to do this upscale food without the foofiness around it."
And, he says, he's glad to keep the prices low. "Affordability is huge. There's nothing on the menu that's more than $17 — not even the lamb! You won't find lamb for that anywhere."
The original print version of this article was headlined "New to the Planet"