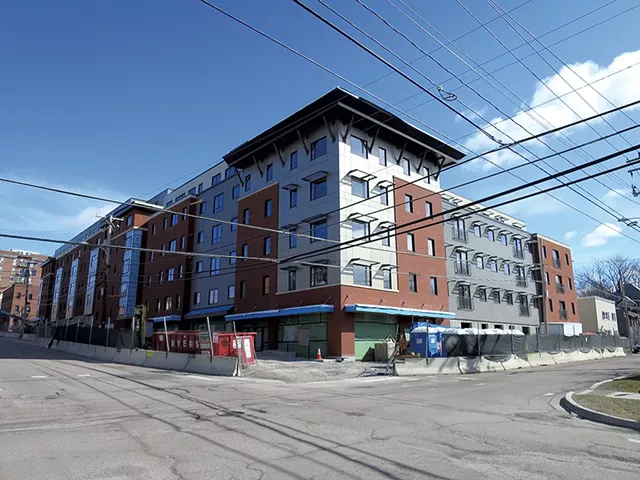 Matthew Thorsen
194 St. Paul Street
The granite countertops, sparkling appliances and panoramic lake views look like they belong in a posh condo development. Instead these amenities enhance a new six-story, off-campus apartment building that Champlain College is leasing to undergraduates in Burlington. The newly constructed units are helping to finally cool the long-overheated student rental market.
The big new building, named after its address — 194 St. Paul Street — is the latest newcomer to the scene, and it's having an impact. Champlain students have already leased all 314 beds in the steel-and-brick edifice and will move in when the building opens in mid-August.
Some are migrating from Champlain dorms; some from off-campus apartments. The latter shift is spurring competition to fill student rentals that once could practically lease themselves in a college town with high demand.
By December, though, the Chittenden County vacancy rate had risen to almost 3 percent, according to South Burlington real estate firm Allen, Brooks & Minor. That's nearly double the average rates of the previous couple of decades. At least 362 rental units were constructed last year in the county, and another 448 are due this year, including those at 194 St. Paul. In the longer term, with big projects such as Cambrian Rise on North Avenue and City Place on Church Street approved for construction, more than 2,000 units are in the pipeline.
In response, some landlords are cutting rents. Others are waiving deposits and aggressively marketing by doling out free pizza and Red Bull to student renters who aren't used to being wooed. Students have generally felt lucky to score an $800-a-month bedroom in a dilapidated Victorian with a sagging porch.
"The competition among landlords is markedly increased," said Rick Sharp, a longtime Burlington investment-property owner. This spring, for the first time in roughly 20 years, he reduced rents in an effort to find tenants for a pair of four-bedroom apartments on Orchard Terrace in the popular student zone between the University of Vermont and downtown.
The apartments typically go quickly to students who rent on a June-to-June basis, usually for about $25 more per bedroom than the previous renters. This year, Sharp got no takers from ads on Craigslist. He dropped the rent from $2,800 to $2,700 a month, but still has not found tenants. "We may have to go to $2,600," he said.
He points to Craigslist ads offering reduced prices and promising one or two months rent-free in student neighborhoods. The changes reflect the many new units being built, including the big Champlain building, he said.
Matthew Thorsen
A kitchen in the works
The new building occupies an entire city block that was formerly home to the Eagles Club. Earlier this month, workers installed appliances, laid gray vinyl-plank flooring in apartments that range in size from studios to four bedrooms, and painted trim in tangerine and lime. With polished concrete hallway floors, metal trim and some glass walls, the look is industrial chic. The common areas will be adorned with historic photos of Burlington and artifacts that were excavated during the project — old bottles, coins, horseshoes and tools.
Under an agreement with the city, rooms may be rented only to students. Each unit has its own kitchen and bathrooms, and no one has to share a bedroom. Leases are voluntary — students are not "assigned" to the building. First-year students, who are required to live on campus at Champlain, cannot apply. Leases run for 11.5 months and aren't cheap. They vary in cost from about $965 to $1,355 a month, including utilities and internet.
Apartment-style housing is increasingly common at colleges, and UVM has its own versions, including the Redstone Lofts near the school's athletic campus. But in that case, an outside company, Redstone, partnered with the school to build and run the facility.
Champlain owns and manages 194 St. Paul Street, which is by far the largest residential building in the school's portfolio of restored historic structures and new dorms.
"If Champlain were ever to hold a yard sale, this could be its most valuable asset," said John Caulo, an associate vice president at Champlain, as he gave Seven Days a tour.
The building will plop more than 300 students downtown, about half a mile from the core of the private college's campus. The college built the structure partly to reach a 2007 master-plan goal of housing more of its roughly 2,000 undergraduates. With the opening of 194 St. Paul, about 75 percent of Champlain's students will live in college housing.
Mayor Miro Weinberger, who has pushed for new housing downtown, hails the construction. For many years, he and other city leaders have pressured UVM and Champlain to construct housing to ease what some see as an Animal House problem in former family neighborhoods now overrun by students, especially north of Main Street. Noise, litter, drunkenness, parking on lawns and disrepair are perennial problems.
Weinberger finds the increasing vacancy rate and anecdotes of discounted rents encouraging.
"That sounds to me like the early stages of a market reconciling, kind of recalibrating to deal with the fact that there's substantial amounts of new supply," Weinberger said.
A UVM project also helped. UVM demolished several old dorms and built a new 695-bed residence hall that opened last year, for a net gain of about 305 on-campus beds. UVM now has the capacity to house about 61 percent of its roughly 10,000 undergraduate students, though thousands continue to live off-campus.
There are no short-term plans to build new dorms at UVM. However, college officials are talking with city leaders about possible new housing on the former Trinity College campus along Colchester Avenue, which UVM owns.
Champlain has no further plans to construct housing, at least for now. It dropped plans for new units at the old Ethan Allen Club property on College Street and instead sold that parcel to the Greater Burlington YMCA a few years ago. Also off the drawing board: plans to lease units in Phase I of City Place. Critics of the downtown mall redevelopment opposed student housing in its mix of units, and developer Don Sinex agreed to scrap that plan last July.
That means 194 St. Paul will be the biggest development to affect Burlington's student housing scene for some time. Still, the most immediate ripple effect from its opening will be on a neighborhood in another city — Winooski.
Matthew Thorsen
Construction
Champlain has terminated its lease of roughly 280 beds at Spinner Place apartments, effective this summer. That change has left the owners of that building on Winooski Falls Way hustling to find new tenants for the coming school year.
Spinner leasing agents are marketing heavily at the University of Vermont. They've set up a table at UVM's Davis Center and lured students with free pizza to talk up the free wifi, new furniture and utilities-included rent package at Spinner. New lease deals waive the typical $700 to $800 deposit.
"We're going out on the open market, and our team is recruiting hard, giving away freebies, sponsoring events around town," said Joe Landen, managing director at Lapis Advisers LP, the investor group that oversees the building.
With 84 units and 312 beds, Spinner is an important anchor in Winooski's redeveloped downtown. When Champlain students moved in a decade ago, they enlivened the old mill city and injected youthful vigor. Businesses such as the Happy Belly Deli and Grill next to Spinner Place rely on them.
Students see that corner restaurant almost as a dining hall. They come in at "10 a.m. in their pajamas, getting their Sour Patch Kids and a breakfast sandwich, and we're happy to have them like that," said owner Ron Cameron.
Some Champlain students are sorry to leave Winooski. "I'd rather stay here," said 22-year-old sophomore Christopher Bell, as he stood outside Spinner last week, his backpack slung over one shoulder.
But with Champlain ending a shuttle service, it will be more difficult to get to campus, so he and his three roommates are moving to 194 St. Paul. They leased a two-story townhouse-style unit at the top of the building. Bell, of Newburgh, N.Y, will miss the vibe in Winooski but figures the new location will grow on him. "I like the fact that we're closer to Church Street," he said.
Some students aren't interested in college housing, even if it has polished concrete floors. Once they get out of the dorms, they want to steer clear of anything with an institutional feel. UVM junior Lauren Bausch, 21, pays $825 a month to rent a room with three other students in an old aluminum-sided house on Greene Street. On a recent morning, the street was packed with parked cars bearing out-of-state license plates, and litter blew around the curbs and sidewalks. The discounts people are seeing on Craigslist haven't filtered down to Bausch. Rentals remain "pricey," she said.
Still, Greene Street feels "more authentic" than the Redstone Lofts on campus, where some of her friends live, said Bausch, who hails from Clifton Park, N.Y. "I like living downtown," she said. "It's a little bit more independent."
One big question is whether the changing marketplace will lead owner-occupants to reclaim some of the houses that were converted to student rentals decades ago. That transition could happen on the fringe of the most popular student zones as more renters find homes elsewhere, said Steve Lipkin, a Burlington real estate agent and landlord.
"We do have a housing shortage," he said, "and the market is as tight as I've ever seen it for residential single-family homes in Burlington."