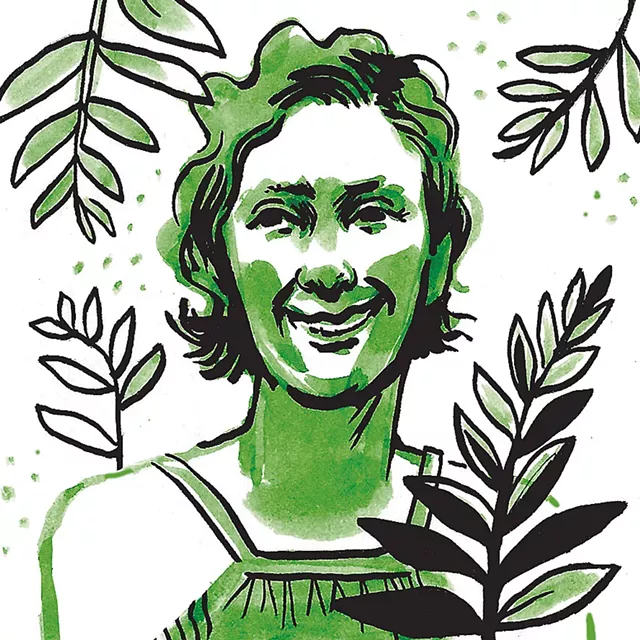 Self-portrait of Cara Bean
Cartoonist and educator Cara Bean, 42, says she'll be "bouncing around" for the next few months as she creates a graphic nonfiction work about mental health for kids. She recently gave up her apartment in Massachusetts, put her possessions in storage and moved to Finland to be the artist-in-residence at the Oulu Comics Center.
In spring 2019, Bean's travels will take her to the Upper Valley area to hold the third annual Cornish CCS Residency Fellowship, offered by the Center for Cartoon Studies in White River Junction and cartoonist Harry Bliss at his home in Cornish, N.H. For most of the monthlong residency, the cartoonist will focus on finishing her book. But Bean said she's also looking forward to giving a lecture at CCS, which is a requirement of the fellowship, and engaging with the students there.
"Cara is damn good," said Bliss, pointing out her considerable experience in comics and education, as well as the "skillful storytelling" and "universal empathy" in her work.
Bean's comics have appeared in Illustrated PEN, the Women's Review of Books and Teaching Arts Magazine. She's also the author of Heart Farts and Draw 500 Faces and Features.
She's had her own experiences with anxiety and depression, she said, but it was her work as a high school art teacher in Lexington, Mass., that inspired her to create a graphic work on those subjects. "As an art teacher, I could see the struggle and the pain that [my students] were in," Bean said.
To gain tools to help her students, the educator attended workshops and trainings on depression, anxiety and trauma. Instead of jotting down notes, she drew pictures to retain the information. In 2008, those pictures became a web comic, which in turn became a 32-page black-and-white comic published last year by Radiator Comics: Snake Pit: Notes on Adolescent Depression and Suicide. It was a hit, and Bean realized she was on to something.
Her new work is inspired by the experience of making Snake Pit, but it'll have a different voice that speaks directly to young people, said Bean: "I hope to make it colorful, visually appealing and easy to read."
Bean applied for a leave of absence from Lexington High School to work on her new project. She's been busy connecting with professionals in the mental health field to whom she can turn for help when questions come up.
"This is a big chunk of work for me," said Bean of her decision to take the residencies. "I could never do this with a lot of distractions."
Seven Days caught up with the cartoonist to learn more about her creative process and her hopes for educating through comics.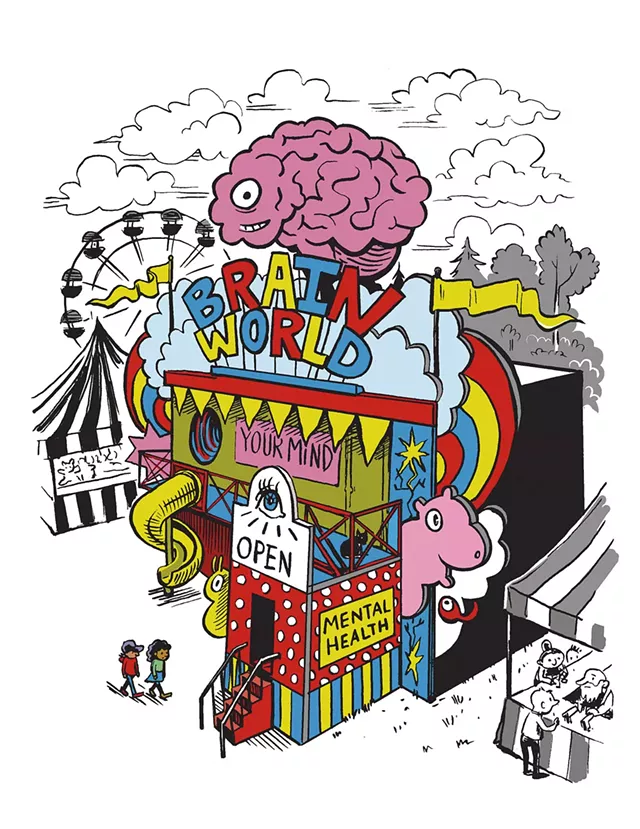 SEVEN DAYS: When and how did you get interested in cartooning?
CARA BEAN: When I went to college, I studied painting and drawing. But I always hit a wall because I wanted to tell stories. I wanted to tell jokes. I had a lot of storytelling to my imagery, and it didn't quite flow in a painting class in the same way. At that time, I thought comics were superhero stuff or newspaper stuff.
After graduate school, I started using the photocopy machine at the place where I worked, making little pictures and letters to my friends. One of my friends, who is a cartoonist, said to me, "Oh, these look like indie comics." I realized that comics could be about an interior world and could be experimental. All the things I liked about painting I was finding in comics. I felt more like a cartoonist than a painter.
SD: What kind of comics do you like and draw?
CB: I liked comics that were about an artist's life when I was first starting. Currently, I'm interested in applied cartooning. What I'm trying to do right now is explain mental health and mental illness to kids using cartooning and aspects of memoirs and personal stories.
SD: What are some of the challenges that you're facing while working on this new project?
CB: Every chapter I want to have — anxiety, depression, trauma, addiction — it could each be a book. I picture my niece and nephew, and I'm like, "OK, when will I start to bore them?" I'm trying to boil down the most important things so that they have an understanding of how their minds work. Or, if they run into issues as they get older, what they can do about it and what to look out for. You can research forever, but you have to remember you are talking to kids. You have to know when you've said too much.
SD: How do you think your work can be used as a resource for kids?
CB: A book is quiet. You can sit in a corner. You can secretly look at something and have a quiet space to absorb information. I feel that's comforting. In the case of children and learning, having the pictures, having a story, makes it more approachable. If you're struggling — adults and children — it's really hard to read sometimes.
SD: How will the Finland and Cornish CCS residencies help you?
CB: I've been researching prior to this, but I haven't been writing or drawing until the last couple of weeks. The decisions [about] what goes into the book and what comes out, the metaphor and storytelling devices that are used to educate, are happening here in Finland. I'm hoping that that will be done by the time I get to the Center for Cartoon Studies and I can just be penciling pages and working on the visual comics themselves. The flow of pages, the panels and the word bubbles will be figured out probably two months from now.
SD: Do you have a long-standing relationship with the Center for Cartoon Studies?
CB: I [took] their summer one-week workshops, which I highly recommend to anyone. It was like a boot camp, and it was plenty of information [so] that I could take that with me and test things for the rest of the year. I did that for two summers. Just recently at the Comics and Medicine convention [at CCS] in August, I got to teach a drawing class to doctors, academics and nurses and see how they would like to use drawing. It was so much fun.