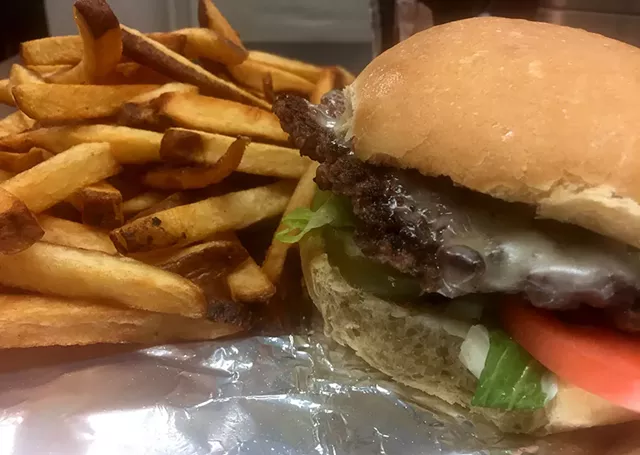 Courtesy of Buddy's Famous
Burger and fries at Buddy's Famous
After owning and operating Park Row Café in Waterbury for more than two decades, Jeff Stoudt has left it to open a restaurant in Montpelier: Buddy's Famous at 15 Barre Street.
Buddy's opened in late November in the building that was home to Angeleno's Pizza for 37 years. It serves burgers, fries, shakes and fruit smoothies, with one salad on the menu — Caesar.
Before Stoudt found a Montpelier location for his burger concept, he said, he tested it out by converting Park Row into Buddy's for a year. In 2016, he sold that business, and the new owners have transformed it back into Park Row Café. Meanwhile, Stoudt found a suitable space for Buddy's in Montpelier and gutted and renovated it.
Buddy's serves grass-fed beef burgers, as well as a salmon burger, veggie burger and grilled chicken breast sandwich. The burgers ($5.99 to $7.95) come on housemade buns and can be dressed up with free toppings such as grilled onions, jalapeños and pickles. Fries can be added to a sandwich for $1.50.
"Buddy's is more about my kids and my family than my place," said Stoudt, who lives in East Montpelier and has four sons. "I'm hopefully going to give it to my kids."
His third son, Paul Trollinger, followed in his father's footsteps and attended culinary school at Johnson & Wales University in Rhode Island. Trollinger will move back to Vermont to help run Buddy's, Stoudt said.
His wife, Lisa Stoudt, a special educator who works in Hardwick, manages social media, bookkeeping and other administrative duties for Buddy's.
"We're really overjoyed to be in Montpelier," Stoudt said. "We're part of the community, and our family has long felt that Montpelier could use a restaurant like this."
Buddy's seats about 40 and is open daily from 11 a.m. to 9 p.m.