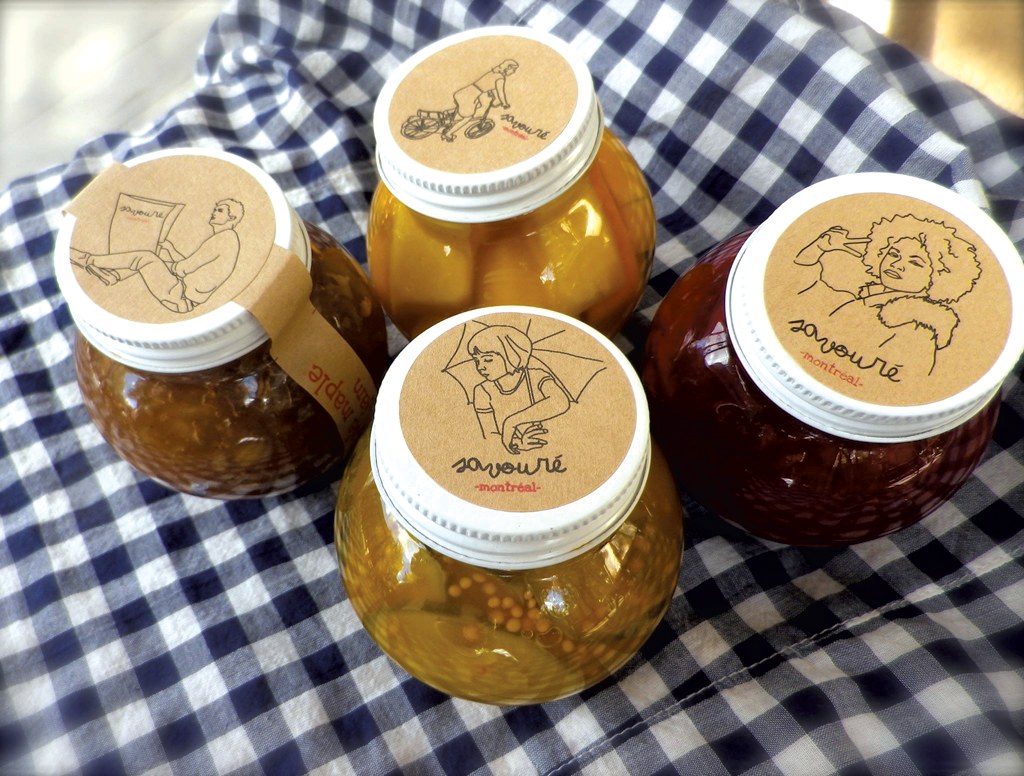 cOurteSy OF SavOuré
Savouré pickles and preserves
The downtown Bristol storefront at 26 Main Street — former home of Main Street Tacos, which closed in January — has new tenants. And they're gearing up to serve a different kind of craft bubbly — soda. Jess Messer is the owner of savouré, the soda, jam and pickle company that moved into the space in May, along with local caterer Lauren Gammon of Nomadic Chef.
Their shop, Tandem, is still taking shape. The women rented the space primarily as a production kitchen for both businesses, and summer is a busy season for them, so the retail and food service have been developing in waves.
Messer has been making and serving handmade fresh-fruit popsicles since she moved in; in the next few weeks, she'll debut four seasonal sodas on draft. Summer flavors include black currant-rosemary, peach-yuzu-rose-geranium and grapefruit-hibiscus. "I tend to do a fruit and an herb," Messer says of her low-sugar sodas, which she sweetens with organic cane sugar, honey or maple syrup, depending on the flavor.
By day, Tandem will also offer a handful of other snacks, such as spicy Korean pickled eggs (served on sticks) and perhaps ice cream floats produced in collaboration with nearby scoop shop lu•lu. Savouré jams, pickles and chutneys will be available for retail.
Messer founded the business five years ago in Montréal, where her sodas were available on draft and in bottles in more than a dozen restaurants, markets and shops. "I had a decent little following in Montréal," she says. When she moved to a family property in Starksboro earlier this year, she brought the business with her. Messer has no current plans to bottle in Vermont, but savouré sodas are currently available on draft at Scout & Co. in Winooski and Burlington, and soon to be at Lincoln Peak Vineyard in New Haven.
In September, Messer and Gammon plan to launch a weekend dinner series built on themed, multicourse meals. Happening once or twice a month, these dinners will allow Gammon to explore dishes that don't work in a catering format. "We're really just doing the pop-up series because it's going to be fun," Gammon says. "And it'll let me do creative things that I want to do but can't do on a really large scale. The idea is that we're using local food with a thread of flavor harnessed from a specific region."
The two hope to host their first dinner the third weekend in September, with a Japanese menu featuring ramen, octopus balls and more. Guest chefs may step in for particular meals, such as an Ethiopian friend for an Ethiopian dinner.
Gammon teaches cooking at Champlain Valley Union High School and to private clients; this fall, she plans to offer workshops and classes at Tandem, too. While the weather's hot, though, Tandem will stick to popsicles and sodas, giving its owners time to come up with a format that works for their businesses and the community. "We're just trying to figure out the best scenario for Bristol," Messer says.
The shop is now open with sporadic hours, but Messer says she plans to normalize things once she gets the soda tap up and running in the next few months. Check savouré's Facebook page for updates.