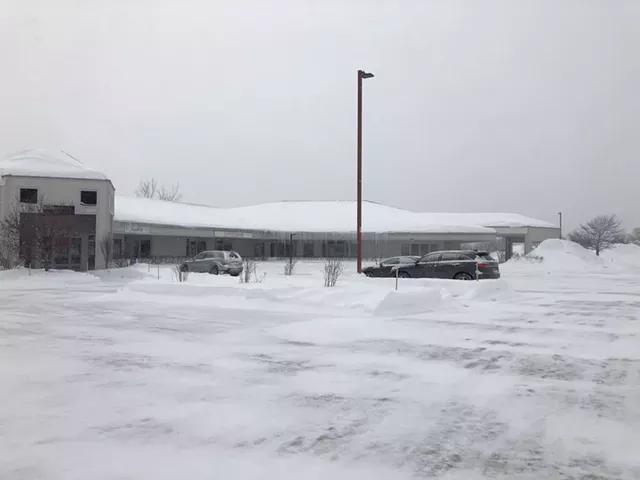 Courtesy Of Peter Edelmann
Future site of the Church of Beer
A new brewery, tentatively called the Church of Beer, is planned as part of the rebranding and redevelopment of the Essex Shoppes & Cinema into a destination called Essex Experience, according to Peter Edelmann, owner of the outlet center.
Edelmann told Seven Days on Monday that he plans to develop a brewery and distillery in a 12,500-square-foot space at 21 Essex Way, in the same building that houses the spa/salon Purple Sage. He expects the brewery, which will include a restaurant and a large beer garden, to open in the summer.
His collaborator on the brewery is Chris Kesler, owner of Earthlogic, a web development company based in Essex Junction. The business partners are just starting the permitting process, said Kesler, a Jericho resident who was named the 2018 homebrewer of the year at the Greg Noonan Memorial Homebrew Competition put on by the Green Mountain Mashers homebrew club.
Kesler intends to produce a wide range of classic styles, he said, plus barrel-aged beers, sour beers and experimental brews. In the distillery, he will partner with Dave Mosher, who teaches craft distilling at Vermont Technical College, and Travis Johnson, a Vermonter who works on an Alaskan fishing boat part of the year.
"Because there's a good synergy between the two different sections, we have the opportunity to make some interesting concoctions, like beer cocktails," Kesler said.
In an earlier phase of the Essex development project, the Mad Taco opened a third location there last June, with an adjoining music space. Discussing his concept for Essex Experience, Edelmann said, "I want to push the Vermont experience. Why do people come to Vermont? What can they do when they come here? We want to give them choices."