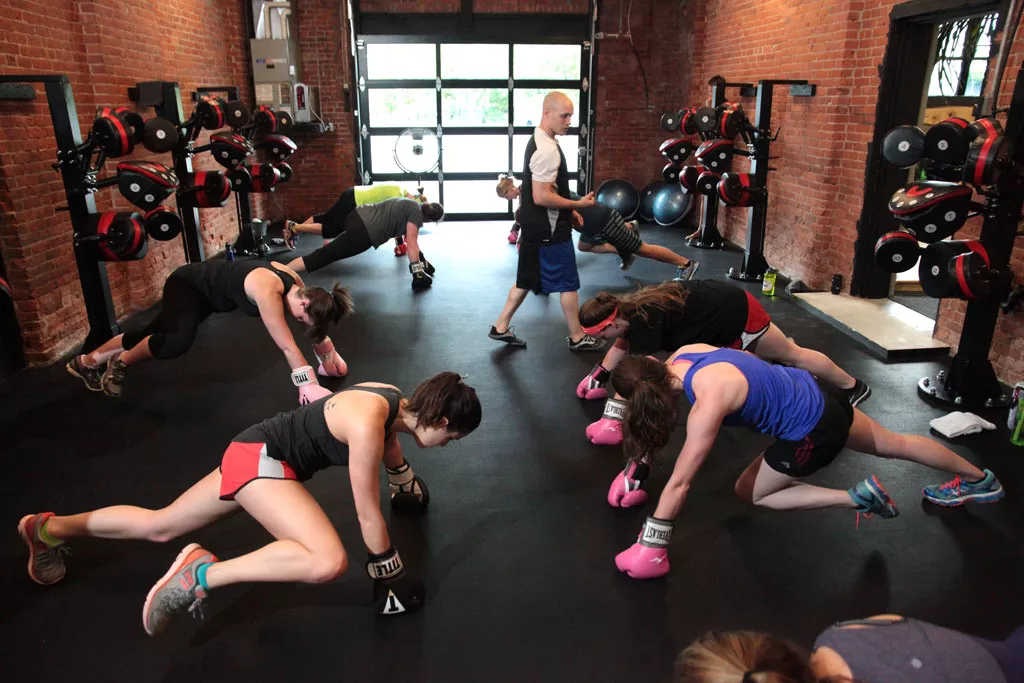 Matthew Thorsen
Lucian Benway instructing a class at Row VT
There's nothing like a spousal spat to spur a good sparring session at a boxing gym. Still reeling from the one-two punch of an overdue tax payment and a squabble over savings with my husband, I'm full of piss and vinegar as I squeal my Toyota 4Runner into the parking lot of Burlington's Row VT on a recent Wednesday evening.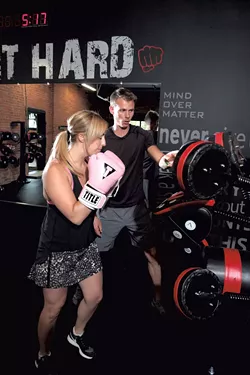 Matthew Thorsen
Mike Blount and Whitney Heingartner
I haven't come to pull the erg at Mike Blount's indoor rowing studio — or to pull any punches. I've arrived at this brick extension of the facility to try out Blount's latest offering to the fitness community: boxing.
"Hit It Hard" says the writing on the wall inside, right above a mirror surrounded with empowering phrases such as "Mind over matter" and "Break a sweat."
Them's fighting words, and I'm already perspiring slightly as co-instructor Lucian Benway begins to wrap my hands in Everlast tape, which I tuck into red and white Title gloves. "It's a full-body power workout," Benway says. "Expect speed, agility, strength and core work."
A Northern New England Golden Gloves Tournament champion, Benway is part of the burgeoning boxing scene in Vermont, a state that has long flown under the radar when it comes to performing in the ring.
Nonetheless, Benway points out, the Green Mountain State has produced some fair fighters, on both amateur and professional levels. Now he thinks the sport has strong potential to catch on in the mainstream fitness scene, saying, "I only see this growing in the future."
Benway is not alone in that view. A new partnership between Reebok (which helped make CrossFit a craze) and Ultimate Fighting Championship has helped build buzz about boxing as "the next big fitness trend," as Self magazine recently put it.
That's good timing for Blount, who decided to add boxing-inspired workouts to his Flynn Avenue indoor-rowing space after he came across a BoxMaster, a tower of spring-loaded pads numbered for different styles of punching. "This piece of equipment helped reshape my vision of bringing my two favorite workouts into the studio group fitness environment," he says. "It clicked for me — boxing was our next move." (Blount notes that he's rebranding his studio and changing its name later this summer.)
Blount isn't alone: Williston's Synergy Fitness has also started a new, martial arts-inspired boxing class. That gives me two back-to-back, hand-to-hand opportunities to go head-to-head with the trend. These classes are about inflicting damage on inanimate objects and getting fit, not inflicting damage on some unfortunate fellow fighter.
The Signature Box class at Row VT begins not with our hands but with our hindquarters. Blount launches us into a warm-up set of lunges, squats and push-ups set to a high-energy soundtrack initiated by Lady Gaga's "Born This Way."
Next we do a timed round on the BoxMaster, a tower equipped with several numbered pads as well as a midsection labeled with more numbers. I immediately find this way more fun and functional than a traditional heavy punching bag. Thanks to the numbered pads, I can focus my jabs and uppercuts on the exact right spots instead of swinging wildly through the air. Muhammad Ali can float like a butterfly; I can fight like one.
"Speed, top; power, bottom!" says Blount encouragingly, as my punches morph from mothlike stabs to mighty endorphin releases. Between the music and the workout for my midsection, I'm soon hooked on the hooks.
"Something about the raw energy release does magical things for my body, mind and spirit," fellow student Aimee Ahari tells me later. "Every time I walk out of class, I feel empowered."
Ahari also reassures me that messing up the sequences of punches is perfectly OK. "It's worth a quick giggle," she says. "The fun is just throwing some punches when you get lost."
But there's not much time to get lost, with Blount expertly guiding us through intervals of burpees and jumping jacks. These functional, active-recovery exercises, Blount says, "will make you a better boxer for a balanced, total-body workout."
Could I become a real boxer? "Ha-ha!" says Blount. "Our classes are more for the fitness elements, and not to prep anyone for boxing or fighting for competition." Still, he adds, head boxing coach Benway "could take someone to that level of competition."
"I really love how intellectual it is — if you're not thinking two moves ahead, you're mostly two moves behind; it's like chess," Benway says of boxing. "And I love the 'aha' moments people have when something clicks with them."
Twenty-four hours later, the only thing clicking with me is a weird feeling in my left hip as I attempt to replicate instructor Michelle Kmiec's moves in Urban Kick, the new class at Synergy. It promises kickboxing set to hip-hop and pop music, heavy on the drums and "awesome core work." Here, trying to keep up taxes my intellect in a whole different way.
"For most of my life, I've been passionate about the martial arts, fitness, dance and the importance of core strength," Kmiec says after class. "Urban Kick encompasses all of these components, along with a bit of swag and a dash of attitude."
Swag and attitude, indeed. Though Kmiec is a chiropractic physician who's written a couple of books on the medical profession, she's dressed like a member of an '80s hip-hop band, in Jams-like shorts, a black tank top and a backward baseball cap. From the moment the class begins, her energy is as electric as the music — a mix of driving techno, pop, Reggaeton and Latin rhythms. The studio feels like a dance club plunked in a suburban business park, filled with fitness-enthused fiftysomethings instead of freaked-out ravers. In this class, there are no boxing gloves, but plenty of fist-pumping moments.
"You have to change things up a little bit to change your body," says South Burlington's Florence Whitaker, a 51-year-old Urban Kick participant. "Plus, I love Michelle's style and music — she motivates everyone who comes to her classes. She makes things challenging and cares about people, so she gives it her best."
A third-degree black belt, Kmiec flows around the room to correct movements when necessary, smiling in a way that makes me feel OK that I can't kick my leg up like a Rockette. Thanks to my lesson at Signature Box, I'm psyched when we move from tai-chi-like squats and front and back kicks to "machine-gun" punches. Until I look in the mirror, that is, and realize I resemble a crazed Price Chopper cashier.
"Don't you love it?" Kmiec asks my dripping-with-sweat classmates. "This is my favorite song right now."
Just as my session at Row VT did, this class flies by. Before I know it, we've segued and sashayed our way into the final floor routine, during which Kmiec has us open and close our legs in the air.
It's the kind of move that someone who also knows how to twerk could work. But my hamstrings are so strung, I'm wriggling on my back like a half-swatted bug. When we add hip thrusts, I feel like I'm in labor and delivery.
Participating in these boxing classes is a labor of love. But it's also a great lesson in timing, rhythm and power, delivered by the knockout fitness instructors and the local community. As for my own love, that spousal spat is gone with the sweat. The next time I enter the post-wedding ring, I won't need to hit below the belt or throw in the towel.
"It's boxing," writes Jordan LaCount, a 25-year-old Burlington-based web designer and developer, of her experience with Signature Box at Row VT. "Seriously, it makes you feel like a total BAMF."